The year-long Environment and Our Community class recently took a walking tour of the Bellevue College campus. But as 3rd year students, it was obviously not just sightseeing! The purpose was to explore some of the many features on Main Campus that promote sustainability – new ways of doing "business as usual" that do not contribute to climate change or use up natural resources.
As the tour snaked its way in, around, and through buildings, Elissa Gordon from BC's Office of Sustainability pointed out charging stations for electric vehicles, bicycles that anyone can use for $45.00/quarter, solar panels on rooftops – and one building that has a "green roof" covered in grasses and plants. Students learned that not only do plants take carbon (dioxide) out of the air and replace it with oxygen, but they also insulate the building so that it requires less energy for heating and cooling.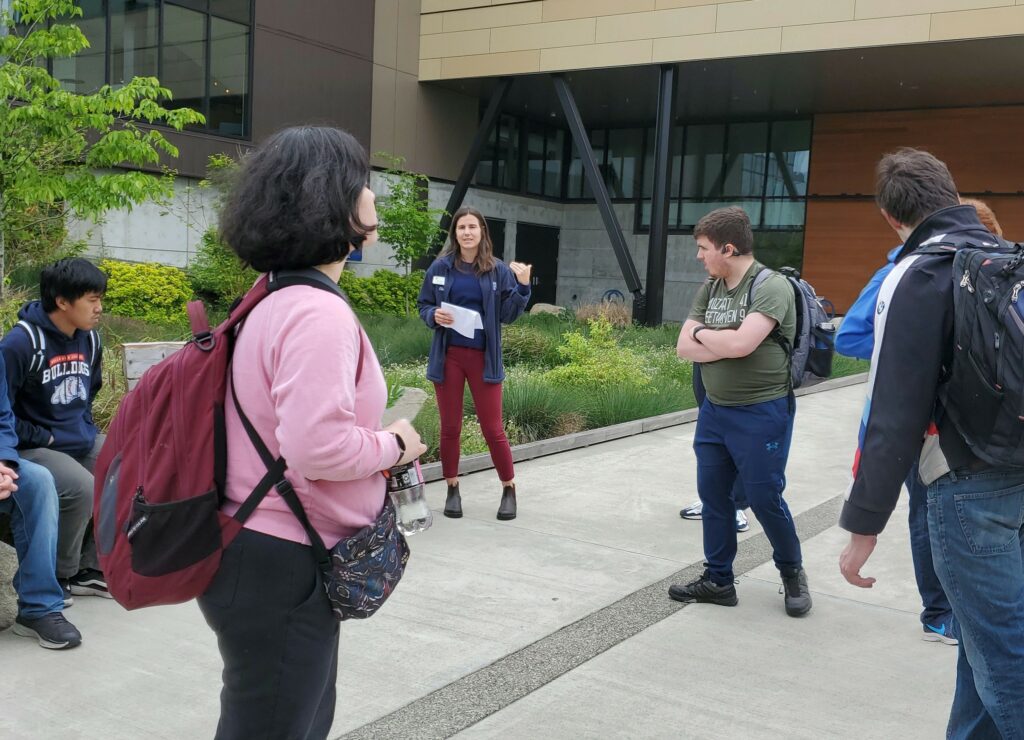 All of which tied into an assignment the students were working on: Proposing their own sustainability features and showing how these would benefit the campus. Their ideas ranged from a system to collect rainwater and purify it for drinking, to a student club dedicated to picking up litter.
---
About the OLSBC Environment and Our Community Course
Environment & Our Community is a three-course series taken in the second or third year of the OLSBC program and is one of the many courses students take to earn their associate degree. In this course, students build awareness of the Puget Sound by engaging in the pressing issues facing our communities.
---
About Occupational & Life Skills Bellevue College
Occupational & Life Skills Bellevue College (OLSBC) is an associate degree program for students with learning disabilities. In our uniquely supportive skills-based program, students apply academic knowledge through community activities, service learning and social experiences. Students identify a career pathway, gain marketable, workplace-ready competencies, develop better interpersonal skills and complete an internship in alignment with their career goals.
Learn more about our program at an upcoming Information Session, open to all prospective students, family members/guardians, educators, counselors and other service providers. Come learn why OLS Bellevue College is one of the best colleges for students with learning disabilities.
Last Updated June 15, 2023