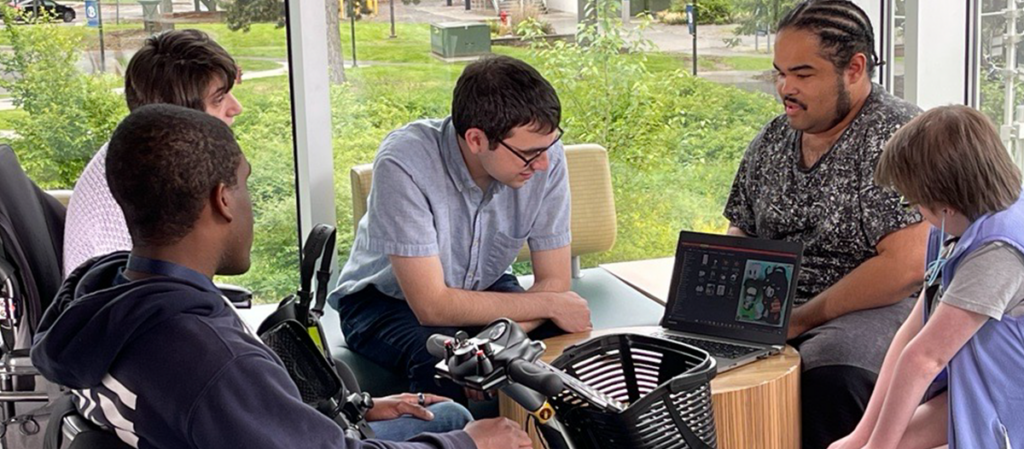 Join us and jump start your future!
Are you starting to wonder what life will be like after high school? Join Occupational & Life Skills Bellevue College (OLSBC) for summer camps and start exploring options for your future! Participate in fun, engaging activities and discussions to help you better plan for the next step in your life.
Our two-week camps introduce workplace readiness skills and career options to young adults. Facilitated by highly-trained OLSBC staff, campers identify their unique strengths and explore vocational and educational options for their future in a safe, friendly environment.
Who You Are:
16-21 years old
Have an IEP, 504 plan, or documented disability
No history of behavioral issues
Able to participate in camps with minimal support, and willing to be part of group discussions and activities. Parents, therapists, tutors and/or other supporting persons will not be allowed to attend camp sessions.
If you have any questions, please contact us by filling out our online form.
Please note: These camps are not a part of the OLSBC program and are not open to current OLSBC students.
---
2024 Summer Camps
Our Skills for Work Summer Camps will be back in 2024. Join the waitlist to be notified when registration opens.
Our camps are limited to 15 attendees, and we offer a 15:2 camper-to-instructor ratio. We require a minimum of 6 attendees to avoid cancellation of the camps.
All camps will be hosted in-person on the Bellevue College campus.
Skills for Work I
2024 details coming soon.
*All camps run Monday – Thursday.
Know Yourself
Dependable Strengths®
Your values
Elevator speech (How to respond to the question: "Tell me about yourself")
Social expectations (dress, hygiene, social media presence, etc)
Advocacy
Create a vision board
---
Know the Workplace
How do organizations work?
How does College work?
Best job Ever/Worst Job Ever
What behaviors are expected at work?
The employer's point of view
You as a student vs you as an employee
Different environments/different jobs (Explore)
Tour a workplace
---
Social Skills for Work to be practiced:
Flexibility
Advocacy
Collaboration
Teamwork
Communication
Professionalism
Skills for Work II
Prerequisite: Skills For Work I
2024 details coming soon.
Know Yourself
Understanding how to apply your strengths to your job search
Introduce yourself in one minute
Create your resume
The art of interviewing
Identify your support needs in the workplace
Advocacy statements
---
Know the Workplace
Practice interviewing (Mock interviews)
Tools that help you succeed in the workplace (Apps, tools, assistive technology)
How do I find a job? (Network, Job Search sites)
Fill the documents you need once you're hired
Who can help you on the job? The role of the job coach
Tour a workplace
---
Social Skills for Work to be practiced:
Adaptability
Advocacy
Self-management
Teamwork
Flexibility
Communication
Professionalism
Self-determination
---
Registration
Our Skills for Work Summer Camps will be back in 2024. Join the waitlist to be notified when registration opens.
Please note: There is a $50 non-refundable fee due at the time of registration.
---
Frequently Asked Questions
OLSBC does not provide camp scholarships; however, payment plans may be available. Contact us to learn more.
We are currently not partnering with DDA nor DVR, so neither agency will fund our camps.
Camp sessions are 9 a.m. – 12 p.m., with camp staff available from 8:45 a.m. – 12:15 p.m. Transportation should be scheduled accordingly.
No. Our staff is not trained to provide hands-on care.
A celebration lunch will be provided on the final day of camp. All other dates campers are encouraged to bring a water bottle and snacks.
Campus cafes will be open in the summer should the student need to make a purchase before or after camp.
Payment Policy:
Payments are generally non-refundable. Exceptions may include:
payments made in error;
applicant is not eligible for admissions (e.g., under-age)
To request a refund, contact ols@bellevuecollege.edu. If approved, refunds will be processed within thirty (30) days. A $35 charge-back fee will be applied for all credit card charge-backs and/or NSF checks.
Last Updated October 3, 2023