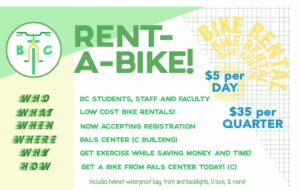 BC Sustainability has partnered with the Student Business Center to bring you the campus Rent-A-Bike program.
Whether you're a student or staff member, you can rent a bike for the day or for the quarter.
Cost is $5/day ($65/quarter) and includes helmet, waterproof saddle bag, a lock, and more!
Contact transportation@bellevuecollege.edu.
For more details about the program, please visit the Office of Sustainability's Bike Rental Program.
Last Updated September 1, 2021