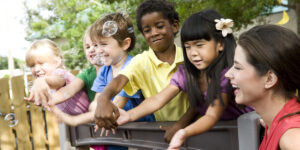 If you're looking for a great preschool experience for your child, we recommend co-op preschool! Learn all about the basics of how co-ops work, and check out information below about Ten Benefits of Co-op.
Our cooperative preschools are currently meeting online – here is the current schedule and tuition rates. If you would like to join us this year, contact the registrar of your chosen co-op to learn more.
For next school year, which starts in September, we are hoping to be in-person. Here is the full schedule for co-ops for 2021-2022.
We had most of our open houses in January and February. Here are upcoming open houses. Or you can always learn more about any specific co-op by checking out their website.
Bellevue Overlake – has sample classes on April 7 and May 5 at 10:15 am. See their website for links to register
Issaquah will have a virtual open house on Wednesday May 26 at 2:00 pm.
Sunrise has video samples on their website at SunrisePreschool.org.
Ten Benefits of Co-op Preschool (compared to other preschools)
Lower cost.
Excellent adult-to-child ratios. Children benefit from having both their experienced preschool teacher, and other adult role models with diverse skills.
Close link between home and school helps children ease into schooling, and helps parents reinforce the child's learning at home.
Children see that their school is important to their parents. They learn about the joy and responsibility of being part of a community where everyone works together toward a common goal.
In parent education sessions, and through observing the teacher while volunteering in the classroom, parents gain knowledge about child development, discipline strategies, and ways to support children's learning.
Parents have a voice in school decisions and policy-making.
Parents also make friends! Working side by side with other parents gives you the chance to make social connections and get parenting support from peers.
Families are able to extend friendships outside the classroom, through such things as scheduling playdates with friends from school.
Play-based learning is powerful for children. We also know that children learn best when they feel safe, happy, and have a sense of belonging. The community of a co-op preschool creates this nurturing learning environment.
Parents and children build memories together by sharing in the preschool experience.
Learn more:
Last Updated March 4, 2021