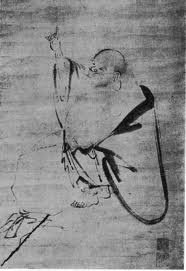 OK, so most of these jokes are REALLY bad, but philosophers have to take what's available. Although you will receive absolutely no credit in polite society for knowing these jokes,
people will expect that you do.* * * * * * *
Seen on a restroom wall: "God is dead: Nietzsche. Nietzsche is dead: God."
* * * * * * *
Descartes walks into a café and sits down ready to order. A waiter comes up to him and asks, "Do you need a menu?" Descartes replies, "I think not," and he disappears!
* * * * * * *
Overheard in 18th century England: "Did you hear that George Berkeley died? His girlfriend stopped seeing him."
* * * * * * *
What did the Buddhist say to the hot dog vendor? "Make me one with everything." What did the hot dog vendor say when the Buddhist asked for his change? "Change comes from within."
* * * * * * *
Did you hear about the Buddhist who spilled his coffee while driving to work? He had bad kar-mug.
* * * * * * *
Last Updated July 27, 2020