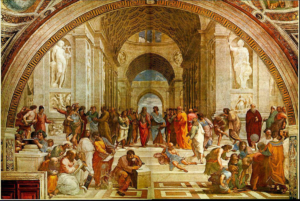 The BC Philosophy Club is a dynamic, ever changing, student-run group interested in philosophy, contemporary moral and social issues, and maintaining BC's presence on the Eastside as a vibrant open marketplace of ideas.
Anyone interested in the Philosophy Club should contact the
CLUB ADVISOR, Tim Linnemann,
at: tim.linnemann@bellevuecollege.edu
Students work with philosophy faculty to host quarterly lectures and debates on topics of current interest. Lectures hosted have included topics on the war in Kosovo, the Makah whale hunt, women in Islam, God's existence, the art of calligraphy, Existentialism, the Big Bang theory, sexual ethics, Indian Logic, Japanese garden aesthetics, women's topfree rights, a postmodern view of the Self, Just War Theory, a critique of Cultural Relativism, and Friedrich Nietzsche. The BC Philosophy Club is always looking for new students to bring fresh ideas and discussions to the group. Students do not need to intend to major in philosophy to take part in club activities. CONTACT TIM LINNEMANN for more information on the latest plans.
Last Updated June 1, 2020