What are students saying about On the Job communications?
THE CURRICULUM meets the needs of the modern working culture. The language used in the instruction was very easy to understand and clear to follow.
I LIKED THE FRIENDLY ENVIRONMENT of the class and I liked learning new things. The communication practice helps me with my co-workers and supervisors.
I learned lots of USEFUL SKILLS: the formal e-mail and memo writing helps me on my job. The communication skills help me in good relationships with my co-workers,
IT'S ACTIVE, and GOOD BUSINESS SKILLS are explained in the class which is very useful for the person who is looking for work. The meeting sessions, group discussions and business letters helped me the most. Mock meetings, helpful notes and instructor feedback helped me.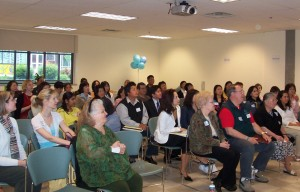 It GIVES US INFORMATION about the real world. The instructor used all the modern learning techniques and is ready to help and care about the students.
I LIKED WORKING IN A GROUP. It was a great experience because we could feel like working as a team.
I liked PRESENTATION SKILLS, as I really felt like I was in a meeting delivering a presentation. It was good to speak in public.
This class always MOTIVATED and ENCOURAGED us to keep searching and looking for work. It made me feel confident and improved my body language.
Last Updated June 5, 2020