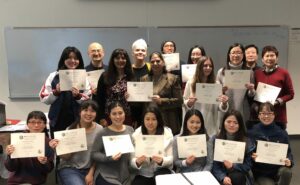 I like the class when we all tried to RESOLVE SOME ISSUES between customer and customer service rep since this is very common situation.
I like all the DIALOGUES that we had in the class. They help us learn what is okay to say.
I liked ROLE-PLAY activities with employer and employee.
The HANDOUTS and VIDEO are most helpful to me to learn and practice.
Before I never understood what a 401K is. Now I understand much better. I will look at the 401K papers I get in the mail.
I liked what I learned about how to EXPRESS MYSELF in working with my bosses.
I like the DEALING WITH MISTAKES disagreeing, making SUGGESTIONS LESSONS because it is very important to be correct and honest in your job.
I feel PREPARED when I get a job. I understand more about what to say and how to say it.
Before I don't know about PAYCHECK AND PAY STUB. Now I understand and know clearly about it very much.
I realized the importance of different topics, especially "SMALL TALK", and conversation activities that were a part of this class.
I learned a lot about AMERICAN CULTURE and WORK ETHICS, and how it is impacting their lives now.
I have never been to school in my life. I attended this class, and gained a lot of SELF-CONFIDENCE. I can now read the bus numbers and take the bus to school. I even did a Power Point Presentation on the last day of class.
Last Updated June 5, 2020