Dear Colleagues,
The Flu Team, Cabinet, and I are working to finalize the College's vaccination protocol based on the new proclamation from Governor Inslee that vaccinations are required for all higher education employees. All BC employees are required to be fully vaccinated by October 18 as a condition of employment, which means you must receive your second shot (or one shot of the J&J vaccine) by October 4. Employees will be required to submit a self-attestation, which will include providing proof of vaccination or submitting an exemption request for a medical reason or a deeply held religious belief. We hope to share detailed instructions with the campus early next week.
There has been a surge of hospitalizations across the state driven by the Delta variant; and more than 93% of the COVID-19 patients are people who have not been vaccinated. If we are ever to get back to the new normal, we need to attack this pandemic. It is critical for all of us to get vaccinated. Not only for our own health and safety but also the healthy and safety of our loved ones, co-workers, and students.
ctcLink Implementation
We owe a big debt of gratitude to our many colleagues who are taking on a significant workload to prepare for our ctcLink conversion. Thank you for working many hours to make ctcLink a reality, one that will transform our information systems for students, faculty, and staff. We will all benefit from the substantial time and energy you are investing to bring on this new system.
To those not as deeply involved in ctcLink implementation, please be patient in your requests and interactions with the offices and employees across campus that are working tirelessly to make ctcLink happen. Some colleagues may not be getting back to you as quickly as they usually do because they must prioritize their work on ctcLink. And remember: we announced in April 2021* that some offices might be closed to the public on Fridays through December 31, 2021 to allow staff one full day each week to work on ctcLink with fewer interruptions. Please support your colleagues who are greatly impacted by ctcLink implementation by not scheduling meetings on Fridays unless they are ctcLink-related.
Updates
Transforming Lives Nominations Due October 12.
Looking for a special way to recognize a student whose life has been transformed by a community college education? Please consider nominating them for the Washington State Association of College Trustees (ACT) Transforming Lives Award. More information about nomination requirements can be found here*.
New Location for the Computer Science Program.
This expanding program outgrew its former L Building location and will move to A109 (formerly the ITS service desk), now redesigned as a 50-person classroom, maker space for hands-on work, office space for faculty and staff, and a work area for students.
New Computer Science Program Space: Rooms A110 and A109C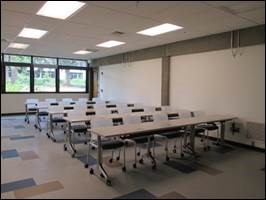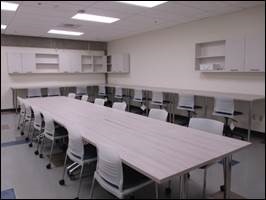 Renovated Classrooms in the B Building.
A complete remodel of four classrooms on the first floor of the B building is nearly complete. It's looking good! This state-funded project renovates some of the oldest space on campus with state-of-the-art equipment, improved aesthetics, updated infrastructure (plumbing, electric, etc.) and more efficient space. The classrooms will be used by Engineering, Molecular Biology, Physics, and Anthropology. What a great new learning environment for our students!
Renovated Classrooms: Rooms B113 and B121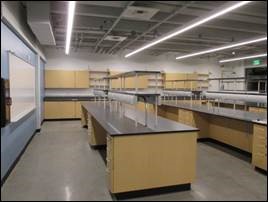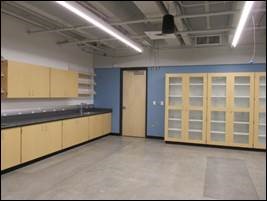 Kudos
A Big Thank You to our Food Services and Events Office Staff for their help in making the COVID-19 testing site possible. The testing site is a partnership with Public Health—Seattle & King County and is operated by the University of Washington with support from King County and the City of Bellevue. It has been open to the community since mid-December. Over the last several months, it has been the busiest testing site on the Eastside and has made a huge impact in contributing to mitigating the spread of COVID-19 in our state!
Congratulations to Gita Bangera and Irene Shaver! Through their work, Bellevue College was recently awarded a $300,000 National Science Foundation Grant for Improving Undergraduate STEM Education. The grant will fund a collaboration between Bellevue College, Seattle Central College, and SBCTC for their project: "Institutionalizing Undergraduate Research to Advance Systemic Change and Equity at Washington Community and Technical Colleges." Thanks also to Brandon Lueken, Kaatje Kraft, Carli Schiffner, and Kyle Hammon for their support on the grant. This project aims to bring together faculty and administrative leaders to democratize access to undergraduate research across disciplines and across Washington CTCs.
Bravo Marisa Hackett and Sara Sanders Gardner for your interview with Q13 Fox discussing the Biden administration's announcement that it will erase student loan debt for more than 323,000 Americans with severe disabilities. This action is a significant step toward achieving greater equity in education for students with disabilities.
Thanks to the Eric Kong, Russel Whitaker, Katherine Hall, Taija Tevia-Clack, Lisa Moore, and Christopher Anderson for their work on the Bellevue College Website Redesign Project*. Several Guided Pathways and Achieving the Dream members have also been integral to the production of the BC Pathways module of the website redesign, including Maggie Harada, Alison Kang, Jennie Mayer, Lisa Harris, and Kurt Friedrich.
Congratulations to Brent Stewart from Academic Advising who recently earned his Ph.D. in Psychology from the University of North Dakota. Sadly, Brent departed Bellevue College last week to transition into a demanding post-doctoral role, but we hope he will be back with us again in the future!
Congratulations to Valencio Socio and Reza Forough for their recent elections to College Assembly Chair and Vice Chair, respectively. We look forward to the leadership they will provide to the campus governance system this year.
Care For One Another
Recent events across the world, including those in Afghanistan and Haiti, among others remind us to care for one another and consider the many ways we can check in on each other. These and other local and global events may be impacting those in our community who have ties to those areas. As we check on one another during these times, please remember BC resources such as the Employee Assistance Program (EAP) and the Counseling Center (students) are available to our community to provide support.
Gary Locke
Interim President
*Links to some documents will not be available to individuals external to Bellevue College.
Last Updated September 30, 2021