Dear Colleagues,
In honor of the LGBTQ+ community, Bellevue College at long last has a rainbow crosswalk! The pedestrian crossing is located at the top of Landerholm Circle and is a visual symbol to the entire BC campus and the Eastside of our commitment to and support of the LGBTQ+ community.
Thank you to all the groups and individuals who brought forth this proposal, raised funds, and aided in the design and painting of the crosswalk, including the LGBTQ Task Force, LGBTQ Resource Center, Institutional Advancement, BC Foundation, and Campus Operations team.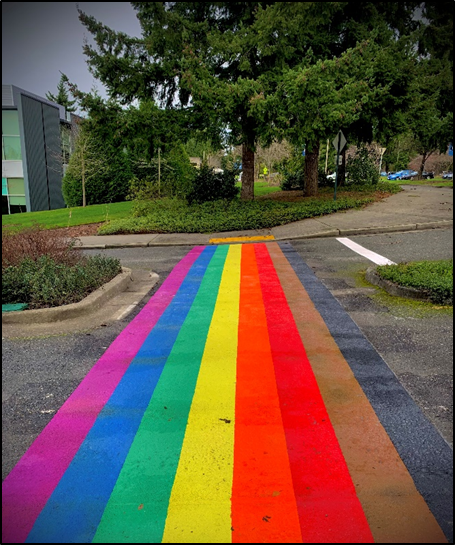 Updates
Take the Diversity & Equity Campus Climate Survey by December 17
Members of the BC community were invited to complete the BC HEDS Diversity & Equity Campus Climate Survey on Monday, November 29. Initiated by our Office of Diversity, Equity and Inclusion in partnership with our Office of Effectiveness and Research, this survey measures the climate, culture, and experiences at Bellevue College as it relates to the topics of diversity, equity, and inclusion. If you cannot find the email invitation or want to quickly access the survey now, you can visit BC HEDS Diversity & Equity Campus Climate Survey to complete the survey. Entering your email address ensures only members of the BC community are completing the survey and prevents duplicate responses. Your information is not recorded with the response, which is entirely anonymous. If you have questions about the survey, you can email surveys@bellevuecollege.edu. We hope you'll add your voice to this important effort.
Public Safety Training
BC Public Safety is hard at work every day and I thought you might be interested to learn about their recent training. An important part of Public Safety's daily routine includes regular training so they can be prepared for any situation. In the last two years, the department has built a robust program to ensure team members are well versed in a multitude of topics, including emergency response, customer service, DEI, fire safety, and more. Most recently, Public Safety officers participated in a fire response drill where they practiced using a fire extinguisher to put out a faux fire. They also participated in trainings on customer service, FERPA, and "Domestic Violence and Its Root Cause" and "Neurobiology of Trauma" which are part of the College's Gender-Based Violence Prevention program. At their upcoming winter training retreat, training will cover
implicit bias, active shooter response, and student housing response.
Help Us Beautify Campus with Your Submission to the BC Outdoor Murals Project
Your artwork could be displayed on Bellevue College's main outdoor campus corridor! The BC Outdoor Murals Project is accepting submissions for the creation of six large-scale, non-permanent wheat paste murals depicting themes of BC community diversity, social equity, and social justice, which will be displayed 1-2 years. The honorarium for each selected work will be $2,000 and the deadline for submissions is 5 PM on January 21, 2022. Bellevue College will be responsible for the installation of murals. This project is open to all Bellevue College family—students, alumni, emeritus, staff, and faculty. Individual or group submissions will be accepted. In selection, preference may be given to submissions by current students and student affinity groups, clubs, or organizations. Submitted work may be the original design of the BC community member(s) themselves, or a collaboration with or nomination of an outside artist they feel is part of their community, or whose work they believe represents their community. You can contact the Outdoor Murals Project Committee with any questions at: outdoormurals@bellevuecollege.edu.
Kudos
Congratulations to Dr. Caroline Whittaker Leffall who recently successfully defended her dissertation titled, "Leadership in Higher Education: Exploring the Disparity of African American Representation in Washington State Colleges." With her successful defense, Dr. Whittaker Leffall will earn her Doctor of Business Administration from Northcentral University.
Thank you to the International Education staff; Global Leaders and student team members; Office of Student Engagement staff, Affinity Coordinators & Umoja Program Peer-Advisor, the Events Office, and Food Services staff for hosting the Harvest Feast on November 18 as part of International Education Week. The evening included presentations about harvest holidays and celebrations from around the world as well as sharing global songs of celebration. The Office of Student Engagement's Affinity Coordinators and Umoja Program Peer-Advisor Isaac Mambu also provided an invitation to join affinity groups. Food Services provided a feast of oven roasted turkey, mashed potatoes and gravy, stuffing, candied yams, green bean casserole, cranberry sauce, fresh baked rolls, and dessert.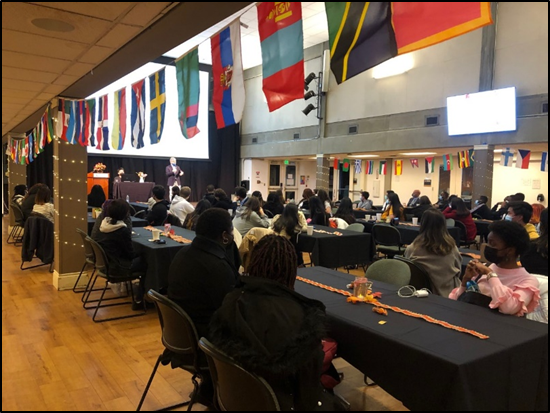 Kudos to the BC Grounds Crew, the Office of Sustainability, and Campus Operations Manager Tali Yehuda for hosting the third Winter Holiday Crafting Event on December 3-4. Participants created their very own wreaths, wooden snowpeople, or yarn pegboard snowflakes using repurposed and all-natural materials gathered from campus and prepped by our hardworking Grounds Crew. Everyone enjoyed visiting with familiar faces, as well as getting to meet people for the first time and making new friends.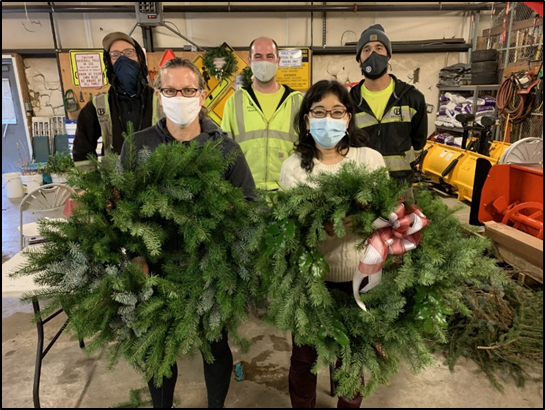 Congratulations to BC Trustee Rich Fukutaki for recently being elected to the Board of the Association of Community College Trustees (ACCT), which is a national organization representing more than 6,500 trustees who govern over 1,200 community, technical, and junior colleges in the U.S. Congratulations also to BC Student Trustee Sascha West on his appointment to the Student Trustee Advisory Committee for ACCT.
Final Thoughts
At this time of year, we often pause to reflect on the year, so let me take this opportunity to thank all of you for advancing the work of the college and for supporting our students. This past year has been challenging. I encourage you to take time away from work this holiday season to recharge and reset. For anyone who wants support, there are free and confidential counseling and other resources available through the Employee Assistance Program (EAP) at http://eap.wa.gov or 877-313-4455.
Thank you and have a great holiday season!
Gary Locke
Interim President
*Links to some documents will not be available to individuals external to Bellevue College.
Last Updated January 14, 2022