Dear Colleagues,
On Monday, Jan. 17, Bellevue College will observe the Martin Luther King, Jr. Day holiday. It's a time to reflect on his extraordinary example as we work together to realize his dream for our nation, our community, and our college. Dr. King gave us many magnificent ideas and concrete actions to draw inspiration from, but as we begin the new year still facing unprecedented challenges on so many fronts, he reminds us that "we must accept finite disappointment, but never lose infinite hope."
Our Library Media Center has created a virtual display to complement this year's Martin Luther King, Jr. week with a series of e-books and streaming videos about Dr. King. There will also be a virtual presentation on Thursday, Jan. 20 at 1 pm with this year's keynote speaker Minnijean Brown-Trickey, one of the Little Rock Nine students who enrolled at Central High School in 1957 and challenged school segregation. Registration details for this event, as well as other events honoring Dr. King are available in this MLK Week promotional flyer.
Welcome New Vice President of Human Resources
I'd like to extend a warm welcome to our new Vice President of Human Resources, Frances Dujon-Reynolds, who officially began her work at Bellevue College this month.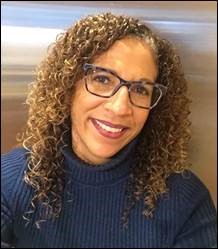 Frances brings more than 20 years of experience as an acclaimed leader in human resources and people development. For the past two and a half years, she led the People and Culture Team at the Girl Scouts of Western Washington, with a portfolio over human resources; diversity, equity, and inclusion; and research and evaluation. Prior to that role, she was the HR Director of the Washington State Bar Association for over 13 years with responsibility for staff and leadership development, employee relations, talent management, and diversity, equity, and inclusion.
Updates
Check Out the Student Affinity Resource Center.
The Office of Student Engagement staff and students worked hard through the Summer and Fall to prepare for the opening of the new Student Affinity Resource Center. Located in the back of C212 and attached to the LGBTQ Resource Center, the center will provide a warm and welcoming space for students seeking to connect and build community, a workspace for the Student Affinity Coordinators in Student Engagement, educational materials, resources, lounge and hangout space, drop in computer stations and more. Once we return to campus, look for details on when the space will be open on the Student Engagement website.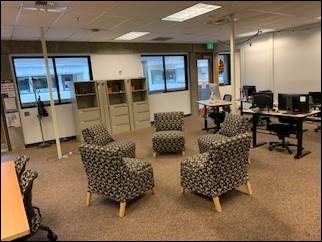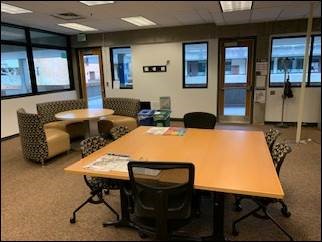 Get Engaged in the BC Priorities Project.
Virtual town halls will be held to gather data for the BC Priorities Project on Tuesday, Jan. 25 at 7 pm and Friday, Jan. 28 at 10 am. The Priorities Project, announced by the Board of Trustees in November 2021, will seek to identify the priorities and values that will guide the College through the next 3-5 years, and thus guide the trustees in their search for a permanent president. If you are unable to participate in a town hall, a survey will also be available to contribute your thoughts.
Additional Leave Day for Staff.
On Dec. 21, it was announced that the College is granting our classified employees an additional personal leave day and our administrative exempt full-time employees an additional vacation leave day, both for use in the calendar year 2022.
Change of Date for Staff Professional Development Day.
The date of Classified and Exempt Professional Development Day has moved from February 21 to May 11.
Kudos
Congratulations to the Bellevue College faculty and staff who have earned grants large and small so far this academic year. Over the summer, Dean of the Connected Learning Division Gita Bangera is leading a 2-year $300,000 grant from the National Science Foundation to develop a state-wide consortium to support undergraduate research at community colleges across the state. Bellevue College remains a leader in undergraduate research at community colleges, leading the initiative that includes the SBCTC, and more than 20 other CTCs across the state. More recently, new Director of Veteran's Resource Center James Dalton earned a $5,000 grant from the King County Council to support purchasing additional computers for the new veteran's lounge and computer lab in the U Building. Meteorology Assistant Professor Jessica Wang partnered with Brown University on a grant from the National Science Foundation to enhance Asian American and Pacific Islander (AAPI) participation and belonging in the geosciences. The $4,000+ grant will support her participation over the summer to establish a Pilot Researcher Visit Program, contact AAPI-serving institutions, and pair with research university scientists to arrange visits.
Faculty and staff interested in pursuing grant opportunities can contact the Director of Grant Development Brandon Lueken at Brandon.lueken@bellevuecollege.edu, attend the Introduction to Grants workshop via MS Teams on Tuesday, Jan. 25 from 2:30 – 3:30 pm, or visit his digital drop-in office hours at the Faculty Commons on Tuesday, Feb. 1 from 11 am – 12 pm.
Final Thoughts
I know many of us were looking forward to spending more time working on campus this quarter. Because of the sudden rise of the Omicron variant and the ensuing uncertainty, we decided to shift many of our operations to remote this month to ensure the health and safety of our community. However, I remain hopeful that soon we will be able to get back to the " limited return to campus" we had planned for Winter Quarter through a phased return to campus over the coming weeks. The Flu Team and President's Cabinet will continue to monitor and assess the emerging impacts of the Omicron variant and make an announcement no later than Jan. 25 regarding how the College will proceed in February and beyond.
Be safe and be well.
Gary Locke
Interim President
*Links to some documents will not be available to individuals external to Bellevue College.
Last Updated February 3, 2022