Dear Colleagues,
Bellevue College has a new mural on campus! This colorful artwork called Unity, by the renowned artist Teddy "Stat" Phillips, can be seen in the courtyard just north of the Student Union/C building. Thank you to the Addressing Anti-Blackness Taskforce (AABT), Urban ArtWorks, and Stat for this artistic collaboration. To unveil the mural, AABT and Urban ArtWorks hosted an artist talk last week. If you missed the virtual unveiling, a recording of the event is available.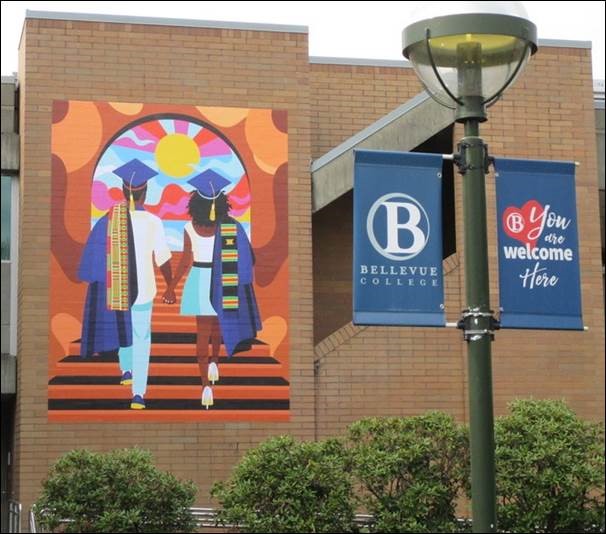 Student & Activity (S&A) Fee Committee and Funding
The Bellevue College S&A Fee Committee will soon begin deliberations to determine the allocation of S&A fees for 2022-2023 student activities and organizations. Washington State law requires that a percentage of tuition collected from students be deposited into a S&A fund, which BC's S&A Fee Committee allocates each year. This year's request for funds totals approximately $4,923623.00, up 15% from last year. The amount of new funds available for allocation (not including unspent funds rolling over from this year) is approximately $2,593,113.65, down 10% from last year due to the current enrollment decline. So, not only are requests higher than previous years, but the amount available to distribute is down significantly, which makes the important work of the S&A Fee Committee exceedingly difficult.
I want to stress that S&A fees are the students' money—collected from students—and under Washington State law to be spent as determined by the students.
Washington State law and opinions by the Washington State Attorney General's Office, often referred to as the "Killian Outline", set forth the rights and procedures of the students in allocating S&A fees as well as what the fees can and cannot be spent on. The Bellevue College Associated Student Government (ASG) has also published guidelines and procedures governing the application and allocation process. Every year brings a new group of ASG officers and S&A Fee Committee members who establish priorities for funding, as well as make the difficult decisions and choices among all the requests.
The Killian Outline allows S&A fees to be used to compensate staff and faculty in support of student activities under limited circumstances. Some Bellevue College staff are currently compensated using S&A fees, as authorized by past S&A Fee Committees and the ASG, however, it is the committee's responsibility each year to determine whether or not to grant any requests for compensation.
Whatever one's views on the choices or reasonings by the S&A Fee Committees and the ASG, it is critical to respect their prerogatives and to treat the members of the Committee and ASG officers with respect. Students, faculty, and staff who want various requests for funding granted are free to advocate passionately. But demeaning, threatening, or derogatory language is not only counterproductive in advocacy but more importantly sets a poor example to our students and is contrary to Policy 4000: Institutional Commitment to Inclusion, which states in part:
"In order to develop and maintain an intentionally inclusive environment, Bellevue College will:
…Foster meaningful dialogue that facilitates dignity, respect, understanding and transformation.
This commitment serves to challenge systems of power, privilege, and oppression and will guide practices, decisions, and activities."
We expect anyone advocating for funding to do so in a manner consistent with this policy and our mission to be student-centered. Let us be a model for how we navigate through challenging decision-making without polarizing our community, and let us step back to allow students to take the lead in making decisions that they feel best serve student interests.
Updates
Animated BC Pathways Videos Now Available.
Students, faculty, staff, and community members can now get information about BC Pathways through a series of engaging and informative animated videos. Scenario-based, the videos illustrate how BC Pathways connects students to programs and wraparound services that help them achieve their academic and career goals. Whether you have an understanding of BC Pathways or want to learn more, you can view the videos on the BC Pathways website! This was a huge interdepartmental effort, and special thanks to the following faculty and representatives from Student Affairs, Digital Media Services, Institutional Advancement, and Information Technology Services: Ruth Bly, Sheri Brady, Dave Bruckner, Katherine Hall, Maggie Harada, Allison Kang, Melissa Martinez, and Taija Tevia-Clark.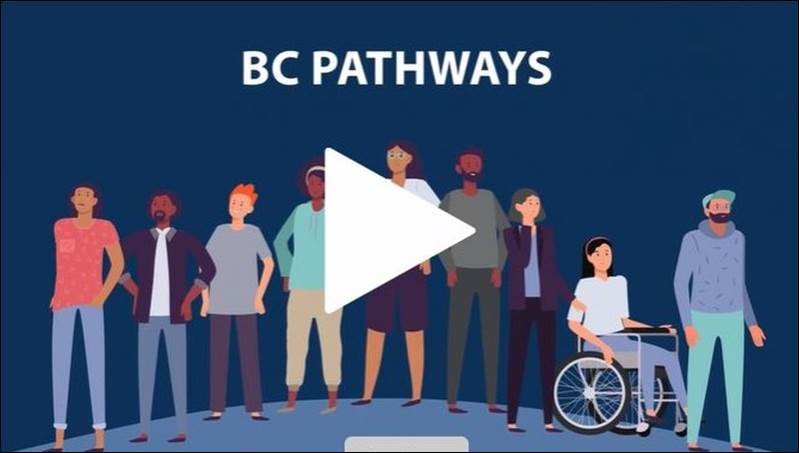 Diversity, Equity, & Student Success.
A BC team of 10 staff members from Student Affairs and the Office of Diversity, Equity, and Inclusion will attend the upcoming American Association of College and Universities (AAC&U) Diversity, Equity, & Student Success Conference in March. This team will work and learn together during the conference to bring back collaborative strategies and ideas for enhancing our equity-focused efforts for student success. They will share their learnings with the campus during Professional Development Day on May 11.
Kudos
Thank you to our incredible BC Grounds Crew for their hard work maintaining and developing 100+ acres on campus. Throughout the pandemic, this crew has been working tirelessly on maintaining the campus, including our landscapes, lawns, walkways, parking lots, and roadways. Their thoughtful and sustainable approach to developing our campus green spaces is evident as they cultivate seeds from existing plants, reuse pruned tree limbs as mulch in garden beds, and incorporate natural plant life where possible. The crew also helps keep our campus safe by plowing and sanding roadways and walkways when it snows, pruning trees to avoid limbs falling in windstorms, and cleaning mossy walkways to prevent slippery paths. With such a large campus, the crew, including Building and Grounds Supervisor Nate Yates and Grounds & Nursery Specialists Branden Ellsworth and Kolin Poss, collaborates and adapts to keep our campus safe, sustainable, and beautiful.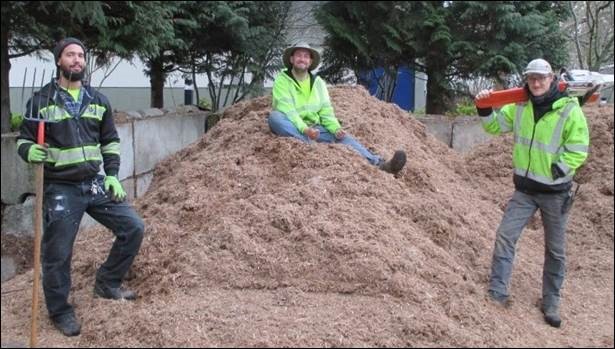 Have some good news to share about a colleague or your office? Let us know so we can include it in an upcoming issue of Notes from the President by emailing president@bellevuecollege.edu.
Gary Locke
Interim President
*Links to some documents will not be available to individuals external to Bellevue College.
Last Updated April 4, 2022