Dear Colleagues,
Welcome to Spring Quarter! The activity level has really been picking up on campus over the last few weeks and I'm looking forward to our continued transition to our "new normal." It's been a pleasure finally meeting so many more of you in-person recently and I look forward to connecting and reconnecting with you over the Spring Quarter.
In case you haven't heard yet, I wanted to share that the Washington State Legislature's budget for 2022-2023 approved Cost of Living Adjustments (COLAs) for higher education employees. Both classified and exempt employees will receive a COLA of 3.25%. Classified employees making less than $99,000 will also receive a lump sum payment of $2000. Faculty were already slated to receive a COLA of 4.7%.
Updates
Our Campus is Well Vaccinated.
Of BC's employees, 96.6% are fully vaccinated and 3.4% are approved for a medical or religious exemption. Of BC's students registered for Spring Quarter, approximately 94.4% are fully vaccinated and 5.6% are approved for a medical or religious exemption. Thank you all for doing your part to protect our community.
Grab a Meal or Snack on Campus.
As a token of appreciation for our employees' resiliency and willingness to adapt and pivot over the last two years, all full- and part-time employees, (permanent and temporary non-student employees), are being recognized with a $10.00 gift card that can be used at any campus food service venue, funded by a donation to the college. If you haven't already, you may pick yours up Monday – Friday 8:30 AM – 5 PM in the Institutional Advancement office (A101) by April 8. Thank you again for all that you do for our students and BC community and enjoy the food!
Contribute to the BC Foundation through AmazonSmile.
Making a purchase through Amazon? Did you know you can contribute to the Bellevue College Foundation (and therefore contribute to student scholarships!) at the same time at no extra cost? AmazonSmile is a program where up to .5% of your purchase price will be donated to your favorite charity/foundation with no extra cost to you. Go to smile.amazon.com and search for Bellevue College Foundation and select it as your charity of choice, if and when shopping via Amazon.
Continued Distribution of Much Needed Financial Support to BC Students.
In May 2021, Bellevue College received $7 million to disburse as emergency financial aid grants to students under the Higher Education Emergency Relief Fund (HEERF3) Act. Thanks to the incredible work of our Financial Aid team, as of February 2022, the College has disbursed:
Grants are available for Spring Quarter 2022! You can learn more about HEERF funds, eligibility and how students can apply at the HEERF page on the Student Central website.
Learn More About the Benefits Hub.
The Benefits Hub at BC, in partnership with United Way of King County, helps students struggling financially to get ahead and stay ahead. The Benefits Hub services include rent/mortgage assistance, move-in costs, free grocery delivery, benefits access, financial coaching, tax services, emergency grants, financial workshops, and more. In Fall 2021, the Benefits Hub served 179 students, including providing nearly $60,000 of housing grants to cover rent, mortgage and moving costs and disbursing more than $35,000 in emergency assistance through the Student Emergency Assistance Grant. Learn more at The Benefits Hub website or contact Justyce Wright directly.
New Bookstore Management.
We recently signed a contract with Follett Higher Education Group to operate the BC Bookstore. Follett will reopen the on-ground Bookstore on June 1, 2022 and will be fully operational by the start of Summer Quarter. Follett will sponsor some training sessions for faculty in the beginning of spring quarter and is planning on an open house in mid-May. Details will be forthcoming.
The decision to privatize the bookstore was not made lightly. Based on input from the Budget Stakeholder Group in 2021, we assessed the financial viability of the bookstore. Our bookstore had been very successful over the years, but with the change in how books and course materials are procured and delivered to students, our campus bookstore has been slowly losing money the last several years. With losses expected to increase in the future, pursuing privatization made sense. We very much value the hard work and dedication of the many employees that made it such a successful operation. The three BC employees impacted by the privatization of the bookstore each have job opportunities on the campus.
New Board of Trustees SharePoint Site.
The BC Board of Trustees has a new and improved Board of Trustees SharePoint site designed to provide the BC community with useful information about upcoming Board meeting dates, meeting materials, and past meeting minutes. Bookmark this site so you can access the information you need quickly.
Kudos
Faculty Tenure
Congratulations to the twelve faculty members who were granted tenure beginning Fall 2022 at the Board of Trustees meeting on March 16. We are so grateful for the contributions these faculty members have made to Bellevue College and know we will all continue to benefit from their ongoing achievements and talents as faculty members.
Alicia Dehart, Science (Mathematics)
Betty Torrell, Arts and Humanities (Interior Design)
Charlene Cheng, Institute for Business and Information Technology (Data Analytics)
Eric Stewart, Health Sciences, Education and Wellness Institute (Healthcare Informatics)
Evan Drake, Institute for Business and Information Technology (NSCOM)
Jacqueline Miller, Science (Molecular Biosciences/Life Science)
Jennifer Parada, Social Science (Psychology)
Liangmin Zhou, Science (Mathematics)
Marilu Bumgardner, Health Sciences, Education and Wellness Institute (Nursing)
Minnat Hamada, Health Sciences, Education and Wellness Institute (Nursing)
Patrick Torres, Science (Mathematics)
Tyler Saxon, Social Science (Economics)
Lockwood Foundation Grant
Congratulations to this year's Lockwood Foundation Grant recipients. Lockwood grants are administered by the BC Foundation, open to faculty members, and given in support of new or ongoing projects that promote innovation in teaching and/or advance entrepreneurial models at the college. This year's Lockwood recipients are Sonya Doucette's Expanding Student Air Quality Research in General Chemistry, Jun Xu's Writing Across the Curriculum Program, and Marie Koole's Occupational Life Skills (OLS) Creating an Online Cohort – Phase Two. Awardees will utilize these funds to purchase scientific equipment for enhanced experiential learning, support faculty development, and expand the offerings and availability of our OLS program.
Public Safety Staff
Thank you to the Public Safety staff for your 24/7 presence on campus. From providing directions on campus to emergency response, their goal is everyone's safety. Every day they lock and unlock our working and learning spaces; provide safety escorts, parking enforcement, and jumpstarts of dead car batteries; and maintain our fire safety equipment and crisis response boxes. When there is inclement weather or other safety situations, they send BC Alerts to employees and students. When there is a medical emergency, they quickly respond and work with local emergency responders. The team is also trained in first aid, CPR, AED and NARCAN response.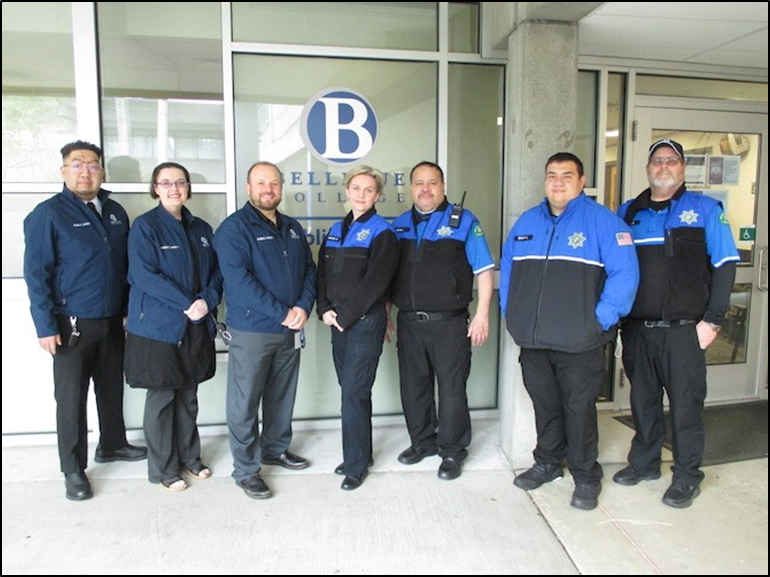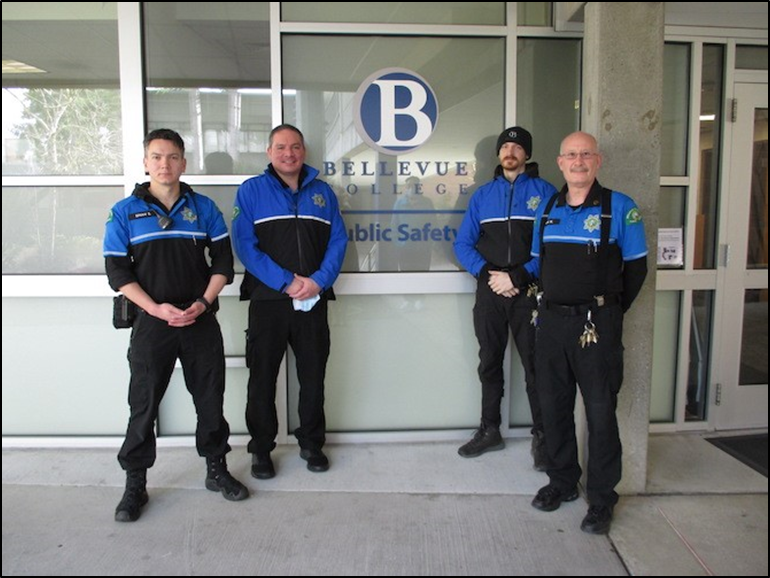 Public Safety employees not pictured: Eric Peterson, Tahn Ha, Ashley Graves, Vo Truong, Reginald Snowden, and Kristopher Hemphill.
Public Safety officers are available 24 hours a day and 7 days a week at 425-466-9365 or Monday through Friday during regular business hours at their office phone number 425-564-2400. As a final note, Public Safety is looking to hire part-time student employees and work study students. Please contact them at publicsafetyleadership@bellevuecollege.edu for more information.
In Memoriam
I conclude today's note to express our sadness for the recent loss of two former faculty members and a KBCS/BC volunteer.
Alan Yabui
A Celebration of Life for former faculty member Alan Yabui will be held on Tuesday, April 12 at 3:30 – 5:30 PM in the cafeteria. Alan taught communications and Hawaiian Studies and retired in 2015 after working at BC for more than 20 years. He was a popular professor, known for his accessibility and friendliness, especially among international students who thrived in his intercultural communications course. In the spirit of what Alan would have wanted, everyone is encouraged to wear Hawaiian outfits at his Celebration of Life event.
Dale Hoffman
A Celebration of Life for former faculty member Dale Hoffman will be on Thursday, April 21 at 4 – 6 PM on the third floor of the U Building. Dale loved mathematics, teaching, his students and colleagues, and was able to combine all of them into a 50-year career of teaching college mathematics (37 of those years were spent at BC.) Dale was adored by his students and won teaching excellence awards from the regional MAA, WAMATYC, and BC. Dale asked that people not send flowers, but instead, donate to a foundation or charity, have a drink in his name, and/or plant a tree.
Doug Paterson
We are also deeply saddened to learn of the death of Doug Paterson, our beloved host of The Music of Africa. For 30 years at KBCS and Bellevue College, Doug volunteered his time to showcase the very best in African music. His dedication was an extraordinary act of service to his community and we are all better people and better listeners for having known him.
I wish comfort and peace to the families and friends of Alan, Dale, and Doug during this difficult time.
Gary Locke
Interim President
Last Updated April 26, 2022