Dear Colleagues,
This coming weekend, we will observe Memorial Day. Memorial Day often marks the start of summer and a 3-day weekend marked by BBQs and celebratory gatherings. Yet, as you go about your Memorial Day plans, please take time to pause and reflect on the sacrifices that make this day possible. Memorial Day is a day to honor the military personnel who have died while serving in the U.S. armed forces. It is because of the sacrifice of these courageous service members that we enjoy the freedoms and security of this great nation.
As we unite to honor those service members who have paid the ultimate price, let us also pause and honor the sacrifice of their family members and loved ones whose loss is felt every day at the dinner table and family events. Let us also acknowledge the more that 81,600 service members who never made it home and are currently still missing in action.
Let us always remember the sacrifice of every soldier. Happy Memorial Day.
Updates
Celebrating BC's First Rainbow Crosswalk.
Although the rainbow crosswalk was installed at the top of Landerholm Circle in 2021, it wasn't until last week that it was officially dedicated—on International Day Against Homophobia, Transphobia and Biphobia. This is the first rainbow crosswalk on the Eastside. Read more about the event on the BC News site.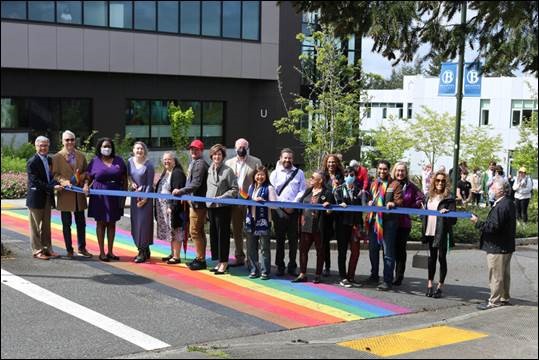 Save the Date for Commencement.
Bellevue College will mark the return to an in-person Commencement Ceremony at T-Mobile Park on Friday, June 24, 2022. If you work with students, please remind them of the deadline to apply to graduate and register to participate in Commencement, which is June 3. Visit the updated Commencement webpage to learn more.
Commencement is a momentous occasion and a significant milestone for our graduates and their families and friends and your participation in Commencement is an aspect they will always remember. Faculty who want to participate in the Commencement procession should complete this online form. Employees who can switch their work location to T-Mobile Park to assist with Commencement should complete this online form after discussing with your supervisor. We hope you will join us on this special day!
Kudos
Faculty Tenure
Congratulations to the 33 faculty members awarded tenure since Summer 2019 as well as the Tenure Evaluation Subcommittee (TES) chairs, TES members, Tenure Review Committee members, and others who were a such an important part of every faculty member's tenure process. Many of these individuals gathered at the Tenure Reception on May 18. We haven't been able to host a Tenure Reception in two years due to the pandemic, so it was wonderful to participate in this celebratory event in-person.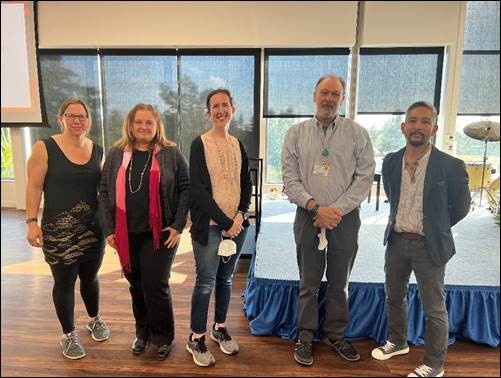 Grady Blacken, Chemistry
Marie Brisette, I-BEST
Kelli Callahan, Criminal Justice
Timothy Chang, BATS
Lela Holden, Nursing
George Juszynski, Neurodiagnostic Technology
Mark Mappala, Interior Design
Tatiana Mihaylova, Mathematics
Heidi Richter, Biology
Alexa Serrato, Science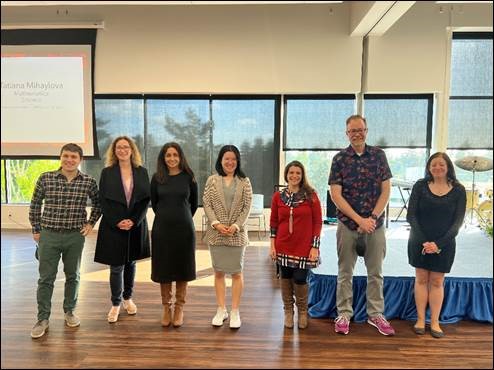 Jose Aparicio, English
Sarah Farag, Computer Science
Lindsay Haney, English
Zhenzhen He-Weatherford, English
Gail Mcfarland, NMTEC
Christopher Oliver, Art
Alfred Nehme, Computer Science
Claudia Payne, BATS
Michael Pulido, History
Sharon Walia, Marketing Management
Sandi Xhumari, Mathematics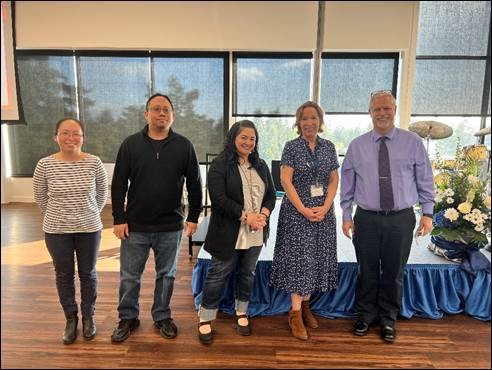 Marilu Bumgardner, Nursing
Charlene Cheng, Data Analytics
Alicia Dehart, Mathematics
Evan Drake, NSCOM
Minnat Hamada, Nursing
Jacqueline Miller, Molecular Biosciences/Life Science
Jennifer Parada, Psychology
Tyler Saxon, Economics
Eric Stewart, Healthcare Informatics
Betty Torrell, Interior Design
Patrick Torres, Mathematics
Liangmin Zhou, Mathematics
ITS Service Desk
Thank you for the work done by our colleagues who work at the Information Technology Services (ITS) service desk: Dustin, Lucas, Eli, and Gabriel. As work and classes transferred to a remote environment over 2 years ago, the ITS Service Desk saw a 23% increase in tickets from students, faculty, and staff requiring technology assistance, both from home and on campus. Despite the change in modality, they have continued to be there for everyone on and off campus to provide assistance. As we transitioned to ctcLink, the ITS Service Desk saw a 42% increase in requests for help over a 6-month time frame. They again were there to help answer questions and provide information to both students and employees. This group's dedication to our campus has been steady and unwavering and for that we are all grateful!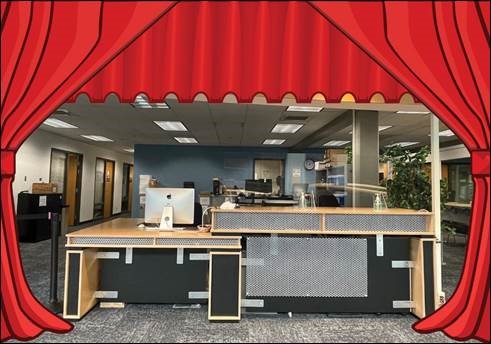 ACT Spring Conference
Congratulations to Trustee Greg Dietzel who officially became the President of the Washington State Association of College Trustees (ACT) and Trustee Richard Leigh who was elected as the ACT Treasurer. ACT provides learning opportunities for trustees to develop leadership and advocacy skills on behalf of students and colleges. Congratulations also to Dr. Consuelo Grier for presenting "What Does it Take to Build an Antiracist Institution" along with some of her DEI colleagues across the state to CTC trustees and presidents at last week's ACT Spring Conference.
Registration
Thank you to the team who is continually managing the Student Registration War Room: Anneke Hercules, Garrett Tillotson, Iulia Zavadov, Mihaela Bujor, Sally Raftery, and Steve Downing. This team is constantly working to help students who are having trouble with ctclink in the registration process. They are fast, helpful, creative, and always popping online to solve problems as they come up.
Celebration & Awareness Days/Months
Asian American and Pacific Islander Heritage Month.
During the month of May, BC joins other colleges, communities, and the nation, in celebrating AAPI month. The Library Media Center has assembled a wonderful virtual display with links to books, museums with virtual exhibits, online media and other resources, and I'd like to thank our APA/API student organizations for presenting events for all to enjoy. If you'd like to explore the rich history and contributions of Asian American and Pacific Islanders, visit asianpacificheritage.gov for a series of virtual exhibits and events. 
Jewish American Heritage Month.
May is also Jewish American Heritage Month, a time to celebrate and pay tribute to the generations of Jewish Americans who helped form the fabric of U.S. history, culture, and society. The Washington State Jewish Historical Society offers a digital museum that serves to preserve the stories, lives, memories, and events that have shaped Jewish life in Washington State. And the Holocaust Center for Humanity based in Seattle offers online events and exhibits to teach the lessons of the Holocaust and inspire students of all ages to confront bigotry, intolerance, and indifference. 
Gary Locke
Interim President
Last Updated March 14, 2023