Congratulations to the thousands of students who earned a degree or credential from Bellevue College this year!
Celebrating their amazing accomplishments, 600+ students participated in Commencement this past Friday at T-Mobile Park. Returning to our first in-person ceremony in 2 years, it was a most joyous event for not just the students but also their families, loved ones, and friends as well as the faculty and staff who attended. I for one enjoyed every minute. And T-Mobile Park was a perfect setting featuring unlimited number of guests, ample and spacious seating, concession stands for food and drink, convenient parking and public transportation. And the weather was great!
A hearty Thank You! to the dozens of staff and faculty from across the College who planned and participated in this year's Commencement. And a special shout-out to Alicia Keating Polson, Executive Director of the President's Office, for chairing the commencement planning committee.
Commencement is a special occasion and an important milestone for our graduates. Your participation and help made the day one they and their guests will always remember.
Special thanks also to commencement speaker King 5 News Morning Anchor Mimi Jung, faculty speaker Robert Hobbs, and student speaker Florida Cishesa (who is off to MIT next year! Congratulations Florida!) for their truly inspirational messages. If you missed last week's Commencement Ceremony, the recording is available on Bellevue College's YouTube channel.
Updates
Leadership Changes
Brenda Ivelisse (Dr. B), Associate Vice President of Student Affairs, and Jennifer Sohonie, Executive Director of Continuing Education, will be leaving Bellevue College shortly. Jennifer will be joining the software company Concentrix Catalyst; and Dr. B is headed to anther college. We thank them both for their commitment to Bellevue College and wish them luck in their new opportunities. For the next several weeks, Rae Ellen Reas will serve as the Acting Associate Vice President of Student Affairs and Lisa Corcoran will serve as the Acting Executive Director of Continuing Education. I will update the campus as I consider, in consultation with the Cabinet, how to fill these positions.
Program and Department Name Changes
Are you considering changing the name of your program, department, or office? As a reminder, any program or department name changes must be reviewed and approved by your area VP or leader, then by the President's Cabinet. Department and program names are integrated throughout the campus website, marketing materials, accreditation documents, and other records and materials. Effectuating name changes thus requires extensive changes to numerous documents and materials. A careful analysis of the direct and indirect costs as well as potential impacts on accreditation must therefore be considered when name changes are contemplated.
Kudos
Thank you to the Warehouse and Maintenance Crews for keeping our campus running.
Throughout the past 2 years when many of our employees operated remotely, these staff members had to be on campus to keep our equipment and buildings operating smoothly and efficiently—for those employees, staff, and students working and studying on campus as well as maintaining essential infrastructure so others could work remotely—and continued to distribute mail, packages, and other products.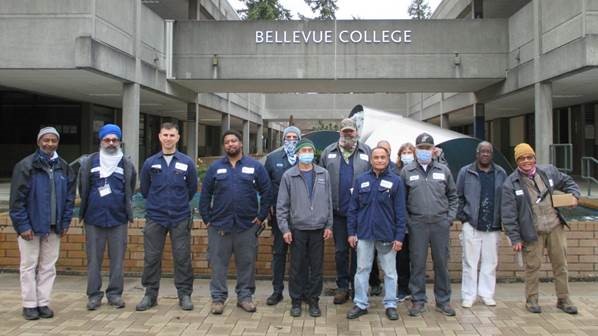 Warehouse and Maintenance Crew pictured from left to right: Ed Biggers, Ravi Sidhu, Budimir Nikolic, AJ Green, David Mann, Robert Lee, Rick Gregersen, Manoj Bhandari, Alexis Feliciano, Laurene Hatch, Bruce Lee, Mitchell Bland, Khanty Mounivong; Not pictured: Karen Akopov, Calixto Quan
During remote operations, the Warehouse Crew continued to receive, sort, and distribute packages and the mail, not just for the college but also for everyone living in the Residence Hall. The team also safely stores and coordinates the destruction of campus hazardous materials (e.g., batteries, lamps, and sharp containers). Additionally, the Warehouse receives and stores surplus furniture that is repurposed across campus. Our locksmith, who is also part of the Warehouse team, manages and distributes keys, access codes and swipe cards to the campus, as well as manages the installation and repair of locks.
The Maintenance Crew works across 18 buildings managing heating, cooling, and power supply. During the pandemic they updated our HVAC systems with MERV-13 air filters providing a safer environment to work and learn in. They also replaced numerous malfunctioning exterior lights with more energy efficient and long-lasting LED lamps.
Thank you to the Warehouse and Maintenance Crews for all of your work to keep our campus operating safely and smoothly.
Gary Locke
Interim President
Last Updated September 1, 2022