The start of Fall Quarter is almost here! I am looking forward to experiencing that exciting bustling campus atmosphere that comes with the start of new school year.
As we begin the start of the school year, I want to share some words from a BC student who just became a U.S. citizen. His words remind us of the transformative power of education and the tremendous impact of individuals reaching out to help others.
"I left my home and my family to escape genocide at only 12 years old. I was captured and imprisoned in a detention center where I survived starvation and abuse. By some miracle, the United Nations High Commissioner for Refugees (UNHCR) helped me, and I was able to relocate to the U.S. At the time, I had very little education and could not speak English. I have studied very hard since my arrival in the U.S. and have learned to speak the language. I am engaged in my local community, work for an area business, save money for my future and to help my family. I have built a huge support network in the U.S. and have become a U.S citizen. I am looking forward to my second year at BC. There are a lot of people who helped me get to this point. Many of my people continue to suffer the effects of a genocide. I am so grateful to the U.S. and the American people for giving me the opportunity to go to school and giving me my freedom."
Regardless of our position or duties at BC, all of us contribute to influencing and shaping the lives of our students.
Updates
Opening Day
We will officially kick off the start of Fall Quarter with our annual Opening Week Activities the week of September 12. Many divisions will be meeting in retreats during that week and all employees will participate in Opening Day on Thursday, September 15. This year's theme for Opening Day is Building Community, and we hope you join us for a day of connecting with colleagues and participating in a variety of activities. You can expect to learn more about Opening Day later next week.
Mid-Cycle Evaluation
This past Spring quarter, we had our Mid-Cycle Evaluation with our institutional accreditors: Northwest Commission on Colleges and Universities (NWCCU). This evaluation included our submission of a Mid-Cycle Evaluation Report and a (virtual) site visit with an evaluation team. In their Evaluation Report, our evaluators provided valuable feedback regarding our efforts to demonstrate our effectiveness as an institution and progress on the recommendations we received from NWCCU in 2019. Our next major evaluation with the NWCCU is our Policies, Regulations, and Financial Review (PRFR) in 2025 and our Evaluation of Institutional Effectiveness in 2026.
More Accreditation News
NWCCU also recently approved the substantive change in the number of credits in the Phlebotomy Technician certificate program and the Clinical Laboratory Assistant certificate program. Congratulations to these programs!
Stay Hydrated
Twenty new water bottle filling stations were recently installed throughout campus to improve access to free, filtered drinking water. The new stations have updated technology, are ADA compliant, automatically shuts off after a bottle is removed, and a majority are touchless and spout-less. Locations were determined through a survey conducted by the Sustainability office to identify the areas of greatest need across campus. In addition to lowering the risk of virus spread, this project also makes strides towards BC's sustainability goals. Increasing opportunities to use refillable water vessels results in less reliance on single-use plastics, thereby reducing the college's waste stream.
A special thank you to the Sustainability office, the Capital Projects Team, the Infrastructure Council, and the Student Environmental Sustainability Fund for supporting this project. And remember, whenever possible, please use reusable water bottles to help support BC's sustainability goals!
Transforming Lives Nominations Due October 11
Looking for a special way to recognize a student whose life has been transformed by a community college education? Please consider nominating them for the Washington State Association of College Trustees (ACT) Transforming Lives Award. More information about submitting a nomination can be found on the President's Office SharePoint site.
Academic Dean Updates
Reza Forough has been appointed Interim Dean of the Health Sciences, Education and Wellness Institute (HSEWI) and Anne Mary Nash-Haruna has been appointed Interim Dean of A&H role. Both will serve in their respective roles through the end of Fall Quarter.
Kudos
Congratulations to Rick Mahaffey
Classified staff employees at any of the Washington community and technical colleges are a part of STTACC, the Staff Training for Technical and Community Colleges organization. Congratulations to Rick Mahaffey for receiving from the 2022 STTACC Exemplary Award for consistently demonstrating commitment and excellence in job performance and dedication to the mission and goals of BC, as well as dedication to the professional development of the classified staff at BC.
Thank you to our hardworking Payroll Office
During the past 2 years this team has been on campus processing payroll for not just Bellevue College but also Everett Community College and Skagit Valley College. In addition to processing compensation, Payroll handles employee time and absences, submits payments to vendors, issues W-2s, and reports information to the Internal Revenue Service and Department of Retirement Systems. The transition to ctcLink has posed huge new challenges, but the Payroll team is proud to have processed payroll on time despite these hurdles. The team is happy to help employees with questions and can be best contacted at payroll@bellevuecollege.edu.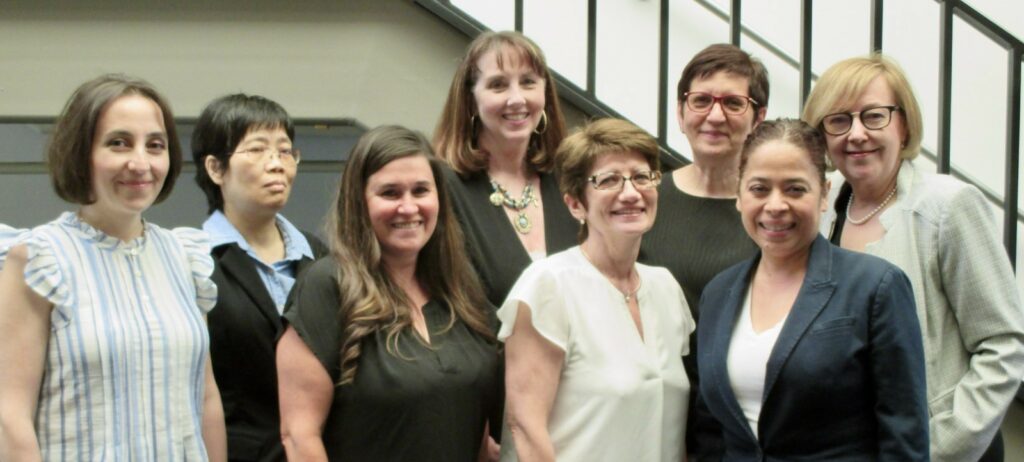 In Memoriam
I'm deeply saddened to share the news that retired faculty member and former Athletic Director, Marilyn Dianne Anderson, recently passed away. Our thoughts go out to her family, friends, students, and fellow faculty members who are struggling with this loss. Marilyn devoted 36 years as a teacher at colleges in Washington including Edmonds, Shoreline, North Seattle, and finally Bellevue College where she taught pre-college math classes, as well as calculus and differential equations.
A vibrant member of the BC community, she was considered a cornerstone of her department, serving as Math Program chair and taking an active role in the BCAHE. She also acted as the Athletic Commissioner to the league to which BC belongs, and went on to become the Athletic Director, successfully pushing for the formation of a women's soccer team. Those who knew her noted that she encouraged, and fought for 'her players and coaches,' yet made sure they knew the importance of the college they represented. And she was always ready to show up early or stay late after class to help a student in need. Although she retired in 2013, she continued to teach a section or two as a part-time instructor for some time after. Marilyn will be deeply missed.
We also mourn the passing of retired math faculty member Peter Joel Bloomsburg. Peter was an accomplished wrestler in high school and went on to earn his Ph.D. in mathematics from the University of Idaho. He taught at Bellevue College from 1996 until his retirement in 2018, after which he devoted himself to gardening, home renovation, and taking care of the family ranch on Lake Coeur d'Alene. Peter was known for 'his uncompromising pursuit of his sense of duty and professionalism.' Our hearts go out to his friends and family who held a memorial service for him in Idaho mid-August.
May the families and friends of Marilyn and Peter find comfort and peace during this difficult time.
Gary Locke
Interim President
Last Updated October 3, 2022