Fall Quarter has started and its been wonderful being able to interact with so many BC students and employees over these past 2 weeks and seeing students and staff on the campus. Our enrollment is looking steady with us reaching 98% of our forecasted enrollment for fall. We are not quite where we want to be, but anticipate this number could climb another percentage point. BC has more than 11,000 students enrolled in for-credit courses and another 450 students enrolled in continuing education (non-credit) courses. Nearly 3,000 students are taking on-ground courses with another 6,000 taking hybrid classes, which means more students on campus. It has been an exciting first couple of weeks!
I'm sure you've noticed an uptick in activity on campus with the increased number of students and staff being in-person for classes and work. If you see someone that looks lost on campus, please ask them how you can assist. Some students are coming to campus for the first time and a friendly face pointing them in the right direction can go a long way to fostering a warm and welcoming environment on campus.
Hispanic and Latinx Heritage Month
BC celebrates Hispanic and Latinx Heritage Month, or Hispanic Heritage Month as it is also known, September 15 — October 15, and we honor the many contributions members of this remarkable community have made to the Pacific Northwest, and our nation. BC's Library Media Center has a virtual display available with books, resources, and information to learn more about Latinx history and culture, and there are a range of online events being presented by the Library of Congress that I encourage you to explore. Closer to home, South Seattle Emerald has posted numerous events and activities.
Save the Date: Equity Focused Professional Development Day
If you haven't yet marked your calendar, now's the time! Join in the all-faculty & staff equity-focused professional development day on October 17. We encourage all those able to join us on campus, to please come in-person. We will have concurrent sessions focused on anti-racism, equity, and inclusion taking place throughout the day both in-person and virtually and lunch will be provided. Plan on beginning the day at 8 AM in U301 or via virtual link. More information will be provided via email. The Office of Diversity, Equity, and Inclusion and the Equity Education Advisory Committee look forward to seeing you on October 17!
Updates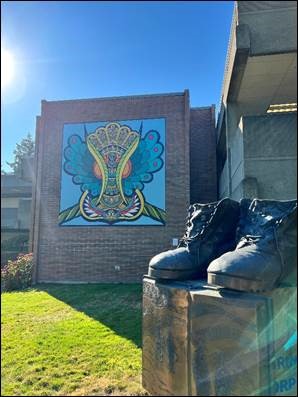 Welcoming New Art to Campus
If you haven't taken a walk around campus lately, you'll want to soon, so you can enjoy several new large-scale murals. The mural pictured above, which is located north of the Library Media Center, is by Arlene Carranza and titled "Indigena por Vida." These murals on campus are intended to be a visual representation of our commitment to affirm and uplift the diverse identities within the BC community and our commitment to social justice. I plan to highlight a new mural in each of my upcoming Notes this quarter.
Ribbon Cutting at the Early Learning Center
On September 6, we held a small ribbon cutting ceremony to celebrate the completion of the Early Learning Center (ELC) playground upgrade. After 20 years of outdoor fun an overhaul was much needed. Thanks to Costco for the major donation to enable the improvements. The renovation included replacing play equipment, landscaping, and other materials which provide the children with the opportunity to develop fundamental physical and learning skills. It also provides them with a place to explore, engage, and learn together. Imagine a place where every child gets a turn – and everyone gets to play – including big kids/adults. Where lifelong memories become blueprints for the future, friendships unite communities, and a sense of well-being brings hope. That is The Early Learning Center!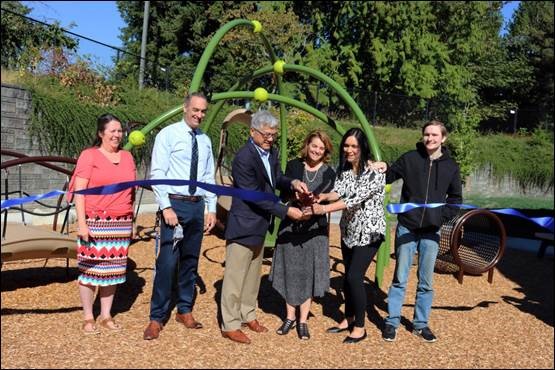 Grants Office Moves to Institutional Advancement
The Grants Office led by Brandon Lueken, Director of Grant Development, is now a part of the Institutional Advancement team. The Grants Office supports the college by bringing in external funding from federal, state, local, and private funders, and has long worked with other departments within Institutional Advancement like the BC Foundation and Marketing. Now, they are part of the same unit, which will help ensure that programs and projects seeking funding will receive a broad array of support from Institutional Advancement. The physical location of the Grants Office will remain in A242.
Grab a Bite to Eat on Campus
Food and coffee options are currently available in two locations on campus. The Student Housing Café (aka the Pizza Kitchen) offers a selection of customizable salads and freshly baked pizzas. The café also has a full menu of coffee, tea, and sodas, as well as daily specials, grab and go sandwiches, sushi, fruit, pastries, and snacks. The café is located on the first floor of Student Housing at the north end of campus across from the baseball field and is open Monday – Friday 10 AM – 5:30 PM. The C building café has a full beverage menu along with grab and go sandwiches, salads, soup, sushi, pastries, and snacks. The café and student lounge, located on the first floor of the C building and is open Monday – Thursday 7:30 AM – 5 PM and closed on Fridays.
Get Involved in Employee Wellness at BC
Learn more about the Wellness offerings available to you at BC and chat about ways to incorporate self-care into your work life on Tuesday, October 4 at 3:30-4:30 PM in the G Building Hallway by the Fitness Center. You'll be able to take a tour of the BC Fitness Center, learn about weekly wellness classes and monthly wellness event plans, and start to build community with the Wellness team. This is a great time to find out more about BC community activities and how you can connect with fellow employees and incorporate positive and engaging activities into your work at BC.
Professional Development Opportunities & Required Trainings
The Office of Human Resources (HR) recently organized three new training programs which were very well-received by the BC community. The development opportunities were Crucial Conversations for Managing Dialogue, Dare to Lead Book Club, and the Public Speaking Workshop. These opportunities were focused on skills related to our core competencies at the College. HR plans to continue offering more of these opportunities over the next year. To learn more about these programs, read testimonials, and access registration information for these workshops please visit the website links for these programs. HR also released four required training courses through different platforms including the new Bridge Learning Management System for employees. If you have any questions about these or other HR training programs, please email training@bellevuecollege.edu.
In Memoriam
I'm saddened to share the news that former BC student Drew Parker Wilson, 23, of Renton passed away Tuesday, August 9, 2022. Drew graduated from Issaquah High School in 2016, where he was a member of the First Robotics Team. Drew graduated from Bellevue College in Spring 2022 with a bachelor's degree in Computer Science. The Bellevue College community cherishes Drew's memory, along with his family and friends. If you would like to make a donation in memory of Drew Wilson, the family suggests Bellevue College Autism Spectrum Navigators / Neurodiversity Navigators.
Gary Locke
Interim President
Last Updated October 24, 2022