This Friday, November 11, the College will be closed in observance of Veterans Day, a time to honor and pay tribute to military veterans – including members of our own BC community – who have served in the U.S. Armed Forces. This day is not only an opportunity for us to honor our veterans, but also a time for us to reflect on the contributions and sacrifices veterans have made on behalf of this nation. Our freedoms and democracy must never be taken for granted.
Today (November 10), BC's Veterans Program will host speaker Dr. Brian Casserly from BC's History Department at 12-1 PM. More info can be found on the Veterans Program website. Our Library Media Center has also created this virtual display with books, films, and other resources for veterans.
Native American Heritage Month
In November, Bellevue College observes National Native American Heritage Month, when we celebrate the rich history, diversity, and contributions of Indigenous peoples, while also recognizing the painful history of our country's oppression that has caused so much suffering. If you're not familiar with BC's Land & Territory Acknowledgement, you can find it on the Office of Diversity, Equity, and Inclusion website, and I encourage you to explore the Library Media Center's virtual display commemorating both Indigenous Peoples' Day & Native American Heritage Month. It includes a link to the American Library Association website which offers a listing of the Indigenous Tribes of Seattle and Washington, as well as museums you can visit.
Transgender Day of Remembrance
Sunday, November 20 marks the annual Transgender Day of Remembrance which serves to memorialize transgender lives lost to violence each year. We can take this opportunity to reach out to and support members of our trans community, seek to understand how we can become better allies, and recognize the hate and violence the trans community continues to face. You can learn more about the history behind the observance on the GLAAD website, and the BC Library has a plethora of LGBTQIA Resources online.
---
Updates
Two New Trustees
Governor Inslee recently appointed two new members of the Board of Trustees. Pradnya Desh currently serves as the CEO of Advocate AI, a software platform for AI contract generation, negotiation, and management, and Conor O'Meara is a BC student pursuing an associate degree in business. Learn more about Trustees Desh and O'Meara at BC News.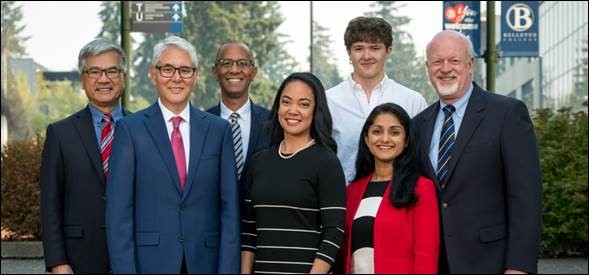 Expansion of Nursing Program
Beginning Spring 2023, BC's nursing program will expand to help bolster the Pacific Northwest healthcare system and provide more part-time opportunities to students eager to join the field. A key goal of the expansion is also to increase the diversity of the nursing cohorts, and ultimately the workforce, by appealing to students from underrepresented communities who might be hesitant to take on a full-time class schedule due to work commitments. Learn more about the expansion at BC News.
$1.5M Gift to Support Computer Science
Amazon is donating $1.5million to the Bellevue College Foundation over the next 3 years in support of BC students pursuing their Bachelor of Science in Computer Science. Funds will be used to reach out to middle and high school students to raise awareness of rewarding and exciting careers in computer science, expand the capacity of BC's computer science program to serve more students, and support student completion with financial or technical assistance, particularly those from underrepresented populations. Learn more about the gift at BC News.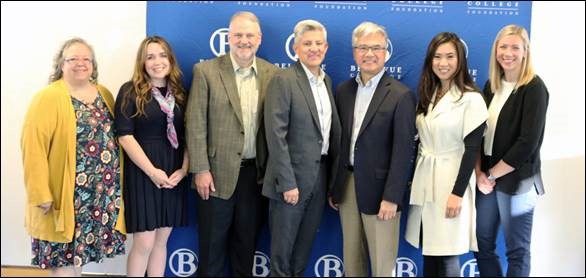 ---
Kudos
Trustee Rich Fukutaki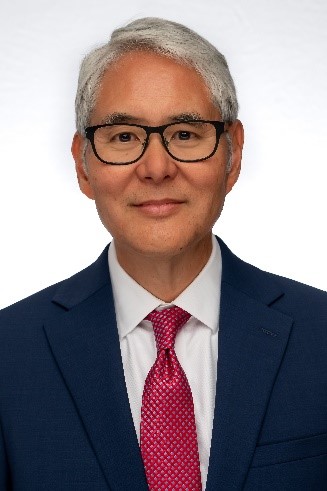 Congratulations to Trustee Rich Fukutaki on his election as the Association of Community College Trustees (ACCT) Secretary-Treasurer. ACCT is a national organization made up of more than 6500 trustees from community, technical, and junior colleges across the country. Trustee Fukutaki also serves as the Board Liaison to the ACCT Student Trustee Advisory Committee and most recently served on the ACCT Diversity, Equity, & Inclusion (DEI) committee.
Trustee Fukutaki was appointed to the BC Board of Trustees in August 2015, and re-appointed in 2019 for a second 5-year term. He currently serves as the Board Vice Chair and is chairing the upcoming search for the next president.
International Education (IE) staff
Thank you to the International Education (IE) staff whose hard work has contributed to a dramatic rise in international student enrollment this 2022-2023 academic year. International student enrollment was heavily impacted by the pandemic, so this increase in enrollment is good news for all of us at BC.
Target (FTEs)
Int'l Non-Bachelors: 578
Int'l Bachelors: 57
Combined Total: 635
Actual (FTEs)
Int'l Non-Bachelors: 742
Int'l Bachelors: 50
Combined Total: 792
BC's Top 11 Places of Origin in Fall 2022*
Congo (Kinshasa) – 150
China – 143
Taiwan – 66
South Korea – 61
Japan – 51
Vietnam – 49
Kyrgyzstan – 32
Indonesia – 30
Brazil – 21
Hong Kong – 19
Canada – 14
*IE's internal data
Effective Summer 2023, the U.S. Department of Homeland Security plans to lift current COVID-19 flexible F-1 guidelines. Once lifted, F-1 students must have mostly on-ground courses, so the more on-ground options available for these students, the better for all of BC.
Marketing & Communication team
Congratulations to the Marketing & Communication team within the Office of Institutional Advancement for being awarded eight District 7 Medallion Awards from the National Council for Marketing & Public Relations. The Medallion Awards recognize excellence in design and communication at community and technical colleges. District 7 is made up of colleges from Alaska, Idaho, Montana, Oregon, Washington, and the Canadian provinces of Alberta, British Columbia, Saskatchewan, and Yukon Territory.
Gold Medallion Award:
Quick-Turn Video – 2022 BC Commencement – T-Mobile Park
Successful DEI Marketing – Introduction of Umoja Program
Excellence in Writing – Building a Virtual Community
Silver Medallion Award:
E-Newsletter – ctcLink Update
E-Cards – BC Holiday Greeting – Electronic – 2021
Excellence in Writing-Long Form – Bellevue College Celebrates First Rainbow Crosswalk on Campus
Successful DEI Marketing – Introduction of Puente Program
Bronze Medallion Award:
Microsite/Landing Page – BC Pathways
---
We get great feedback on the Kudos section of the Notes. If you know of people or programs who deserve recognition at BC, please let us know by emailing president@bellevuecollege.edu.
Gary Locke
Interim President
Last Updated January 17, 2023