There are many things to consider when creating a course that connects students to community issues and agencies. Use the following checklists to ensure that nothing is missing. Visit the Community-Engaged & Civic Education site for more information about all that RISE provides, along with definitions of the six forms of CECE courses. Go to the CECE during COVID-19 site for ideas about how to ensure community-engaged learning in a remote environment.
---
The Quick Checklist
Review these at least 1 month before you launch your CECE course to check whether you're on the right track. Go to the Guiding Questions below for more details.
I have…
…contacted RISE to build connections with community partners.
…contacted RISE about utilizing the BC in the Community portal for my class.
…talked with RISE about waivers or risk management processes.
…informed RISE about my upcoming course so they can post it on the website.
…included a written explanation of the What and Why of CECE in my syllabus.
…ensured that it's clear how the CECE component connects to course outcomes, grading, and real world contexts.
…added the Pre-Survey and the Post-Survey (modules or links) to my course page on Canvas.
…built reflection into the course (tips in the Transcript Notation Faculty Guide).
…planned for partner check-ins both in the middle and the end of the quarter.
…considered submitting my course for the Transcript Notation for Service-Learning.
…considered ending the quarter with participation in Making Learning Visible, the student learning showcase.
…considered inviting RISE to conduct an orientation or other guest presentation on community or civic issues.
…thought about how to capture data – number of participating students, approximate number of hours, and names of partners – for RISE.
---
Guiding Questions for a Meaningful CECE Course
These simple questions provide the backbone for any quality, robust, and meaningful community-engaged learning opportunity. Consider these carefully, and reach out to RISE to discuss these in greater detail.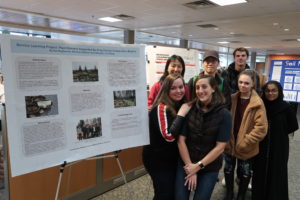 Is the CECE component integrated into the course? Is it part of grading? Does it help students meet at least one course outcome?
Does the CECE component help students see the real-world applications and/or contexts for course content?
Does this CECE component connect course content to social, environmental, or civic issues? Does it help make social justice issues real for students?
Does my course ask students to reflect on their CECE experience in regular, challenging, varied, and connect ways?
Do I think about equity while developing your course? Does Universal Design for Learning fit into my course design? Do I ensure that all students have the ability to gain from the experience? Do I have an alternate assignment, as needed?
If I am working with partner agencies, have I considered their needs and capacities when developing my course's CECE component? Have I talked with them on the phone or in person to ensure that all sides have been heard and that all questions have been answered? Have I been clear regarding expectations, including the required time commitment?
Am I collecting data about student growth and opinions by using the CECE Pre- and Post-Surveys? Am I adapting my course based on this survey feedback?
---
Transcript Notation for Service-Learning
In order for a course to qualify for the Transcript Notation for Service-Learning (TNSL), a committee – administrator, instructor, & student – reviews material at the start of a quarter to ensure that it meets strict criteria for community contribution and student learning. RISE strongly encourages all instructors to design their courses to meet these requirements; doing so can help deepen the learning gained from creating a CECE course. Additionally, earning the notation can be meaningful for prospective employers and transfer institutions.
All Community-Engaged & Civic Education courses – not just those with traditional service-learning – can qualify for the TNSL. All courses must:
Provide an opportunity for students to actively make a contribution to the community
Explain the What and the Why of CECE in the syllabus
Integrate CECE into course grading, as shown in the syllabus
Offer 3+ critical reflective assignments, activities, and/or assessments
Ensure that the collaboration reflects the interests, needs, and capacities of the community partner (if working with one)
Please do not tell students that they will – with certainty – receive the notation before your course has been approved.
For your course submission, send the following to Sapan Parekh at the RISE Learning Institute:
Syllabus
Relevant Reflections, Assignments, Activities, and Assessments (screen captures of Canvas assignments are fine)
An explainer document if the CECE component is not fully clear from the syllabus or assignments (include if you normally would explain the CECE in person to students)
Last Updated September 20, 2021