When a community stands together, the mountains become movable
Lights in a collective are too bright to be dimmed
We didn't love our communities because they were beautiful
Our communities are beautiful because we loved them"

'Trees' by Christian Page (Performance & captions; website)
---
For a broad community to support all people, it requires coordination between government, businesses, nonprofits, schools, houses of worship, neighborhoods, healthcare, and individuals. Put technically, communities function when the public sector, the private sector, and the civil society support each other.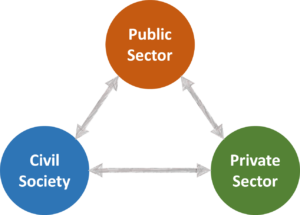 The individual – you – are the glue that holds all three pieces together. Your voice and taxes determine priorities in the public sector. Your money and choices shape the private sector. And your assistance and responsiveness bolster civil society. You play an essential role in ensuring that the community supports not only your interests but also the interests of everyone. Unfortunately, not all individuals have the same power behind their voice or money or responsiveness.
This is why devoting time and energy to creating a civic impact is so important.
---
If you are interested in exploring more deeply which types of civic impact you feel represents your strength, interests, and greatest impact, and you have 15 minutes, take this fun diagnostic survey (under 18 years old, take this one; faculty and staff, take this one). Then, check out the "Avenues for Civic Impact" below to learn more. And set up a time to meet with the Community-Engaged & Civic Education program within the RISE Learning Institute to talk about your results and next steps.
---
Below are different ways to think about engaging with your communities to make a civic impact. Take some time to explore the tabs; hopefully they will spark ideas! Contact RISE if you want to talk more.
Last Updated August 1, 2023