Having conducted, presented and written research on a variety of topics through the use of many different techniques, methodologies and technologies, it is fair to say that Dr. Jillene Grover Seiver, Ph.D., is immersed in the research culture here at Bellevue College while also seeking to constantly improve her teaching practices and standards.
Jill's love of psychology goes back years. She received her B.A. from the University of California, Davis, her M.A. from California State University, Sacramento, and her Ph.D. in Cognitive Psychology from the University of New Mexico. Since joining Bellevue College in 1994, Jill has been a staple of the Psychology department. She teaches sections of the popular Introduction to Psychology course here at Bellevue College, while also offering a variety of other psychology courses. Jill feels comfortable teaching both in a classroom and online, and she uses YouTube to make her lessons more accessible to all.
Jill additionally is a member of the Psychology faculty at Eastern Washington University, as well as an advisor to Psi Chi, the honor society for psychology students. She has presented at a range of conferences, meetings and talks, and has also authored various publications.
While Jill is mainly interested in issues related to the human memory, she also looks at the psychology and cognition behind topics directly relevant to today's society. For example, some of her research interests include the perception of frame rate in video games, distraction by technology, bilingualism, home schooling, and decision-making in human sexuality. One up-coming study examines the role of distractibility in the successful completion of a cognitively demanding task. She became interested in studying distraction because of the frequency of multi-tasking in modern culture and the ubiquitous presence of technology to pull our attention.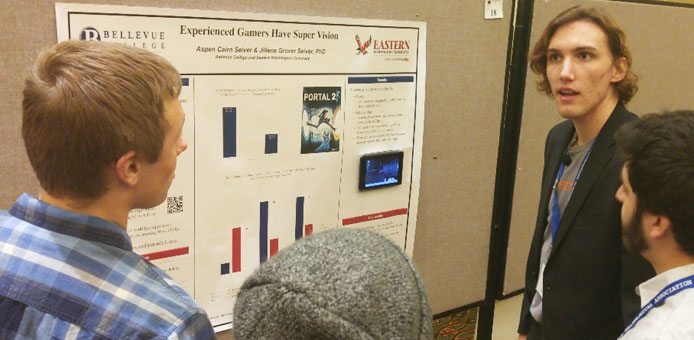 Across these various studies and projects, Jill not only engages with Bellevue College students as participants, but also works alongside them on research collaborations. For example, Jill conducted a study examining the role of personality in online learning, with a student as co-author. By participating in Jill's research, students get hands-on experience with social-science research methods and settings. Additionally, quite a few of her students have presented papers at professional psychology conferences such as Rocky Mountain Psychological Association (pictured), Western Psychological Association, and the National Conference of Undergraduate Research. Jill encourages student research because it provides opportunities to engage with research on a high-end academic level, network with peers and faculty at these conferences, and strengthen résumés. This April, three of her students will travel to the WPA Convention in Sacramento to present research that they conducted under Jill's guidance.
Jill recognizes that there are some barriers to conducting research in the social sciences, saying that "it is eminently worthwhile doing it." Jill would encourage her colleagues to not shy away from doing research and/or involving their students in research. This is because when faculty involve students in their research, it benefits the faculty member just as much as the student. Many of Jill's research ideas have evolved in collaboration with students, and student ideas have kept her research program fresh. For her, there is a sense of pride that comes with seeing her students succeed in research.
"Seeing your student research assistant present their first poster at a conference, and share what they've learned with other students and faculty, is an experience every faculty member should get to have. And when a student gets accepted into the program of their choice, in part because they have research experience, the success is shared by both mentor and student. Finally, for students who engage in research as participants, they come away with greater respect for the field, because they have witnessed the scientific rigor associated with it."
Last Updated January 5, 2021