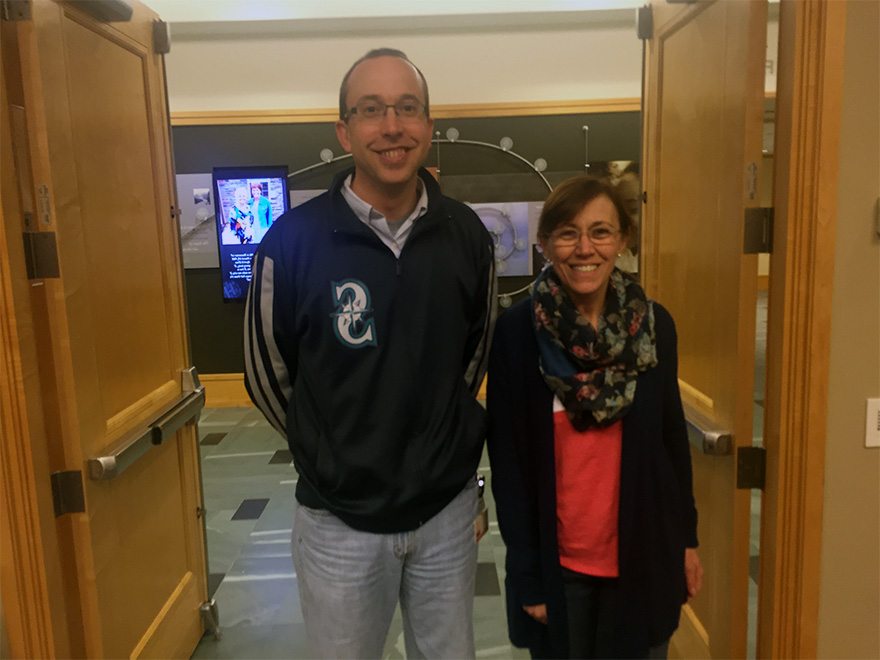 Bellevue College's RISE Learning Institute launched an exciting collaboration with the Fred Hutchinson Cancer Research Institute in Spring 2016. Twelve BC faculty members are now affiliates of Fred Hutch and pursuing professional development in electron microscopy, scientific imaging, genomics, proteomics, and flow cytometry. The faculty are learning about state-of-the-art research techniques, and they are also exploring ways that they might be able to bring more research- and discovery-based approaches into the classroom and get more BC students involved in research.
The collaboration works by placing matching two or three BC faculty with a "research mentor" at the Hutch. Each of the five research mentors is a director of a particular set of shared resource facilities at the Hutch. The program is extraordinarily flexible: the precise nature of the professional development is shaped by each faculty member, their research interests, and the expertise of their research mentor, and their availability. The twelve BC faculty currently participating in the program are:
Grady Blacken, Chemistry
James Brawley, Biology
Jacquilne Drak, Molecular Biosciences
Jason Fuller, Biology,
Rick Glover, Chemistry
Melodye Gold, Biology
Stacey Gregersen, Biology
Allison Kang, Biology
Nancy Lane, Biology
Annalisa Lembo, Biology
Heidi Richter, Biology
Cindy Xie, Biology
The Fred Hutch directors involved in the project are Andrew Berger, Flow Cytometry; Jeff Delrow, Genomics; Phil Gafken, Proteomics; Bobbie Schneider, Electron Microscopy; and Julio Vazquez, Scientific Imaging. Beverly Torok-Storb, the founder of the Hutch Training Lab, initially proposed the idea of BC faculty participating in professional development at the Hutch, and this collaboration would have never become a reality without her unflagging support.
The new collaboration is already paying dividends for BC students. The staff at the Hutch helped analyze samples for a student project in the Undergraduate Research in Chemistry course, and students in Rick Glover's and Grady Blacken's Instrumental Analysis course recently toured the electron microscopy facilities at the Hutch. Jacqueline Drak, chair of the new BAS degree in Molecular Biosciences and winner of the 2017 Margin of Excellence for Full-Time Faculty, is planning on bringing researchers from the Hutch to campus to talk to BC students as part of her new speaker series, and she is investigating the possibility of BC biosciences students doing their capstones at the Hutch next year. This would build on the previous research opportunities held by BC students through Hutch ROCCS, Research Opportunities for Community College Students. BC's Center for Career Connections played an key role in establishing that program and in forging the ongoing collaboration with Fred Hutch.
By bringing together instructors from across campus, the new faculty development program has started to build a community of community of practice interested in increasing the number of BC students engaged in research. Biology instructor Cindy Xie said the program has "been really useful in forming connections here among faculty at BC. I didn't know all that many people outside my department, but it's been great to connect with the other instructors who are involved at the Hutch. I didn't know there were so many BC faculty interested in bringing research into the classroom."
This collaboration is only a year old, but it has some participants dreaming big dreams. Several BC faculty are mulling how they might use their experience at Fred Hutch to update curriculum, including possibly swapping out classical labs for inquiry-driven experiments and/or authentic research. The success of BC's ComGen program and numerous national studies have documented the benefit of incorporating research experiences into undergraduate science education, especially for students typically underrepresented in STEM professions. A survey of 4,500 undergraduate researchers found that research experiences were so powerful because "the inculcation of enthusiasm is the key element—and the sooner the better." (Russell SH et al., 2007, "The Pipeline: Benefits of Undergraduate Research," Science 316:5824)
BC faculty interested in becoming an affiliate of Fred Hutch should contact Michael Reese.
Last Updated January 5, 2021