RISE's offerings for faculty take high-level, aspirational goals – closing equity gaps and boosting student engagement, for example – and make them approachable. Our events give faculty a chance to learn from colleagues and community, plan collaboratively, and try out tools and approaches they can use right away.
Our workshops and panels feature faculty from across campus. Presenters share approaches that can be used to supercharge teaching and learning in multiple ways.
Quick Links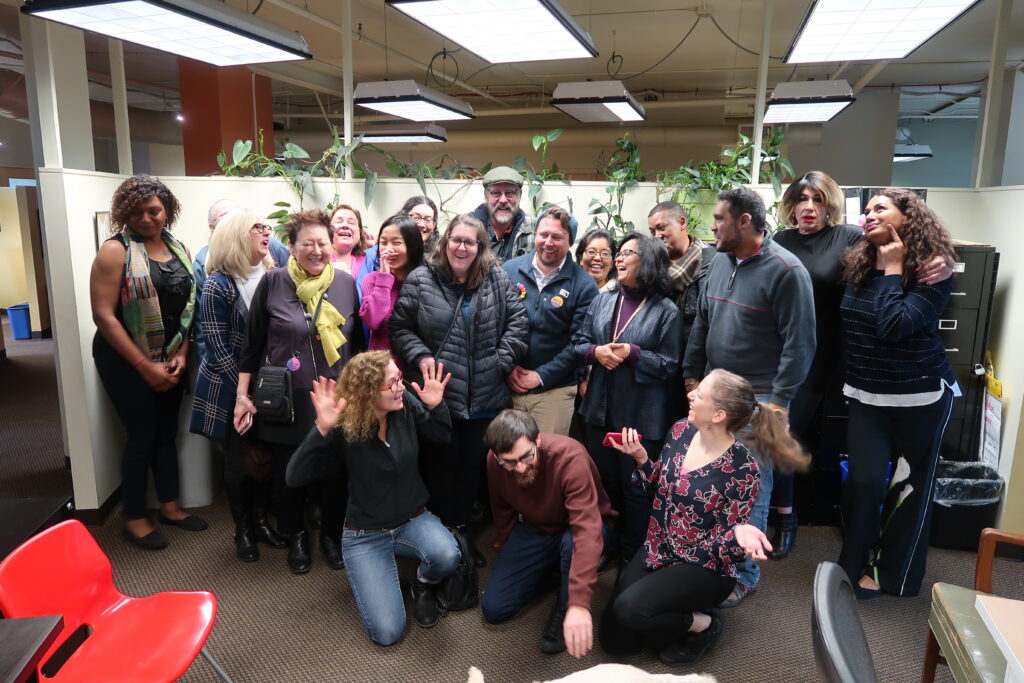 ---
Fostering Team Dynamics
Two Tuesdays, January 18 and 25, 2:30-4:00pm
Have you wondered how you can incorporate teamwork and collaborative learning into your curriculum? When you have students work together on projects, should they pick their own teammates or should you place them into groups? How do you design and implement team assessments to ensure that tasks are divided equitably and that voices aren't marginalized?
In these two sessions, we will investigate:
Strengths and limitations of different approaches to team formation
The role of assessment in fostering positive team dynamics
Methods to encourage teams to solve their own problems
Come explore with Miranda Kato and Jackie Miller | 6 PD hours | $75 stipend
RISE Wellness Lunch & Learns
Dates Below 12:00pm-1:00pm
During this pandemic we as a staff and faculty have had our own set of mental gymnastics to hurdle in order to stay positive, hopeful and on-track. RISE is offering a six month series of Wellness/Leadership one hour "lunch and learns" beginning at the end of January. Attend those that work for you.
The topics and dates are:
The Art of Coaching | January 27, 2022 | 12:00pm–1:00pm
Journey to Self-Awareness | February 14, 2022 | 12:00pm–1:00pm
The Power of Effective Team Building | March 3, 2022 | 12:00pm–1:00pm
The Power of Positive Self-Talk | April 7, 2022 | 12:00pm–1:00pm
30-60-90 Day Plan to a Better You Using DBT | May 26, 2022 | 12:00pm–1:00pm
The Art of Influential Leadership | June 9, 2022 | 12:00pm–1:00pm
Contact the facilitator, Margaret Nichols, for more information.
Click here to learn about the individual Lunch & Learns and to register!
Stepping Out & Stepping Into: Ethical Community Engagement for a More Equitable World
Wednesday, February 9, 1:30-3:30pm
So, you want to make a difference in the world around you? Perhaps you want to encourage your students to do the same? But maybe you feel uncomfortable, unprepared, and uncertain. Join us as we examine how to engage with, learn from, and contribute to the community in an ethical manner. We will examine how bias, anti-racism, privilege, storytelling, and more fit into how you step into new community situations, so you have more confidence to step out and make the world a better, more equitable place.
This interactive workshop has been designed with inputs from the community and from other academic institutions. It is open to anyone associated with Bellevue College, as well as to the broader community. Please consider sharing with students.
This workshop will be facilitated by Sapan Parekh | 2 PD hours
Finding Resources and Building Collaborations for Project-Based Learning (PBL)
Tuesdays, February 15 & 22, 2:30-3:00pm
Are you interested in finding resources available for your teaching efforts? Are you interested in collaborating with faculty and other on-campus areas to make your project-based learning more impactful?
These micro-workshops will explore collaboration opportunities and resources available for faculty. In the first half-hour workshop, on February 15, we will showcase existing collaborations among faculty and discuss how to make time and space for future cross-disciplinary collaboration. In the second half-hour workshop, on February 22, we will cover strategies for obtaining grants and leveraging on-campus sources of funding to support project-based learning in your courses.
Attend one or both, based on your interests.
These micro-workshops will be facilitated by Miranda Kato and will feature guest speakers. | 1 PD hour per micro-workshop (2 PD Hours total)
Reflection Micro-Workshops
Dates Below, Mondays & Thursdays 3:00-3:30pm
The ability to reflect on experience is key to transformational and enduring learning. Reflection can be particularly powerful in experiential learning courses, though it is a useful skill for all students to develop, no matter their field of interest. This series of half-hour micro-workshops will help faculty learn techniques and develop skills to strengthen the impact reflection can have on student learning. Attend one or all; come to what makes sense for you, your students, and your courses.
"This micro-session series allowed me to take a step back and question my purpose for assigning them [reflection journals] in the first place. I learned why, how, and when to assign and assess reflections other than journal writings that also can help balance my workload."

– Donna Miguel, English
The micro-workshop topics and dates are:
Bringing out Depth through Reflection | Thursday, February 17, 3:00-3:30pm
Creating Connections using the 8Cs | Thursday, February 24, 3:00-3:30pm
Unleashing the Power of Reflective Journals | Monday, February 28, 3:00-3:30pm
Reflecting Beyond Writing | Thursday, March 3, 3:00-3:30pm
Planning Your Quarter Using Reflection Mapping | Monday, March 7, 3:00-3:30pm
Assessing Reflection | Thursday, March 10, 3:00-3:30pm
1 PD hour per workshop (6 PD hours total). Completion of 5 or more Micro-Workshops will earn a $75 stipend. Contact the facilitator, Sapan Parekh, for more information.
Click here to learn about the individual micro-workshops and to register!
Faculty Panel and Showcase: Learn about and Celebrate Innovative and High-Impact Teaching at Bellevue College
Monday, February 28, 1:30-3:00pm
For the past three years, the RISE Learning Institute has supported faculty and academic programs in improving student engagement and success through a competitive, campus-wide grant process – the Provost's Award for Innovation & Equity. The recipients of this grant integrate and implement experiential and high-impact components across many or all sections of a course. They have innovatively reduced equity gaps through authentic experiences that span Business Technology Systems, Chemistry, Communication Studies, Criminal Justice, eLearning, English, First-Year Seminar, Geography, and Programming.
We invite you to join us for a celebratory showcase with these award winners, to better understand why this work matters to our students and how you can get involved both to support colleagues and students in this work.
This faculty panel will be moderated by Sapan Parekh and Irene Shaver | 1.5 PD hours
Join Zoom (Passcode: 816020; Meeting ID: 859 8938 1396)
RISE Community Immersions: Housing Insecurity
Thursday & Friday, March 24 & 25, All-Day (8:30am-5:00pm)
These two-day events provide opportunities for BC faculty and staff to deep dive into issues with local significance. All Community Immersions are carefully curated to engage participants in the various sides of the issue and to network them with experts throughout the community. Faculty can earn professional development hours for participating.
Housing Insecurity is a large issue in the Greater Seattle Area, as King County has the third largest unhoused population in the country. The pandemic has certainly worsened this crisis. We encourage faculty, staff, administrators, and Trustees to learn more about this issue from those working in the field, and to then reflect on action both individuals and the institution can take to build this topic into classes and make our college safer for those experiencing housing insecurity.
Details:
Where: The Greater Seattle region (not on campus)
What: Participants will engage with various experts and perspectives around housing insecurity (more details to come)
Logistics: Transportation and food will be provided for both days. Just bring good shoes and a fresh mind. (Note: This event may involve some walking and/or physical service work.)
PD Info: faculty earn 15 professional development hours; classified staff can attend based on 4700P
Space is limited; applications will be accepted until full, closing on February 18 at the latest. All applicants must commit to joining for both full days, rain or shine. We are currently planning to attend in-person and in the community; these plans may change due to COVID precautions as we get closer to the event dates.
Contact Sapan Parekh with questions.
Last Updated October 4, 2022