During this pandemic we as a staff and faculty have had our own set of mental gymnastics to hurdle in order to stay positive, hopeful and on-track. RISE is offering a six month series of Wellness/Leadership one hour "Lunch and Learns." All are 12:00pm-1:00pm and start in late January.
Throughout the series, you will practice various coping strategies such as self-talk, journaling, meditation, coaching skills, self-awareness, leadership strategies and more to help you sustain yourself as a professional during this ongoing pandemic. You will be given the opportunity to start a journal, monitor your self talk, plan a daily meditation routine, revisit your leadership skills, learn to self-soothe when stressors arise, and develop a simple but elegant plan to coach your direct reports that empowers and uplifts them as well as holds them accountable.
Why you should join us:
It is an investment of one hour per month with optional follow-up homework
You get out of it what you put into it as well as a chance to build community with your colleagues

You will be given the opportunity to evaluate each workshop so they can be tweaked based on your needs and expectations

The workshops build in skill development
A bibliography will be provided at the end of each workshop so you can continue your learning based on your own personal interests/needs
It is fun and educational and practical – participate as little or as much as you choose
You do not have to attend all 6 workshops – you can pick and choose – Register here!
January 27, 2022 | 12:00pm–1:00pm
Join us for an hour long class on becoming a good coach by asking the right questions! Begin with the magic questions: Who? What? When? Where? How? Practice with a colleague in a 10 minute coach session right on the call. It's fun and informative at the same time.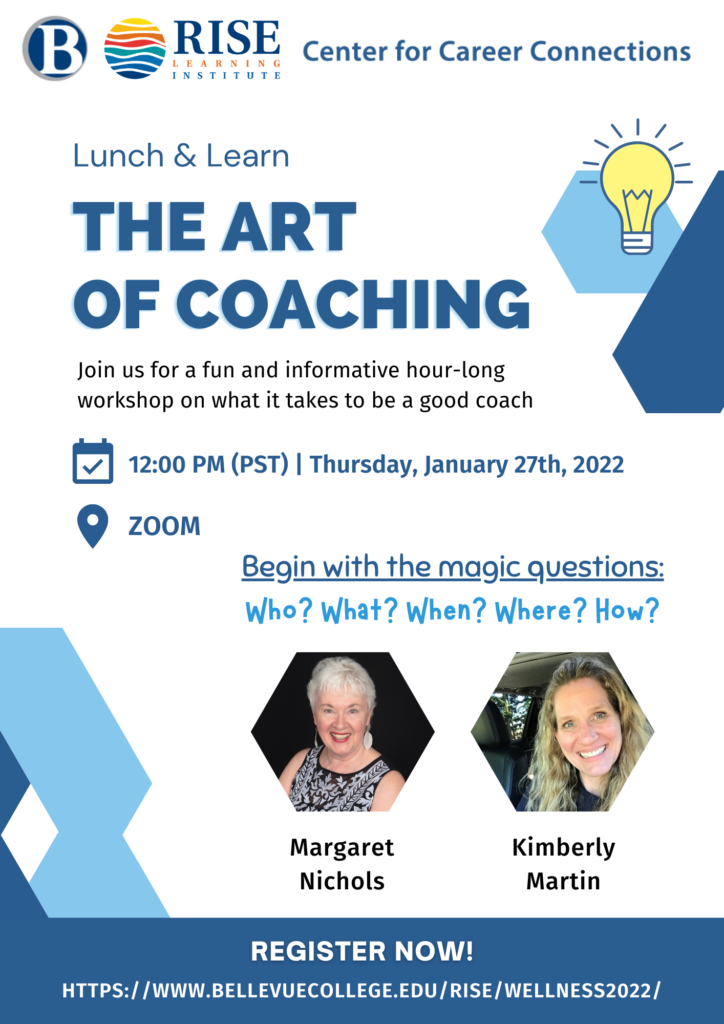 February 14, 2022 | 12:00pm–1:00pm
Let's write our own personal SWOT analysis today: Strengths, Weaknesses, Opportunities, and Threats as we explore who we truly are and begin a process of "human homework." We will be discussing the change process as it applies to self-awareness. This class is a real eye opener and a fun journey to greater self-knowledge. No sharing of your results with the group – this is just for you!
March 3, 2022 | 12:00pm–1:00pm
We will be studying the stages of team development and learning what it takes to lead a team effectively. If you have always wanted to lead a team or are a new team leader, then this class is for you.
April 7, 2022 | 12:00pm–1:00pm
Discover the power of positive self-talk and learn to do a reframe on old negative thinking that no longer serves you. Create a plan for changing your self-talk over the long term and how to do this effectively. Come join us for a fun and very practical class that will lift your spirits and set you on a new path of thinking!
May 26, 2022 | 12:00pm–1:00pm
Learn some mindfulness tips including how to do a simple 5 minute body scan meditation which we will practice in class. Learn about Stress Tolerance and how to interrupt negative thoughts and behavior by substituting a new behavior. This class is all about the art of self-soothing in a positive and practical way.
June 9, 2022 | 12:00pm–1:00pm
10 steps to becoming an influential leader to get people to do what you need them to do. Identify your own strengths and weaknesses as a leader and design a plan to address the gap between where you are as a leader and where you want to go. This class is great for brand new leaders, those who aspire to lead and those who have weathered the storms of learning leadership skills on the job and want a bit of support and encouragement.
---
Event Registration
Last Updated February 15, 2022