RISE's offerings for faculty take high-level, aspirational goals – closing equity gaps and boosting student engagement, for example – and make them approachable. Our events give faculty a chance to learn from colleagues and community, plan collaboratively, and try out tools and approaches they can use right away.
Our workshops and panels feature faculty from across campus. Presenters share approaches that can be used to supercharge teaching and learning in multiple ways.
Some opportunities are also open to staff; read below for specifics.
Quick Links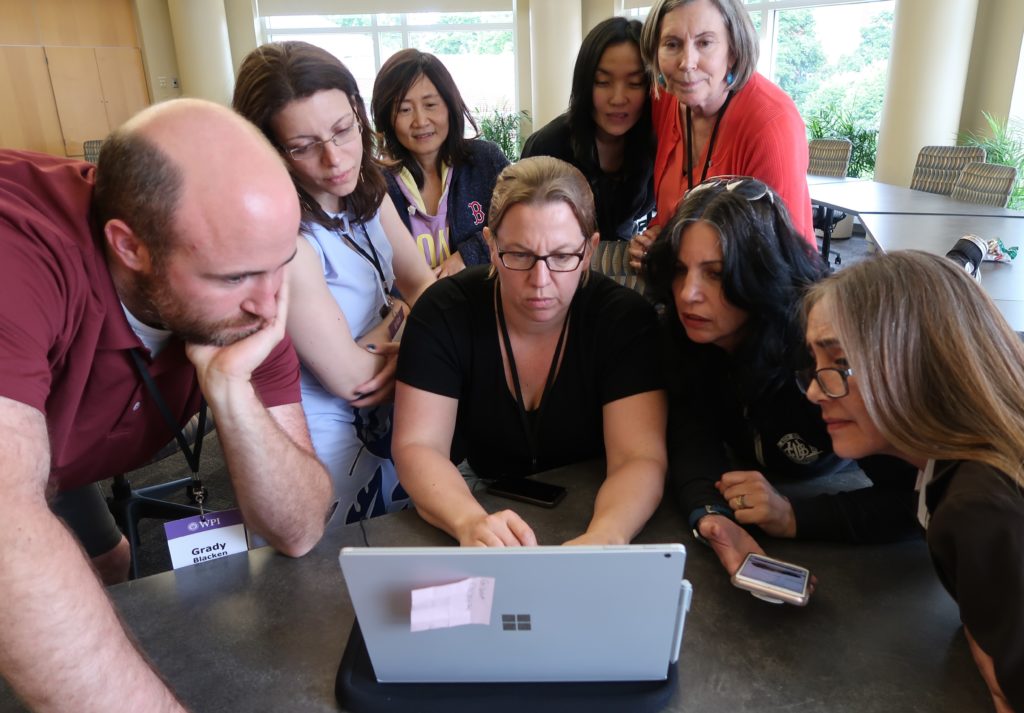 Reflection Micro-Workshops (CANCELED)
Dates Below, Tuesdays & Fridays 12:30-1:00pm
The ability to reflect on experience is key to transformational and enduring learning. Reflection can be particularly powerful in experiential learning courses, though it is a useful skill for all students to develop, no matter their field of interest. This series of half-hour micro-workshops will help faculty learn techniques and develop skills to strengthen the impact reflection can have on student learning. Attend one or all; come to what makes sense for you, your students, and your courses.
"I found so much to use in this series! This series opened my eyes to a different teaching/learning approach that I believe will add relevance to course content and help students see why their voices in the discipline are important."

– Betsy Zahrt Geib, Economics
The micro-workshop topics and dates are:
Bringing out Depth through Reflection | Tuesday, October 18, 12:30-1:00pm
Creating Connections using the 8Cs | Friday, October 21, 12:30-1:00pm
Unleashing the Power of Reflective Journals | Tuesday, October 25, 12:30-1:00pm
Reflecting Beyond Writing | Tuesday, November 1, 12:30-1:00pm
Planning Your Quarter Using Reflection Mapping | Friday, November 4, 12:30-1:00pm
Assessing Reflection | Tuesday, November 8, 12:30-1:00pm
1 PD hour per workshop (6 PD hours total). Completion of 5 or more Micro-Workshops will earn a $75 stipend. Contact the facilitator, Sapan Parekh, for more information.
Civic Action in the Classroom Faculty Learning Community
Wednesdays, October 26, November 2, November 9, and November 16, 1:30-3:30pm
As we as a society and a nation engage with the ongoing repercussions of 2020 – The Pandemic, the Elections, the Protests, and the Census – there are plentiful reasons for Bellevue College students to see the connections between their coursework and the world around them. As we go into the 2022 elections and beyond, the need for civic engagement and action continues, and the importance of building a civic voice in our students is ever pressing.
I appreciate having this space to engage with theories and tools of bringing in real-life civic issues into my English composition class projects, and to discuss ways of facilitating challenging conversations in the classroom with my colleagues.

– Dr. Zhenzhen He-Weatherford, English
Through four 2-hour virtual meetings, and with the help of others in your cohort, you will plan a civic action component in a Winter or Spring course. In these courses, your students will actively contribute to shaping their world, through which they will better understand course content, build lifelong skills, and connect more deeply with their classmates. "Civic" means anything that helps students act upon "a heightened sense of responsibility to one's communities" (Jacoby 2009). Topics will include applying civic actions in course settings, facilitating dialogues in our courses, and fostering critical reflection.
Registration is now closed.
Participants will receive 30 PD hours and a stipend. Contact the facilitator, Sapan Parekh, for more information.
Stepping Out & Stepping Into: Ethical Community Engagement for a More Equitable World
Monday, November 14, 12:30-2:30pm
So, you want to make a difference in the world around you? Perhaps you want to encourage your students to do the same? But maybe you feel uncomfortable, unprepared, and uncertain. Join us as we examine how to engage with, learn from, and contribute to the community in an ethical manner. We will examine how bias, anti-racism, privilege, storytelling, and more fit into how you step into new community situations, so you have more confidence to step out and make the world a better, more equitable place.
This interactive workshop has been designed with inputs from the community and from other academic institutions. It is open to anyone associated with Bellevue College, as well as to the broader community. Please consider sharing with students.
This workshop will be facilitated by Sapan Parekh | 2 PD hours
Communicating Across Differences: An Event to Prepare You for Family and Friends During the Holidays
Thursday, November 17, 11:30am-12:30pm, Main Campus D-106
The Bellevue College President's Civic Fellows are excited to invite the Bellevue College community to an event on November 17, 2022, from 11:00 am – 12:30 pm, where you will be introduced to ways of communicating in a productive manner with those with differing beliefs and opinions. This event will help you prepare for the upcoming holiday season when family often comes together, and opportunities for disagreements abound. This event will show BC students, staff, and faculty how to disagree in ways that can reduce the impact on relationships around you.
The goal of the President's Civic Fellow program is to improve communication on campus, providing a safe and supportive environment that allows community members to engage in challenging yet productive discussions. This event is an opportunity to meet fellow campus community members, learn about each other's perspectives, and participate in a discussion model that focuses on the commonalities between participants and listening and learning about different perspectives. Please join us at this unique and exciting event.
This event will be facilitated by Mandie Mauldin and Madison Curry, the President's Civic Fellows.
Making Learning Visible Student Showcase
Thursday, December 1, 8:30am-3:30pm
The RISE Learning Institute organizes a quarterly opportunity for students to showcase their learning, and for faculty to celebrate their teaching. Events like Making Learning Visible (MLV) are quite meaningful, as students can build confidence in themselves and in their work. And, simply put, learning is worth celebrating!
This Fall, RISE will plan for both an in-person and virtual showcase. If your students design things, conduct research, give presentations, create art, or more, think about connecting their final product, presentation, or showcase to this event.
Please click below to register your class. The registration deadline is Monday, October 31st.
Not sure you want to register? Contact Sapan Parekh with your questions or to discuss whether MLV will work with your class.
HIPs WIPs: Learn from Colleagues and their "Works in Progress"
Dates: Third Friday of the Month, 11:30am-12:30pm
Across the college, instructors spend time researching new content and pedagogies, participating in professional development, updating theirs courses, teaching while constantly questioning whether the update works, and reflecting on and assessing success. This cycle of research – design – test – assess ensure that the courses being taught remain Works In Progress.
Join the RISE Learning Institute in hearing from a different colleague monthly, someone exploring how to meaningfully and sustainably integrate civic action, project-based learning, service-learning and community engagement, or undergraduate research into their courses. They might be at different stages of the process, but they will have a lot to share.
The presenter might talk about their overall process, the affect the course has had on students, what went wrong, the challenges and successes, and more.
Come and get inspired!
The dates and presenters/topics (TBD) are:
Friday, January 20, 11:30am-12:30pm : Kathy Hunt, Anthropology Research Project to Explore Language in the Students' World
Friday, February 17, 11:30am-12:30pm : Mariella Lawson, Digital Media Arts Infographics Project with and for Community Clients
Friday, March 17, 11:30am-12:30pm
Friday, April 21, 11:30am-12:30pm
Friday, May 19, 11:30am-12:30pm
Thursday, June 15, 11:30am-12:30pm (part of Making Learning Visible)
Contact the moderator, Sapan Parekh, for more information.
Thank you to Jenn Pang, Director, SAMI, for inspiring this idea!
Fill out this form to receive updates as this program is planned. And block this schedule into your calendar so you are ready to attend!
Last Updated November 8, 2022