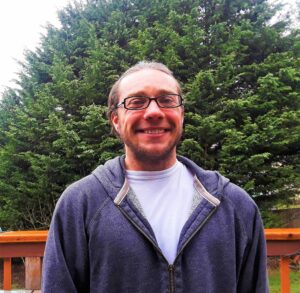 Biography:
Hey there! My name is Croix Saffin and thanks for visiting the BC Sociology webpage. I look forward to meeting and working with you. Please feel free to stop by any time and say hello!
A bit about myself. I was born and raised in Cincinnati, Ohio. I received my Bachelor's Degree from Ohio University where I majored in Psychology. While classes in psychology were pretty cool (and they were certainly better than the science and math classes that I dreaded!), it wasn't until my last year or so of my Bachelor's degree that I started taking courses in Women's Studies, Ethnic Studies, and Sociology. And I fell in love. I actually wanted to be in classes and learn, which was something totally new for me. This is what school was supposed to be like and I was so excited to finally find something that I was passionate about! This compelled me to continue my education and get my Master's degree in Women's Studies from the University of Cincinnati. I still had no idea what I wanted to do with my life in terms of a career, but I knew I found something I cared about, so that was a start. In my Master's program, I was given the opportunity to teach for the first time. As an introverted student who usually sat in the back of the classroom and barely spoke, I was terrified at the thought of teaching. However, this turned out to be one of the best things that could have ever happened to me. I found my passion and discovered what I wanted to do with my life. The next logical step for me was to get my Ph.D. So, I moved to Washington and to the rolling hills of Pullman to get my Ph.D. in American Studies at WSU. Despite living in an ultra-conservative town located in the middle of wheat fields, it was wonderful to teach and develop classes in LGBT Studies, Queer Theory, Global AIDS, and Masculinities (and I have developed some similar classes at BC!) I began teaching at Bellevue College in 2008. Here, I have grown as a teacher and have enjoyed working with students on finding their passions.
In addition to my love for teaching and passion for what I get to teach about, I also enjoy anything out on the water… paddle boarding, kayaking, boating, swimming, or just taking out a raft and lounging. I always have a jigsaw puzzle in progress, love reading fiction, camping, and gardening or working in the yard. I have a puppy that keeps me very busy exploring new parks or trails and two cats that kindly tolerate her antics.
COURSES CROIX TEACHES AT BC
Introduction to Sociology; Social Lives of Children and Youth; Men & Masculinities; Gender in the Social World; Sex & Sexualities; Sociology of the Body; Race & Ethnicity; Intersections of Identity and Inequality; Deviance in Society.
Croix also teaches Women's Studies and Queer Studies in the department of Cultural and Ethnic Studies (CES).