Australia/New Zealand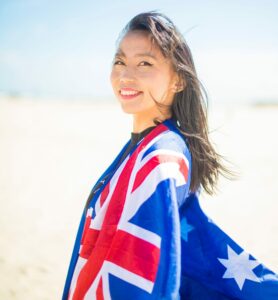 This is a WCCCSA program. For how to start the application, please refer to "How to Apply" page.
ATTENTION: beginning Spring Quarter of 2022,  faculty and students will be eligible to travel for conferences, professional development, and other business needs. International travel will still be subject to review based on CDC travel recommendations. Please check with Li Liu at li.liu@bellevuecollege.edu on BC's current review process for a particular program before you finalize your application. CDC travel recommendations by destination can be accessed here: https://www.cdc.gov/coronavirus/2019-ncov/travelers/map-and-travel-notices.html
5 weeks in Melbourne, Australia
5 weeks in Auckland, New Zealand
Application Deadline: Friday, October 7, 2022
Deposit Due ($450): within two weeks of your application (non-refundable)
Balance of Program Fees Due: Monday, October 24, 2022
Tuition Due: Check your campus's calendar
Program Dates: January 3 – March 23, 2023 (subject to change)
PROGRAM FEE
Program fee is $6,700
Program Costs include Housing accommodations for 6 weeks, lunch and dinner in Australia (for 3 weeks), welcome and farewell meals, $350 curriculum lab fee, multiple class field trips and excursions, public transit pass, basic student medical Insurance, biology and history textbooks, transportation to/from airports in Australia and New Zealand.
A $450 (non-refundable) deposit is required to be paid with your application to hold your place in the program. This deposit is part of the program fee.
Not Included in the program fee
• Bellevue College tuition
• International airfare (suggested itinerary will be provided)
• Passport fees; Visitor visa for New Zealand ($30)
• Housing and meals during travel break week (10 nights total)
• Optional excursions, Independent travel and expenses
• Anything not specified as included in the program
You can use the budget estimation sheet (Aus-NZ Budget Worksheet – Winter 2023) for a total cost estimation. Contact Li for more information about spending the winter in Australia and New Zealand.
Study abroad and earn 15 BC credits in sunny Melbourne, Australia and Auckland, New Zealand!
Australia and New Zealand are unique countries and, because of their distance from the US, only a lucky few get to travel there. This is a ten-week program including eight weeks abroad and two weeks of online study. Week 1 of the program includes online studies in Washington state, followed by three weeks of study in Melbourne, which is situated in southeastern Australia. It is one of the great livable cities in the world, noted for its diversity, vitality, and sophistication; a center for arts and culture with ready access to the wonders of Australia's natural history. You will have a one-week travel break before spending the next three weeks studying in Auckland, which is situated on the North Island of New Zealand. It is the largest city in New Zealand and is noted for its physical beauty of mountains, harbors and volcanic peaks. You will again have one week to travel independently in New Zealand before returning home to wrap up your studies online in Washington. Together these two cities will introduce you to the unique aspects of both Australia and New Zealand. Upon return to the USA, you will finish up course assignments and complete required reflection activities online. Local program managers will serve as hosts and advisors to help you become familiar with Australian and New Zealand culture and lifestyle.
Week 1: Online studies in Washington state
Weeks 2-4: Travel to and study in Melbourne, Australia
Week 5: 5 night/6 day travel break in Australia
Weeks 6-8: Travel to and study in Auckland, New Zealand
Week 9: 5 night/6 day travel break in New Zealand
Week 10: Return home and complete 1 week of online study and reflection activities online
Campus Locations:
In Melbourne you will stay at Newman College, University of Melbourne. The campus is located just a few minutes from the city center, with easy access to all the city has to offer. There will be opportunities to go swimming in the warm waters and to explore the tourist sights. You will also have a rare chance to experience Aboriginal cultural sites and a variety of native animals up close and personal.
While in Auckland you will stay in shared housing and take your classes at Unitec University, one of New Zealand's top educational institutions. Studying in New Zealand is very popular with students worldwide and Auckland has a large international population.
Faculty and Course Descriptions
This is a study program. Students must carry a 15-credit load and are expected to fully participate in all class activities. See detailed course descriptions below.
Courses are scheduled Monday through Friday. The weekends are free.
Experienced community college faculty members will lead the group and teach the curriculum along with local Australian and New Zealand expert instructors. This is a study program. Students must carry a three-course, 15-credit load, and are expected to fully participate in all activities. Green River College faculty will lead the group and teach the History and Anthropology courses. Highly qualified local Australian and New Zealand faculty will teach the Biology course. Students must participate in required online coursework before and after the eight-week travel period
Dr. Bruce Haulman (Green River College)
History: History of Australia and New Zealand   5 cr.
Examines the history of Australasian nations of Australia and New Zealand from the first human inhabitants of Australia some 60,000 years ago, and the Maori settlement of New Zealand some 800 years ago, through the long and often difficult processes to become the modern island nations of Australia and New Zealand. Attention is given to the various groups who have migrated to Australasia, the European exploration and colonization of the area, the development of settlements and colonial governments, the move to nationhood in the late 19th century, and the emergence of the modern nations of Australia and New Zealand in the 20th century.
Cultural Anthropology  5 cr.
Study of the field of sociocultural anthropology with emphasis on the nature of culture, types of social systems in society, and the way they work. Students will explore indigenous Aboriginal and Maori peoples and arts, the impacts of British colonial societies, and the arrival of diverse peoples from all over the globe. Personal interactions with a diverse range of Australians and New Zealanders will broaden students' understanding and appreciation of these unique places. This course will be taught online, blending synchronous meetings and asynchronous requirements. Instruction and assignments will be closely coordinated with your in-country field trips.
Environmental Studies – Natural Science of Australian/New Zealand    5 cr.
Australian and New Zealand Faculty
Focuses on the ecology of Australia and New Zealand, including ecosystems and human impact on ecosystems. The biodiversity, characteristics, and interactions of Australian and New Zealand flora and fauna will also be investigated within various habitats and ecosystems. A significant portion of the course will involve field observations and experiences. This course does not meet the lab distribution requirement. It is designed for the beginning college student.
FACULTY
Dr. Bruce Haulman
Dr. Bruce Haulman is an experienced leader of study abroad programs, and has directed the Green River College Australia-New Zealand Study Abroad Program for eighteen years.  Over 500 students have been part of this program and have experienced studying abroad in Australia and New Zealand.  Bruce is a professor of History at Green River College, has taught abroad in England and Canada, as well as Australia and New Zealand, and has traveled extensively in Europe and Asia.  He is the author of two books on the history of Vashon Island, where he lives with his wife Pam, and writes regularly for the Vashon-Maury Island Beachcomber.
Lectures will also be provided by highly qualified Australian and New Zealand faculty.
Campus locations
Melbourne
Weeks 1-5 will be spent at Newman College, which is part of the University of Melbourne. The campus is centrally located in the heart of Melbourne with easy access to all the city's activities and attractions.
Auckland
Weeks 6-10 will be spent at in Auckland, New Zealand where you will be studying at Unitec University, one of New Zealand's top educational institutions. Auckland is very popular with students worldwide and a has a large international population.
Accommodations and Meals

While at Newman College of the University of Melbourne, students will be accommodated in single rooms. These are college dormitories with shared baths and communal eating facilities.
While studying in New Zealand, students will live in shared student housing near the Unitec University campus.
Many lunches are provided in Melbourne.
The cost of living in Australia is similar to that of the United States, however the cost of living in New Zealand is lower than in the United States.
Cultural Activities and Excursions
There will be pre-arranged fully inclusive tours during your stay, which may include:
In Australia:
Melbourne Museum: Banjalika Aboriginal Exhibit
National Gallery: Aboriginal Art Exhibit
Melbourne Shrine of Remembrance
National Gallery Australian Art Exhibit
Bendigo – Gold Fields
Healsville Sanctuary
Mount Donna Buang Forests
Victoria Parliament
Lorne Surf Beache
Cape Schanck
In New Zealand:
Auckland Museum: Ngati Whatua O Orakei Maori Performance
Mount Albert Volcano and The Auckland Volcano Field
The Waitakere Range
Tiri Tiri Matangi Sanctuary
Rangitoto Volcano
Auckland Art Gallery
Additional Activities: Other field trips are optional and may require an additional fee: These may include an overnight excursion to Mangere Marae, Lord of the Rings Tour, and Whale Rider Tour.
Breaks:  There will also be plenty of opportunities to do your own exploring during program breaks.  Students will have a one week break in Australia and a one week break while in New Zealand.