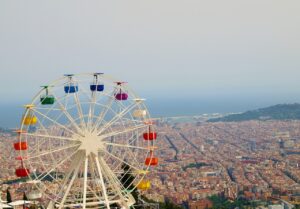 This is a WCCCSA program. For how to start the application, please refer to "How to Apply" page.
ATTENTION: beginning Spring Quarter of 2022,  faculty and students will be eligible to travel for conferences, professional development, and other business needs. International travel will still be subject to review based on CDC travel recommendations. Please check with Li Liu at li.liu@bellevuecollege.edu on BC's current review process for a particular program before you finalize your application. CDC travel recommendations by destination can be accessed here: https://www.cdc.gov/coronavirus/2019-ncov/travelers/map-and-travel-notices.html
Program fee: $6,850
Barcelona Program Dates:
Program Start Date: Sep 26, 2022
Program End Date: Dec 3, 2022
Final Application due date extended to BC campus coordinator: July 20, 2022
For students receiving Financial Aid:
Student must fill out the Financial Aid Form in the BSAE student portal by July 1.
If there is a portion of the fee that is not covered by financial aid, you will also have to pay that portion by July 1.
If the financial aid money will be dispersed to your account after you are already onsite in Barcelona (this will be a large number of you, and you'll find out after the financial aid office fills out their portion), you MUST send a post-dated check to Barcelona SAE before you arrive onsite, which we will deposit after the financial aid is disbursed to you.
For students not receiving Financial Aid:
50% of the program fee will be due by July 26 (non-refundable).
Full payment will be due August 26 (non-refundable).
Barcelona Program Pre-departure Orientation:
What to bring: Students need to bring (a) a signed copy of the Student Guidelines, (b) 4 passport photos, (c) a copy of your passport, (d) flight itineraries for students not on the group flight, (e) a notepad to take notes, and (f) questions. Student participants should also invite parents, guardians, or whomever they feel should attend with them.
Coffee will be provided in the morning and lunch will be served. The faculty will be available to discuss their courses and expectations.
Program Brochure: WCCCSA Barcelona Brochure – Fall 2022 – Updated 6-1-22 (002)
Plz. reach out to Li for the Program Info Session recording YouTube link (hosted May 23, 2022)
Program budget request sheet:   WCCCSA-Budget-Request-Barcelona-2022
SITE: Barcelona is a spectacular city in which to study and live. It is one of the most cosmopolitan cities in Europe and by far the most modern city in Spain. Situated on the Mediterranean, it is a city of contrasts; mixing the best of old and new, traditional and trendy, religious and secular, conservative and progressive. As such, this vibrant city offers students the unique opportunity to both surround themselves with Spanish language and tradition while at the same time taking advantage of its mixture of Spanish and Catalan cultures. With Barcelonians fluent in both languages, students have the opportunity to perfect their Spanish while also learning some Catalan! People in Spain are passionate fans of football (soccer), delicious food, family, and celebrating and enjoying life to its fullest. Festivals and holidays are important in Spanish life, and have their own distinctive flavor depending on local customs and the time of year. We hope you enjoy your stay in Barcelona and have a chance to explore and take advantage of all its spectacular offerings!
CLASSROOM: Classes will be held at the facilities of International House and the Barcelona School for International Studies (SIS). The school is located in the city center, just steps from Plaça Urquinaona, 5 minutes from Plaça Catalunya, and 5 minutes from the Arc de Triomf. With easy access to many bus lines and several metro lines, it is easy to get to classes from anywhere in the city.
STUDENT FACILITIES: Wi-fi is available throughout the school and students (and faculty) also have access to computers and a printer. To make photocopies, there is a copy shop just across the street. The building also has a sun-drenched terrace to study, eat, or just hang out.
TRANSPORTATION:  An unlimited 3-month public transportation pass is provided for all students on this program. The pass is good for the metro, bus, train & trams within Barcelona city and near surroundings.

Barcelona SAE will provide students with a city bucket list, packed with cultural activities, for you to explore the city. In addition, learn more about students' experience here, studying a wide range of majors!
Virtual Barcelona SAE Site Visit– Thursday, July 15th, 2021 11:00-2:30pm  US Eastern Time
Through this innovative and interactive virtual visit, attendees will have the opportunity to learn about Barcelona SAE programs and how we're supporting our students during this unique time in our world. We'll have a variety of breakout rooms where you can engage with other attendees and staff on customized programs, TODOS, health & safety protocol, cultural + language immersion, academics and internships. You'll also get a chance to explore the beautiful city of Barcelona virtually through LIVE walk-around tours with Barcelona SAE staff through various neighborhoods, and you'll wrap up the day with an interactive student panel Q+A to hear all about what our students experience while they're onsite with us. To see the full itinerary and register, please visit here. 
COURSES: Students register for their courses at the home campus. See your study abroad adviser for course offering.
– Spanish (5 credits) is required for all students.
Primary Faculty – Michael Moreno, Green River College
Dr. Michael Moreno has always maintained that living and studying abroad is one of the greatest learning experiences a person can have. This is what inspired him as an undergraduate to participate in two study abroad programs: Guatemala (1991) and London (1992). He has also served in the Peace Corps in Lesotho (1992-1994) where he witnessed the transition from apartheid to democracy in the region. Dr. Moreno holds an M.A. in World & Comparative Literature from San Francisco State University and an M.A. and Ph.D. in English from the University of California, Riverside. His work focuses on Latinx and world literatures, urban studies, human geography, and architecture. Since 2008, he has taught a variety of literature and writing courses at Green River College in Auburn, WA, in the English Department. Previously, he has taught at UC Berkeley, UC Riverside, San Francisco State University, St. Martin's University, and different community colleges in California and Washington. His publications analyze communities in connection with urban spaces. Dr. Moreno's classes focus on how cities develop their own unique identities and how literature offers us a greater insight into diverse groups and spaces. He uses a cross-disciplinary lens of literature, sociology, history, and architecture to study cities in unique and engaging ways for students.
ENGL& 112: Introduction to Fiction (5 credits)
What was Barcelona like for local Catalans and international writers residing in the city during key moments of its development: Modernisme (19th and early 20th centuries), International Expositions (1888, 1929-30), Second Republic (1930s), Francoist Regime (1930s-1970s), La Movida (post-Franco regime), Olympics (1992), among other significant turning points in the city's design and identity? How do these narrative moments connect with our own experiences of the city today? This class will explore what it was like to be in Barcelona at different points in its history through examining important literary creations (including short fiction, novella, vignette, memoir, epistolary, etc.) from Spanish/Catalan and international writing that focus on the city of Barcelona in different time periods and spatial perspectives. Studying short literary works will provide us with detailed snapshots of the changing personality of Barcelona as captured through cross-sections of its unique inhabitants. We will use spatial theory to explore gender and culture, relationship to place, the unique Catalan identity, among others. This class will employ Barcelona as an integral extension of the classroom to cross-connect the select writings with key areas of the city (streets, parks, districts, plazas, architectural features, etc.) as ways to recognize and understand the city's distinct and ever-evolving identity.
ENGL& 115: Introduction to the Novel (5 credits)
How do spaces and places within literary works reveal the identity and personality of a city? Can locations described in such novels (streets, rooms, plazas, buildings, restaurants, parks, etc.) capture important features about who characters are and what has influenced them? Do these elements collectively create a city's distinctiveness and nature? This class will focus on Spanish/Catalan novels in translation that express the various spatial identities of contemporary Barcelona. We will explore narratives that are centered in and around the city of Barcelona, while learning to analyze and interpret how the literature reflects culturally rich urban layers. An important idea we will examine together is how the spaces and places within the novels reflect the architectural sites and layout of Barcelona and how this helps us understand the city's identity today. How does Barcelona (and Catalonia) function as a transformative character in the novels? What role do issues of social justice and civil liberties play in creating the city's cultural identity? As a class, we will visit key locales identified in the novels and use the literature and additional readings to learn how to interpret Barcelona's many faces and recognize its literary and spatial identities.
If 25 or more students enroll, a second faculty will join the program, offering two more classes for you to choose from.
Secondary Faculty – Melanie Enderle, Seattle Central College
Melanie Enderle is an Art Historian teaching at Seattle Central College, University of Washington, Bellevue College, and has taught at Sichuan University in Chengdu, China. Looking forward to Barcelona's rich history and multifaceted culture, Melanie is thrilled to teach among the vibrant region which offers a myriad of sociocultural, religious, and political perspectives to explore and share with students.
Born in Texas, Melanie graduated with a BFA in Art History. She earned her MA in British Art and Literature at Reading University, England, and PhD in Art History from University of Washington.
Along with her love of travel and adventure, Melanie is passionate about art and its history. Her research and teaching interests include issues of gender, societal norms, and representations of women. Melanie has presented on her research in places such as University of London, Panthéon-Sorbonne, Paris, St. Andrews College, and Oxford University.
Recent publications include "The Reflective Eye of Walter Sickert: Mirroring Male Victorian Dominance in the Era of the New Woman" and "The Empowered Ingénue: Women Stepping Out as Solo Performers Onstage."
Melanie's interdisciplinary teaching style helps students understand the relevance of art to their lives. Having Barcelona as the background will enhance the subject matter and offer an unimaginable and impactful educational experience for her students.
ART& 100: Art Appreciation (5 credits)
This course will help students understand, analyze, and appreciate the historical and cultural contexts of art from Pre-History to the contemporary with emphasis on critical thinking and developing visual literacy. By studying the purposes of art and the methods used by artists through study of the formal elements and principles of design, students will be exposed to a range of topics that will provide them with a basis for approaching art and recognizing its relevance. This class will examine Barcelona, from its rich history up to modern times, to learn of its multifaceted culture, leading to a better appreciation of the art of the region and helping to instill a greater understanding of Barcelona's influence on its artists and how their distinctive creations have inspired other artists, while also sometimes showing an embrace of other cultures in their style.
ART 105: Modern Art History (5 credits)
This class focuses on the evolution of modern art from the mid-19th to 20th century and introduces students to its many art styles, and its innovations in painting, sculpture, photography, and architecture. Students will realize how modern art has developed into its current state and understand how much modern art responds to and reflects sociocultural, biographical, religious, and political perspectives. This class will especially draw on the wealth of great artists and architects from the mid-19th and 20th centuries represented throughout this inspiring region. Barcelona has many museums and buildings that celebrate artists and architects of the Modern Era, including Antoni Gaudí, considered to be the greatest exponent of modern architect in Barcelona and Pablo Picasso, arguably the greatest artist of the 20th century.
This is an academic program and students are expected to enroll in a full-time course load. Failure to participate in the academic coursework may result in dismissal from the program. Students are encouraged to make the most of their classroom learning as it will enhance understanding of all the local area has to offer.
Check out how Prof. Moreno discussing the program with you in this video:
EXCURSIONS/ACTIVITIES:
Included in the program students will have:
3 Day Trips included (a welcome hike and two excursions outside of Barcelona). Day trips and excursions may be shared with students from other
Barcelona SAE programs;
One overnight excursion to Zaragoza;
Additional weekend trips in Spain or Morocco may be made available at added cost to participants;
Weekly cultural activities to get to know Barcelona and local life such us: Guided tours, Cooking class, and more;
Welcome & farewell meals;
Re-entry professional workshop: "How to use this experience to help you land your dream job".
HOUSING: Students will stay in homestays in double rooms. A homestay can be one part of a meaningful cultural integration and increased safety of the study abroad experience. Homestays are designed to be a mutually valuable experience for both the hosts and the participant. We work to find homestays that want to share their culture and language with the students and create a warm and welcoming atmosphere. A homestay "family" does not always mean a husband and wife, two children and a cute dog. In fact, what is more common is to live in the apartment of an older, widowed woman who enjoys the company. The thorough screening process, regular family check-ins and homestay reviews allow us to monitor safety and the quality of the homestays we place our students with. Homestays include breakfast and dinner every day, laundry services once a week, a set of keys to the apartment to come and go as you please.
INCLUDED IN THE PROGRAM FEE:
Housing facilities (breakfast and dinner every day, laundry services once a week);
Airport Pick-up included for those who arrive on the arrival date before noon. Airport drop off is not included;
A thorough cross-cultural and health and safety orientation;
Full, comprehensive medical and accident Insurance through CISI;
24‐hour emergency cell phone on‐site with Barcelona SAE staff;
Experiential education, ICC, and language acquisition built-in to all activities;
Unlimited 3-month public transportation for zone 1 in Barcelona;
Classroom space for 2 WCCCSA classes;
50 hours of Spanish language class taught by local professors.
NOT INCLUDED IN THE PROGRAM FEE:
Flights for students;
Items of a personal nature;
Passport or other relevant travel fees;
Most meals are not included unless specified.
WCCCSA SCHOLARSHIP:
WCCCSA Barcelona participants are all eligible to apply for the $1,000 WCCCSA scholarship.
To apply, download the WCCCSA Scholarship application below:
wcccsa-study abroad-scholarship-application
Last Updated June 10, 2022