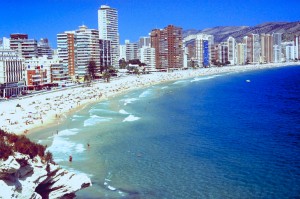 This is a WCCCSA program. For how to start the application, please refer to "How to Apply" page.
ATTENTION: Due to the COVID-19 global pandemic, Bellevue College has a travel ban in place suspending all trips with credit-bearing purposes. This travel ban applies to all WCCCSA study abroad programs. Program information is posted for reference only and please reach out to the WCCCSA Study Abroad Coordinator, Li Liu at li.liu@bellevuecollege.edu to verify program status if you are interested to apply.
Program fee: $6,850
Barcelona Program Dates:
Program Start Date: Sep 26, 2022
Program End Date: Dec 3, 2022
Final Application due to BC campus coordinator: May 27, 2022
20% Program Deposit Due to Barcelona SAE: June 1, 2022
Full Program Payment Due to Barcelona SAE: Aug 1, 2022
Barcelona Program Pre-departure Orientation:
What to bring: Students need to bring (a) a signed copy of the Student Guidelines, (b) 4 passport photos, (c) a copy of your passport, (d) flight itineraries for students not on the group flight, (e) a notepad to take notes, and (f) questions. Student participants should also invite parents, guardians, or whomever they feel should attend with them.
Coffee will be provided in the morning and lunch will be served. The faculty will be available to discuss their courses and expectations.
Program Brochure (to be uploaded later)
Budget request sheet (to be uploaded later)
SITE: Barcelona is a spectacular city in which to study and live. It is one of the most cosmopolitan cities in Europe and by far the most modern city in Spain. Situated on the Mediterranean, it is a city of contrasts; mixing the best of old and new, traditional and trendy, religious and secular, conservative and progressive. As such, this vibrant city offers students the unique opportunity to both surround themselves with Spanish language and tradition while at the same time taking advantage of its mixture of Spanish and Catalan cultures. With Barcelonians fluent in both languages, students have the opportunity to perfect their Spanish while also learning some Catalan! People in Spain are passionate fans of football (soccer), delicious food, family, and celebrating and enjoying life to its fullest. Festivals and holidays are important in Spanish life, and have their own distinctive flavor depending on local customs and the time of year. We hope you enjoy your stay in Barcelona and have a chance to explore and take advantage of all its spectacular offerings!
CLASSROOM: Classes will be held at the facilities of International House and the Barcelona School for International Studies (SIS). The school is located in the city center, just steps from Plaça Urquinaona, 5 minutes from Plaça Catalunya, and 5 minutes from the Arc de Triomf. With easy access to many bus lines and several metro lines, it is easy to get to classes from anywhere in the city.
STUDENT FACILITIES: Wi-fi is available throughout the school and students (and faculty) also have access to computers and a printer. To make photocopies, there is a copy shop just across the street. The building also has a sun-drenched terrace to study, eat, or just hang out.
TRANSPORTATION:  An unlimited 3-month public transportation pass is provided for all students on this program. The pass is good for the metro, bus, train & trams within Barcelona city and near surroundings.

Barcelona SAE will provide students with a city bucket list, packed with cultural activities, for you to explore the city. In addition, learn more about students' experience here, studying a wide range of majors!
Virtual Barcelona SAE Site Visit– Thursday, July 15th, 2021 11:00-2:30pm  US Eastern Time
Through this innovative and interactive virtual visit, attendees will have the opportunity to learn about Barcelona SAE programs and how we're supporting our students during this unique time in our world. We'll have a variety of breakout rooms where you can engage with other attendees and staff on customized programs, TODOS, health & safety protocol, cultural + language immersion, academics and internships. You'll also get a chance to explore the beautiful city of Barcelona virtually through LIVE walk-around tours with Barcelona SAE staff through various neighborhoods, and you'll wrap up the day with an interactive student panel Q+A to hear all about what our students experience while they're onsite with us. To see the full itinerary and register, please visit here. 
COURSES: Students register for their courses at the home campus. See your study abroad adviser for course offering.
– Spanish (5 credits) is required for all students.
Primary Faculty: Michael Moreno, Green River College
English 115 (5 credits): Intro to the Novel
English 112 (5 credits): Intro to Fiction
Second Faculty: Melanie Enderle, Seattle Central College (offered when program enrolls 25+ students)
Art 100 (5 credits): Art Appreciation
Art 105 (5 credits): Modern Art History
This is an academic program and students are expected to enroll in a full-time course load. Failure to participate in the academic coursework may result in dismissal from the program. Students are encouraged to make the most of their classroom learning as it will enhance understanding of all the local area has to offer.
EXCURSIONS/ACTIVITIES:
Included in the program students will have:
3 Day Trips included (a welcome hike and two excursions outside of Barcelona). Day trips and excursions may be shared with students from other
Barcelona SAE programs;
One overnight excursion to Zaragoza;
Additional weekend trips in Spain or Morocco may be made available at added cost to participants;
Weekly cultural activities to get to know Barcelona and local life such us: Guided tours, Cooking class, and more;
Welcome & farewell meals;
Re-entry professional workshop: "How to use this experience to help you land your dream job".
HOUSING: Students will stay in homestays in double rooms. A homestay can be one part of a meaningful cultural integration and increased safety of the study abroad experience. Homestays are designed to be a mutually valuable experience for both the hosts and the participant. We work to find homestays that want to share their culture and language with the students and create a warm and welcoming atmosphere. A homestay "family" does not always mean a husband and wife, two children and a cute dog. In fact, what is more common is to live in the apartment of an older, widowed woman who enjoys the company. The thorough screening process, regular family check-ins and homestay reviews allow us to monitor safety and the quality of the homestays we place our students with. Homestays include breakfast and dinner every day, laundry services once a week, a set of keys to the apartment to come and go as you please.
INCLUDED IN THE PROGRAM FEE:
Housing facilities (breakfast and dinner every day, laundry services once a week);
Airport Pick-up included for those who arrive on the arrival date before noon. Airport drop off is not included;
A thorough cross-cultural and health and safety orientation;
Full, comprehensive medical and accident Insurance through CISI;
24‐hour emergency cell phone on‐site with Barcelona SAE staff;
Experiential education, ICC, and language acquisition built-in to all activities;
Unlimited 3-month public transportation for zone 1 in Barcelona;
Classroom space for 2 WCCCSA classes;
50 hours of Spanish language class taught by local professors.
NOT INCLUDED IN THE PROGRAM FEE:
Flights for students;
Items of a personal nature;
Passport or other relevant travel fees;
Most meals are not included unless specified.
WCCCSA SCHOLARSHIP:
WCCCSA Barcelona participants are all eligible to apply for the $1,000 WCCCSA scholarship.
To apply, download the WCCCSA Scholarship application below:
wcccsa-study abroad-scholarship-application
Last Updated July 16, 2021