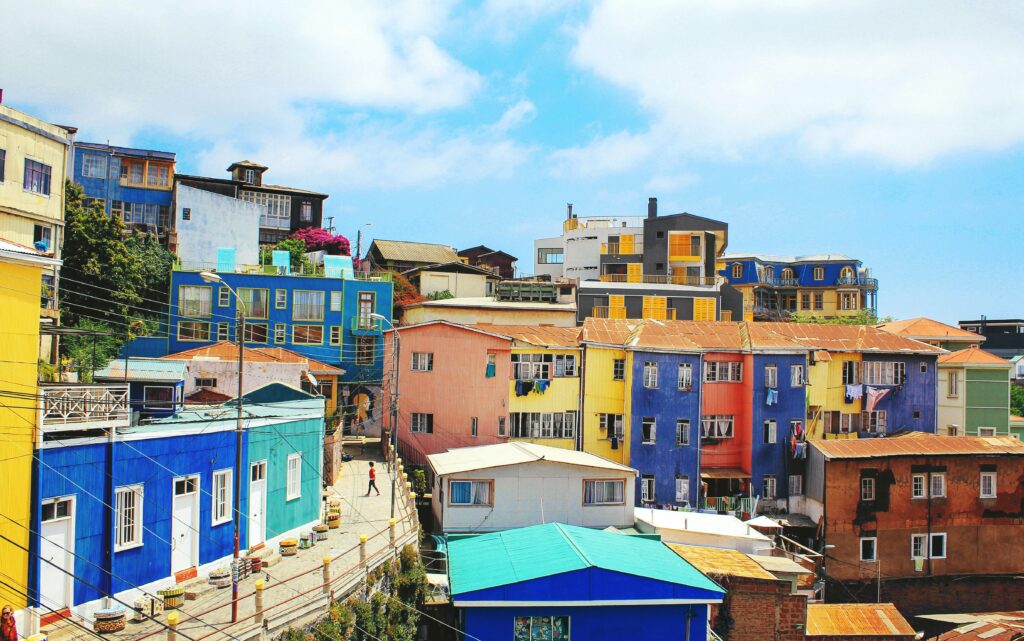 This is a WCCCSA program. For how to start the application, please refer to "How to Apply" page.
Valparaíso & Viña del Mar, Chile, Fall 2023 DATES & DEADLINES
Last Day to Submit Complete Application and $900 Deposit: Friday, June 30, 2023
Balance of Program Fees Due:
Payment 1 ($2,547) – Friday, June 30, 2023
Payment 2 ($2,547) – Tuesday, August 8, 2023
Tuition Due: Same time as home campus tuition due date for Fall quarter 2023
Program Dates: Friday, September 22 – Saturday, December 2, 2023
PROGRAM DOCUMENTS
PROGRAM AND LOCATION OVERVIEW
Chile is home to some of the most fascinating and diverse landscapes our world has to offer. From the driest deserts on the planet in the north, to its dense rainforests in the south, this country has it all – including over 90 active volcanoes! This diverse natural environment is reflected in numerous vibrant cultures of Chile, both in the past and the present. In this program, you will study the close relationship between the geology, the geography, and the people of Chile, all while immersed in the Spanish language. You will see first hand how Earth's physical processes shape the landscape in one of the most unique areas of the planet while gaining a strong appreciation for how humans adapt to the natural environment around them.
The sister cities of Valparaíso & Viña del Mar are located halfway down Chile's endless coastline. You will get the best of both worlds as each city offers a unique and different experience. Viña is known for its modernity and beautiful beaches, which attracts tourists from all over the world; while Valpo is a historic port city covered in tasteful graffiti art and singing colorful hills. An UNESCO World Heritage Site, Valpo has charm that is like none other.
FACULTY & COURSES
This is an academic program and students are expected to enroll in a full-time course load. Failure to participate in the academic coursework may result in dismissal from the program. Students are encouraged to make the most of their classroom learning as it will enhance understanding of all the local area has to offer.
Students will take three classes for a total of 15 credits including a Spanish language class taught by local faculty. This course is mandatory for all students; students will be placed into one of three language levels. Instruction of the physical geography and geology courses will be taught in English, and the Spanish course will be based on your current understanding of the language, from beginning to advanced.
Course#1: Spanish (5 credits) is required for all students.
In this class, you will be placed at the level of Spanish appropriate to your knowledge, from beginner to advanced. You will be taught by an experienced instructor who lives in Chile and receive credit for the equivalent Spanish class at your home campus.
No prerequisites.
Primary Faculty – Morgan Salisbury, Lower Columbia College
Dr. Morgan Salisbury is an Earth Scientist and educator who specializes in the geology and geography of South America. Morgan earned a Ph.D. in Geology from Oregon State University where he studied the volcanoes of Chile, Bolivia, Peru, and Argentina. His research includes a position as a Research Scholar at Durham University in the United Kingdom, and he is now recognized as one of the foremost experts on the relationship between plate tectonics and the volcanoes of South America. Morgan has been teaching geology and geography courses at Lower Columbia College in southwest Washington state for the past seven years. Morgan considers his time studying and living abroad in South America as among the most important and informative of his life and he strives to give a similarly positive experience to his students. Morgan's classes are accessible, hands-on, and encourage students to get into the field and experience the world around them as they learn about the natural world and the many influences of earth system processes on the people and animals that call this planet home.
For Study Abroad in Fall 2023, Morgan chose two complementary courses that will allow an in-depth examination of the physical processes that continue to sculpt Chile's diverse environment. These two courses will fulfill 10 Natural Science credits and will easily transfer to four-year universities in Washington and elsewhere. Morgan speaks Spanish and will be able to provide logistical support to students in Chile.
Course #2: Geology& 101: Intro to Physical Geology w/lab 6 cr.
In this class you will learn how the slow but relentless movement of Earth's crust is ultimately responsible for nearly every aspect of Earth's topography, including Chile's diverse topography of mountains and volcanoes, high deserts, mountain valleys, and coastal plains. Focus will be given to understanding plate tectonics, geologic time, distribution of minerals, and the ongoing threat of natural hazards such as earthquakes, floods, and landslides. This class will take advantage of the Valparaíso's and Viña del Mar's stunning physical surroundings to provide a framework for understanding both local and global geologic concepts. Interactive lab exercises will include rock and mineral identification, and an analysis of the causes and consequences of the geologic risks that the Chilean people face. Planned excursions will allow hands-on analysis of geology in the field.
No prerequisites.
Students who have already taken GEOL&101 will enroll in an advanced studies course that will be taught concurrently in the same classroom.
Course #2: GEOG 206: Landform Processes, w/lab 6 cr.
In this class you will learn the physical processes that determine the location of Chile's diverse ecosystems and how these ecosystems change over time, including during our current era that is strongly influenced by humanity's choices on energy use and cultivation of food. Focus will be given to understanding Chile's complex weather and climate, the distribution of rain and ecosystems, the influence of mountains and wind, and the vital importance the oceans play in regulating all life on Earth. Laboratory exercises will include map making, analysis of the landscape, and interpreting a wide variety of local, and global, geographical data. Planned excursions will allow exploration and analysis of Chile's diverse physical processes.
No prerequisites.
Students who have already taken GEOG 105 will enroll in an advanced studies course that will be taught concurrently in the same classroom.
EXCURSIONS/ACTIVITIES (included)
TBD
INDEPENDENT TRAVEL
Students can use free weekends to travel and explore other areas of Chile. WorldStrides local staff can assist with choosing destinations and with transportation.
COSTS
Program fee: $5,995
INCLUDED
Housing with local host families
Breakfast and Dinner with host families
Orientation program on arrival with WorldStrides
Weekend excursion TBD
Medical insurance policies
NOT INCLUDED
College tuition and fees at your home campus
Airfare
Textbooks
Meals other than those listed above
Passport and visa fees if applicable
Field trips or excursions other than those specified
Personal expenses such as laundry, phone, etc.
Anything not specified as included in the program
SCHOLARSHIPS
WCCCSA Chile participants can indicate on their program application if they would like to be considered for one of two $1,000 WCCCSA Scholarships.
WCCCSA's partner, WorldStrides also offers scholarship opportunities for participating students. Visit WorldStrides Scholarships webpage for scholarship details, deadlines, and applications.
ORIENTATION
Date: Saturday, August 19, 2023
Time: TBD
Location: Lower Columbia College, Longview, WA
What to bring:
Photocopy of your passport
Flight itineraries
Notepad to take notes
And questions
What to expect:
Parents, guardians, and significant others are welcomed and encouraged to attend orientation
Coffee will be provided in the morning and lunch will be included
The faculty will be available to discuss their courses and expectations
Last Updated June 26, 2023