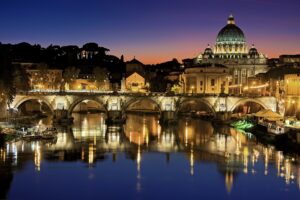 Program Dates & Application Timeline
Application & Deposit Deadline: Wednesday, Jan. 4, 2023
Early Bird Deadline: Apply by Friday, Oct. 28, 2022 & save $100!
Balance of Program Fees Due: Friday, Feb. 3, 2023
Tuition Due: Check your campus's calendar
Program Dates: March 31 – May 26, 2023
Apply early so that you are eligible to apply for study abroad scholarships (besides the WCCCSA scholarship, there are also other national or regional study abroad scholarships available); many of those scholarship applications are closed as early as six-nine months before the actual program departure. Check with Li for details!
Program Documents
About the Program
Location
Rome, Italy! More details to come, stay tuned!
Campus & Classrooms
Classes will be held at the AIFS Student Center, which is centrally located and a short walk from the student apartments. The school is located in the city center, just steps from the Vatican.
Wi-fi is available throughout the Study Center; students and faculty also have access to computers and a printer, projector, white boards, etc.
Housing
Students will stay in self-catered apartments in a central location near the Vatican. Typically, each two-to-three-bedroom apartment is shared by four-to-six WCCCSA students on a twin-bedded basis. Students will have a shared kitchen and living space. Bed linen and wireless internet are provided. Apartments are within a short 10-20 minute walk of the AIFS Student Center.
Transportation
An unlimited three-month public transportation pass is provided for all students on this program. The pass is good for the metro, bus, train, and trams within the central zone of Rome. Students are responsible for ground transportation from the airport in Rome to their apartments (instructions will be provided).
Faculty & Courses
Students register for three five-credit courses at their home campus; two of the courses are taught by Prof. Don Ludwig from Clark College.
faculty bio
Dr. Don Ludwig views travel and cultural experiences as meaningful and life-changing. In his words, "cross-cultural experiences serve as a conduit to expand our worldview and deepen our commitment to equity and social justice because it allows us to see our humanity in others". As an undergraduate, two study tours abroad are largely what pulled Dr. Ludwig out of a culture of poverty: Europe (1984) & Israel/Greece/Egypt (1987). In graduate school, Dr. Ludwig spent three weeks in Pakistan (1994) studying the Islamic culture and observing adult literacy programs and three weeks in Thailand (2001) studying Buddhism. Other travel pursuits have included: Brazil, Australia, Mexico, Cuba, Jamaica, Dominican Republic and Costa Rica.
Dr. Ludwig began as a first-generation college student at Spokane Community College (1984-85) and later graduated with a B.A. in Sociology from Whitworth University (1987). He graduated from Princeton Theological Seminary (1996) and Rutgers University (1997) where he obtained both the MDiv and MSW degree. He later received his Ph.D. in Social Research from Portland State University and the International University of Graduate Studies (2009). Dr. Ludwig has also taught at Portland State University and George Fox University and has worked many years as a Qualified Mental Health Professional (QMHP) in the Philadelphia and Portland metro areas. He has been an ordained pastor in the Presbyterian Church (PCUSA) since 1997.
Currently, Don is a tenured Professor of Sociology & Criminal Justice at Clark College in Vancouver, WA, where he also serves as both the Sociology Department Chair and Behavioral Sciences Division Chair. Dr. Ludwig's classes broaden students' understanding of the human experience and empower them with tools to create a more equitable and just world. He uses a cross-disciplinary lens of sociology, psychology, history, religious studies and anthropology to study social life in unique, active and engaging ways and always seeks to connect culturally relevant experiences into the learning process.
Course #1 SOC 246 Religion and our Social world (5-credits)
Rome is the crossroads of cultures and empires that today serves as the Sociologist's dream. The Vatican has certainly shaped the Christian world and provided a visual example of the powerful influence of religion on individuals and communities. By taking guided visits to Rome's most popular destinations like the Vatican Museum, St. Peter's Basilica, the Borghese Gallery and other places, students will gain knowledge of the papacy and catholic church history and its role in developing societal norms and values as well as learn about the divisions with protestant Christianity.
This backdrop will provide a framework to examine and experience other religious traditions such as Hinduism, Buddhism, Confucianism, Taoism, Judaism and Atheism. Students will participate in one Christian worship service (catholic or protestant) and one self-guided tour of a non-Christian religious tradition in Rome.
Course #2 (5-credits)
SOC&101 Introduction to Sociology / SOC&201 Social Problems: The Pursuit toward Social Justice
What can be more contextual for Sociology than a teaching and learning experience at the mecca of ancient and modern civilization? Students can enroll in Soc&101 or Soc&201 and explore theories from a European perspective that offer answers and questions about social change, current events, culture, problems, and social identity. For this course, students have options of registering for either SOC&101 or SOC&201. All students learn together and in the end, based on their original selection between SOC&101 and SOC&201, receive credits from that course.
For Soc&101 students, guided fieldtrips to the Roman Coliseum, Palatine Hill, and the Roman Forum and other places will discover how society is formed and created by social norms, structures, and systems. We will examine cultural differences and how social interactions create a sense of self and community, such as how soccer is closely related to citizen participation in Italy.
For Soc&201 students, becoming familiar with the legacy of Antonio Gramsci and others will guide a comparative study of social problems in Italy and the United States. Current social and political issues in Italy and the U.S. will be examined. Discussions such as, the origin of the Sicilian mafia (Cosa Nostra), the heroin trade that took hold of Italian life in the twentieth century, and "Baby Gangs" that monopolized the nation's attention in the 90's and similar problems in the US will provide a launchpad to a comparative analysis. Throughout, we will maintain a focus on equity and social justice.
Course #3 HUMAN205 Italian Life and Culture Course (5-credits)
Taught by local qualified guest lecturers focusing on historical, political, economic, and cultural aspects of Rome and Italy. Local faculty will assign work and grades for the course.
This is an academic program and students are required to enroll in a full-time course load (15 credits). Failure to participate in the academic coursework may result in dismissal from the program. Students are encouraged to make the most of their classroom learning as it will enhance understanding of all the local area has to offer.
Program Activities at a Glance
Reserved entrances to the Roman Forum, Palatine Hill and Colosseum, and the Vatican Museums, Sistine Chapel, and St. Peter's Basilica with the services of professional, English-speaking guides.
A half-day excursion to Tivoli including round-trip private transportation, entrance to Hadrian's Villa and the services of a professional, English-speaking guide.
A program of free and subsidized cultural activities including activities such as walking tours, opera tickets, a sporting event, museum visits, and cooking and wine appreciation classes.
Optional 3-day weekend excursion to Sorrento and Pompeii for an extra cost.
Program Fee: $5,795
Included
Accommodation in a shared, self-catered apartment (centrally located)
24-hour on-call service in Rome for duration of program
Pre-departure orientation and onsite orientation
Travel Pass for unlimited travel on buses, trains, and metro in central Rome
Welcome meal
Comprehensive Health Insurance
A dedicated AIFS Program Coordinator to ensure smooth program experience
Free internet access and printing facilities in AIFS Student Center
Not Included
Round-trip airfare and in-country transfers
College tuition & fees for 15 credits
Course books/materials
Passport & visa fees, if applicable
Meals not mentioned above
Personal expenses
Additional excursions and fieldtrips to those listed
Anything not specified as included in the program
Optional personal effects coverage and medical insurance upgrade
WCCCSA Scholarships
WCCCSA Rome participants are all eligible to apply for the $1,000 WCCCSA scholarship. Applications are due on or before January 4, 2023.
Pre-Departure Orientation (mandatory)
When: On a Saturday ~1 month prior to departure
Where: TBD
Time: 10am-3pm

What to bring to Orientation:
Signed copy of the Student Guidelines
Four passport photos
Copy of your passport
Flight itineraries for students not on the group flight
Notepad and pen to take notes
And questions
You should also invite parents, guardians, or whomever you feel should attend with you. Coffee will be provided in the morning and lunch will be included. The faculty will be available to discuss their courses and expectations.
Last Updated January 7, 2023