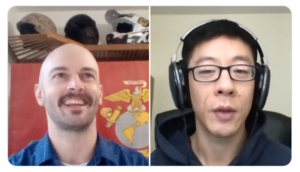 We recorded our Zoom Veterans Day Event, which introduced two of our student veterans as well as veteran staff and faculty. Visit https://tinyurl.com/y37qk34p to hear these very personal stories about the military experience.  And, did you know it was possible to serve in the U.S. military even if you were not a U.S. citizen? We are so proud of our veterans and service members who are a part of our Bulldog family!
Justin Fortunato, current BC student, pursuing a degree in Aerospace Engineering, Active Duty Marine Corps for nine years
Xiangdong "Henry" Yu, former BC international student from China now working as a software engineer; joined the US Army Reserves under the Military Accessions Vital to the National Interest (MAVNI) program
Christina Sciabarra, Ph.D., Adjunct faculty member in Political Science and Neurodiversity Navigators program, graduated from the U.S. Naval Academy, Naval Reservist for five years, Veteran of the Iraqi War
Josh Kienlen, Veterans Affairs Certifying Officer for Bellevue College and former Intelligence Analyst for the U.S. Air Force.
Last Updated November 19, 2020