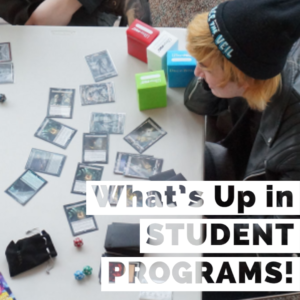 Our weekly newsletter is out! We are in the home stretch for Fall Quarter, so hang in there – you GOT this! If you're a student organization leader or advisor, join us for our Student Union eLounge, coming Wednesday Dec. 2, from 12-1 PM. If you need a break before finals to chill and chat, we're here to help! Drop by the final e-lounge of the fall quarter for a place to network with other student group leaders, share ideas, ask questions, and get updates from the Student Programs staff. There's more in the newsletter at https://mailchi.mp/560ebd539473/whats-up-nov-30.
Didn't receive our newsletter?
Sign up to receive email updates from us at https://forms.bellevuecollege.edu/stupro/sign-up/.
Last Updated December 2, 2020