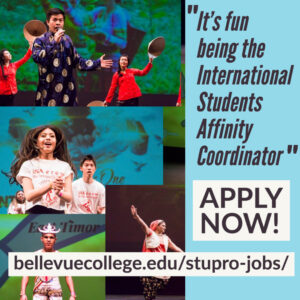 Are you a currently enrolled BC student who loves working with your fellow students? Do you enjoy meeting new people and building community? Would you like to work on campus?
If you answered "YES!", then apply to be the International Students Affinity Coordinator! Gain experience in student leadership while you plan amazing cultural events. Have fun while making an impact on campus!
Learn more and apply on our Student Jobs page at https://www.bellevuecollege.edu/stupro-jobs/.
Last Updated August 27, 2021