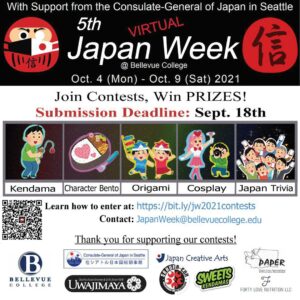 Get ready for Japan Week, the Eastside's largest Japanese cultural event and a week filled with workshops and events surround all aspects of Japanese culture. his year's Japan Week will be held virtually. You can join the fun now by entering any of the Japan Week contests and receive a prize (note – prize can only be sent to a U.S. address.)
Send a photo or link to the video of your entry and the Japan Week team will feature it on their website. Enter the Character Bento challenge (create a bento box around a famous character), dress up in your favorite Cosplay costume, create origami, take a video of yourself demonstrating a Kendama trick, or enter the Japan trivia contest on the Kahoot app. Submit your entry by Saturday, September 18.
See the contests and rules at https://bit.ly/jw2021contests.
To learn more about Japan Week, check out the Japan Week video at https://tinyurl.com/s94ex4zk.
Thank you to the Consulate-General of Japan and many other local organizations for generously supporting this event.
Have more questions? Contact JapanWeek@bellevuecollege.edu.
Last Updated August 17, 2021