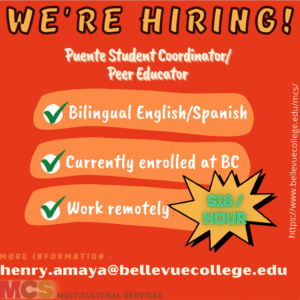 The Office of Student Engagement is pleased to share this opportunity from Multicultural Services (MCS):
The MCS office is hiring a student coordinator/peer educator for the MCS Puente Program. The position is 15 hours per week, $18/hr. Bilingual English/Spanish is required.
The student coordinator will work with MCS Staff conducting targeted outreach to specific student populations, provide support and guidance for new-and-continuing Latin American students at BC, connect students to MCS Staff for support, and also connect students to other campus and community resources and services. They will help develop and create community engagement events, participate in Puente Outreach and Puente Orientations for students and will be a mentor to new students participating in the Puente Cohort.
To apply please submit your resume and letter of interest to: Henry.Amaya@bellevuecollege.edu.
Last Updated August 31, 2021