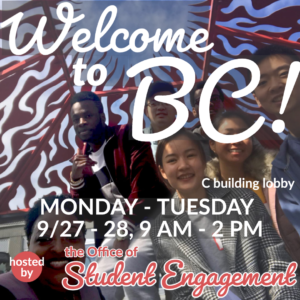 Coming Monday and Tuesday, 9/27-28, 9 AM – 2 PM in the C Building Cafe Lobby.

Connect with the Office of Student Engagement! Fun activities, giveaways, info on upcoming events and activities for Fall quarter.

Meet student leaders, get directions and info about available on the ground and remote services for students, and learn about all the awesome events we have planned for Fall and more.

Are you a currently enrolled student? Show us your Fall quarter class schedule and get a great prize (while supplies last)!

Questions? Contact Carrie M. Moore, carrie.m.moore@bellevuecollege.edu
Last Updated September 23, 2021