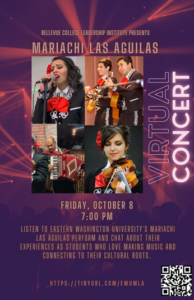 Mariachi Las Águilas – Fri. October 8 @ 7:00

Listen to Eastern Washington University's Mariachi Las Águilas perform and chat about their experiences as students who love making music and connecting to their cultural roots. Mariachi Las Águilas is a group of 13 performing musicians involving violins, trumpets, accordion, guitarron, vihuelas, guitars, and voice.
Marcella Godina from Eastern Washington University will share her presentation on the origins of Mariachi and gender representation within the community. This presentation is brought to you in celebration of Latino/Hispanic Heritage Month by the Leadership Institute.
________________________________________________________________________________
Microsoft Teams meeting
Join on your computer or mobile app
Click here to join the meeting
Or call in (audio only)
+1 206-899-2345,,991260241# United States, Seattle
Phone Conference ID: 991 260 241#
Find a local number | Reset PIN
Last Updated October 8, 2021