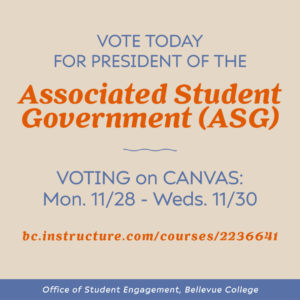 Vote now on Canvas for your 2022-2023 ASG President.
The ASG President is responsible for the leadership and guidance of the ASG Board of Directors, which acts as the voice for the students of Bellevue College.
Voting is available n Canvas from 8 AM Monday, 11/28 through 11:59 PM Wednesday, 11/30.
Visit the Course on Canvas (Course 2236641).
Last Updated November 28, 2022