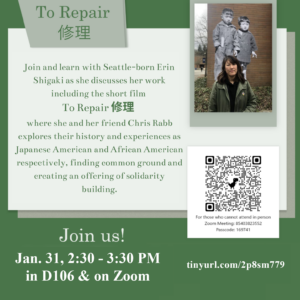 Join our Asian Pacific Islander Students to meet artist Erin Shigaki!
To Repair 修理. Artist Erin Shigaki discusses her work, including To Repair 修理 where she and her friend Chris Rabb explore their respective Japanese American and African American histories, finding common ground and building solidarity.
Shigaki's work was recently displayed at Seattle's Wing Luke Museum as part of "Resisters: Legacy of Movement from Japanese American Incarceration." Her temporary installation "Never Again is Now" continues to persist in our courtyard, three years after its inauguration and subsequent defacement.
Join in person or virtually:
Tuesday, Jan. 31, 2:30 – 3:30 PM in D106 (Refreshments will be served)
Join here to view the event on Zoom.
Meeting ID: 854 0382 3554
Passcode: 169741
sponsored by the Asian Pacific Islander Students Affinity Coordinator
Last Updated January 24, 2023