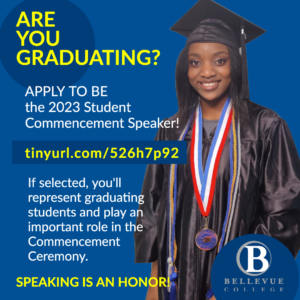 Are you graduating this year? Do you want to be the voice to represent your class and reflect on your time here at Bellevue College? Apply now to be this year's Student Commencement Speaker!
The person selected represents graduating students and plays an important role in the Commencement Ceremony.
Submit your application by Monday, May 10.
Visit the student commencement speaker application page.
For questions, please contact LaMeshia Reese-Taylor.
Last Updated January 31, 2023