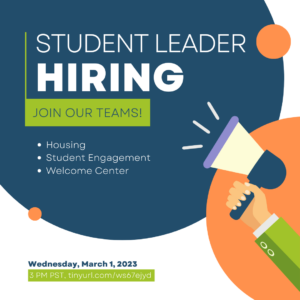 BC Students: Join us this Weds., March 1, to learn more about the Student Leader positions opening on March 6!
Positions include:
Housing: Front Desk Attendants, Resident Assistants
Student Engagement: Student Engagement Front Desk, Student Business Center Front Desk, Student Affinity Coordinators, Campus Activities Board
Welcome Center: BC Student Ambassadors
Copy and paste the link at the end of this post, or click the link in your BC email to join!
When positions open, they'll appear on our Student Jobs page.
Last Updated February 24, 2023