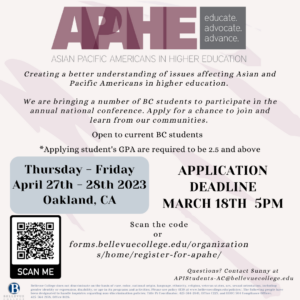 The Asian Pacific Islander Students Affinity Coordinator is pleased to offer this opportunity to participate in the Asian Pacific Americans in Higher Education (APAHE) Conference. The event is held April 27 – 28, 2023 in Oakland, CA.
We offer the chance for four (4) students to attend the conference to share and learn about the issues facing Asians and Asian Americans in higher education. Our group will leave Wednesday, April 26 and return Saturday, April 29, 2023.
Visit this link to read more and sign up!
Last Updated March 17, 2023