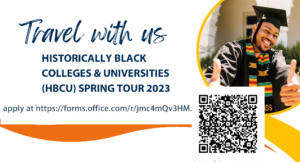 The Leadership Institute, Umoja Scholars Program, and the Black Student Union have partnered with Stepping in the Right Direction to host a Bellevue College HBCU Spring College Tour visiting the following institutions:
Prairie View A&M (Prairie View, TX)
Texas Southern University (Houston, TX)
Dillard University (New Orleans, LA)
Xavier University (New Orleans, LA)
and Southern University (Baton Rouge, LA)
The application process is open to students who are registered for a minimum of two credits for the 2022-23 Winter Quarter and are in good academic standing with a cumulative GPA of 2.3 or higher.
All submissions must be uploaded by no later than Tuesday, March 22 at 11 AM (PST)
Disclaimers: Our tour agency partner Stepping in the Right Direction requires that all tour attendees must submit documentation verifying full Covid – 19 vaccination status.
Please note that completion of this form does not guarantee acceptance to participate inside the HBCU Spring Tour. There will be a fair deliberation process alongside a metrical scoring rubric to further determine eligibility criteria and quality of application questions answered. The committee will announce final selections by no later than Friday, March 25.
Please also be advised that attendees will be responsible for a $150 co-pay to secure flight reservations. Most other travel expenses (including food, R/T airfare, hotel lodging, and tour transportation) will be sponsored by Bellevue College. You will be contacted using your Bellevue College email address if you are selected to attend.
Visit this forms page to apply!
For additional questions and concerns, please reach out to LaMeshia Reese-taylor.
Learn more about the Leadership Institute on our website.
Last Updated March 16, 2023