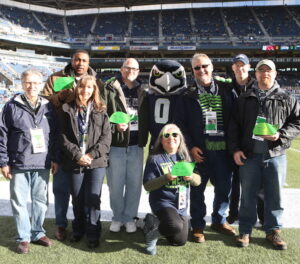 McKinstry, an energy consulting firm, has awarded Bellevue College with a Champion of Sustainability award! Bellevue College, alongside several higher education institutions, was given the award in November at Quest Field.
The Champions of Sustainability program recognizes institutions who are taking a forward-looking approach to innovative energy and waste reduction in the built environment, which accounts for one-third of the world's energy usage and more than 15 percent of carbon emissions.(McKinstry)
Bellevue College has invested in its future through allocating funds towards capital projects and maintenance practices that conserve energy. Not only is it good for the environment, but it's good for the budget. Comparing August 2013 to August 2014, Bellevue College has saved nearly $10,000 in electricity costs. A large portion of the savings have resulted from capital projects such as lighting retrofits and HVAC retrofits/replacement.
These investments demonstrate Bellevue College's leadership in the field of sustainability. "We're proud to be making smart decisions, not just for the budget, but for the students and the environment as well," says Ray White, who received the award from McKinstry in November.
Last Updated December 16, 2014