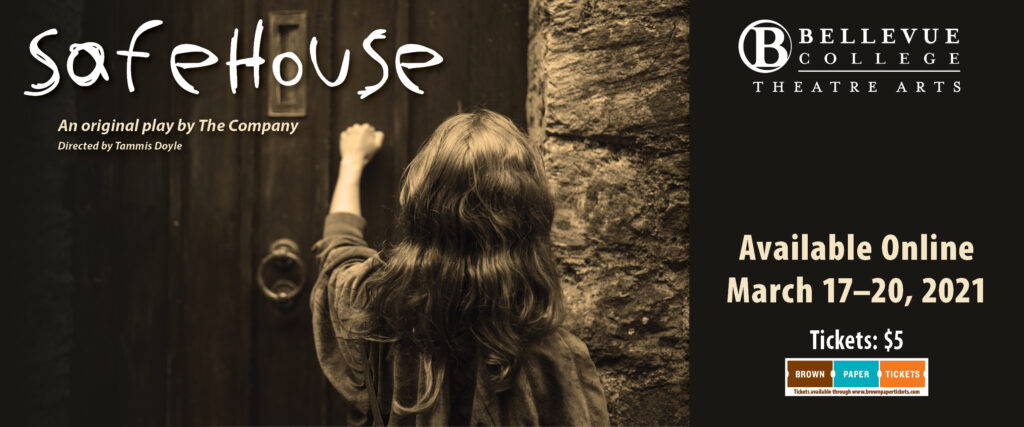 All BC students are invited to Audition for the Winter Quarter 2021 Theatre Arts Drama production:
SafeHouse: an original play constructed by the Cast.
Auditions will be online-in-person the week of Nov. 16-20
If interested email Tammi Doyle at tammi.doyle@bellevuecollege.eduto set up an audition time.

Audition Requirements: A 1-2 minute memorized monologue from a published play AND A writing sample which can be an original play, short story, poem or song.
All actors cast will have to register for Drama 280 for 5 credits
SafeHouse will be performed by a cast of 8-12 actors who will each play one- two roles. The show will be rehearsed and recorded online. Each student will write two-three monologues for themselves with guidance from the director. There will also be a group opening, closing and a scene or two for each character. Characters will talk across the boundaries of time and space.
SafeHouse is about HIDING. Now we are separate to stay safe from Covid 19, but there have been many times in history when individuals had to hide to remain or become free.
Each actor will create a character from the past, present or possibly the future who has been compelled to hide. And at the end of that hiding will be freedom and light or darkness and death. Questions to explore: Who To Trust? When to Hide? When to Come Out?
Song/Music and Dance are welcome!
Everyone is encouraged to audition. Below are some character/story ideas we will explore. I will consider all ideas from each actor.
Healer persecuted as a witch in colonial America (16th c.)
Native American hiding from colonists or traders (17th c.)
African hiding from slave traders (18th c.)
African American on the Underground Railroad (19th c.)
Native American fleeing from US Calvary (19th c.)
Japanese/Japanese American rounded up for internment (20th c.)
Jew hunted by Nazis (20th c.)
Pregnant woman waiting for help to a state in which she can get an abortion (1960's)
Young man heading to Canada because he was drafted to fight in Vietnam (1970's)
Mexican/Lantinx hiding from Immigration (present)
Woman or Man hiding from an abusive partner (20th c. and 21st c.)
Young person hiding from abusive parents due to being gay/trans (20th c. and 21st c.)
Person fleeing religious persecution.
Hounded and bullied disabled person (physically, mentally, emotionally)
Woman waiting to give birth to what will be a child in danger
Interracial couple waiting to meet and marry or because they married and were discovered
Last Updated January 7, 2021