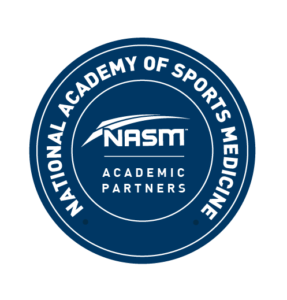 The Global Fitness Education Leader and Bellevue College's Personal Fitness Trainer program Join Together on New Hands-On Professional Fitness Training Program
Chandler, Ariz. (December 06, 2019) — The National Academy of Sports Medicine (NASM) announced a partnership with Bellevue College to deliver the top health and fitness curriculum, along with a proprietary training methodology in a hands-on, face-to-face classroom setting for new fitness professionals.
"Our goal is to create a fitness training experience like no other," said Amy Swanson, Lead Personal Fitness Trainer instructor, "That's why we aligned ourselves with NASM. They're the industry leaders, setting the bar around the world for fitness certification. We knew they would best prepare our students for a successful career as a fitness professional."
NASM is the leading certifying body and education authority for Certified Personal Trainers around the world, having educated over 500,000 fitness instructors and trainers in 73 countries. NASM is accredited by the National Commission for Certifying Agencies (NCCA), and is the preferred choice of top health clubs and fitness facilities worldwide. Students who complete the 19 credit Personal Fitness Trainer program earn a variety of health and fitness skills, including:
Conducting accurate fitness assessments
Recruiting and retaining clients
Developing evidence-based exercise programs
Teaching and demonstrating proper techniques
Empowering, challenging and motivating clients toward an improved quality of life
"Our mission is to improve global fitness and wellness by empowering students with the knowledge and tools to transform lives. Through this exciting collaboration with Bellevue College's Personal Fitness Trainer program we're making our highly sought-after programs much more accessible, and we're creating a long-term career path for health and fitness professionals looking to advance their education," said Laurie McCartney, president of NASM.
After completing and passing their certification exam, graduates have the opportunity to pursue flexible, and financially rewarding careers in a variety of settings such as multi-purpose health clubs, corporate fitness centers, independent business operators, community centers and more.
Students interested in a career in fitness at Bellevue College should contact wellness@bellevuecollege.edu and review www.bellevuecollege.edu/wellness/certificates/.
Academic institutions interested in learning more about NASM curriculum should contact the Academic Advisory Team at 1.800.460.NASM (6276) or visit www.NASM.org/academic.
About NASM
The National Academy of Sports Medicine (NASM) is part of Ascend Learning, a leading provider of technology-based educational, curriculum and assessment solutions for healthcare and other vocational industries. Since 1987, NASM, currently based in Chandler, Ariz., has been a global leader in providing evidence-based certifications and advanced specializations for fitness professionals. Academic institutions nationwide incorporate NASM's leading fitness content into curriculum as part of Certified Personal Trainer courses, and bachelor's and master's degree programs. The vision of NASM is to empower fitness and wellness professionals, supporting them in their goal of motivating clients to lead healthier lives.
To learn more about NASM certifications, visit www.nasm.org or call 1.800.460.NASM. You can follow NASM on Facebook, Instagram, and Twitter.
Last Updated December 6, 2019