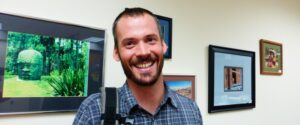 Biography:
I joined BC in 2013. As a Portland native I am thrilled to be home in the northwest. After earning my BA from Portland State University, I pursued my Ph.D. at the University of Missouri-Kansas City. My dissertation research is ongoing and focuses on addressing economic and ecological crises in the context of degrowth.
Economics plays a key role in shaping society, politics, our daily lives, and the planet. For this reason I believe it is crucial that everyone has access to the basic tools required to critically examine economic theory and policy. As a teacher, my number one goal is to get students to ask questions, think, and develop their own arguments. Economics is also a discipline riddled with controversy. Exploring the controversy makes it exciting. I do not claim to be objective, but I present multiple perspectives in every course, drawing on mainstream and heterodox schools of thought.
Outside of school, I love to spend time outdoors with my dog. The northwest is a playground for all of my favorite activities whether it is surfing, mountain biking, fly-fishing, climbing, camping, or just exploring our beautiful landscape.