About this Website
Our website was designed to provide comprehensive and useful information, easy access to online services and resources, and a variety of ways to navigate information.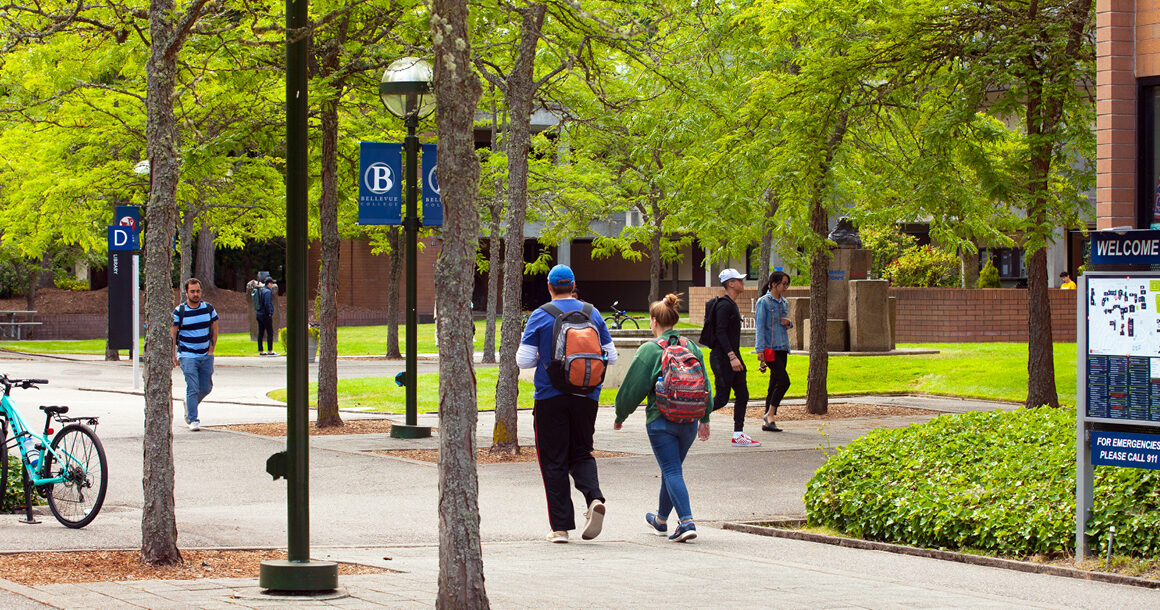 Disclaimer
The BC website contains many links to other websites. These include links to websites operated by other government agencies, nonprofit organizations and private businesses. When you follow links to other sites and leave our website, information contained in this Privacy Notice no longer applies. When you transfer to another website, you are subject to the privacy policy of that new site.
Reference in this website to any specific commercial products, processes, or services, or the use of any trade, firm, or corporation name is for the information and convenience of the public, and does not constitute endorsement, recommendation, or favoring by the State of Washington, Bellevue College, or its officers, employees or agents.
Neither the State of Washington, nor any agency, officer, or employee of the State of Washington warrants the accuracy, reliability or timeliness of any information published by this system, nor endorses any content, viewpoints, products, or services linked from this system, and shall not be held liable for any losses caused by reliance on the accuracy, reliability or timeliness of such information. Portions of such information may be incorrect or not current. Any person or entity that relies on any information obtained from this system does so at its own risk. Under no circumstances shall BC be liable for damages arising out of or in connection with the use of or inability to use this site. This is a comprehensive limitation of liability that applies to all damages of any kind, include without limitation compensatory, direct, indirect or consequential damages, loss of date, income or profit, loss of or damage to property and claims of third parties.
Bellevue College reserves the right to in its discretion, to change or modify all or any part of these terms and conditions at any time, effective immediately upon notice published on this web site.
The privacy notice addresses collection, use and security of and access to information that may be obtained through use of the Bellevue College website. Read the Privacy Policy here…
Minimum Browser Requirements
The Bellevue College website is optimized for viewing on at least the two most recent versions of our most commonly used browsers (Chrome, Safari, Edge, and Firefox). Browsers and browser versions used by less than 2% of Bellevue College users are not required to be supported in full, but should degrade gracefully wherever possible.
Accessibility
All Bellevue college web contributors are required to develop websites that are accessible. The college has adopted policies that are consistent with Section 508 of the Rehabilitation Act as amended by the Workforce Investment Act of 1998 (see policy 5110). In websites we develop we strive to meet the standards set forth by Word Wide Web Consortium (W3C)'s Web Content Accessibility Guidelines (WCAG) version 2.0, AA standard. If you encounter areas of our website that are not accessible, please let us know as soon as possible by using the Website Feedback form, or via an ITS Service Desk Request.
Linking to Sites
Links to sites outside the BC Web domain (*.bellevuecollege.edu) are provided as a reference to educational materials, relevant information to the referring page and are provided for your convenience. Links to websites that are not controlled by the college may include views or recommendations of third parties, which do not necessarily reflect the views of Bellevue College. The listing of a person or organization on any part of this website in no way implies any form of endorsement by Bellevue College of the person, products or services provided by that person or organization.
BC URLs
In February 2007, BC officially changed its URL from www.bcc.ctc.edu to www.bellevuecollege.edu. Other major URLS in use by BC are www2.bellevuecollege.edu, catalog.bellevuecollege.edu, commons.bellevuecollege.edu (for faculty and staff personal websites), studentweb.bellevuecollege.edu (for student club websites), and kbcs.fm (college radio).
Some hosted services (Bellevue College bookstore, Canvas, Email) may use outside URLs.
Copyright
All content © Bellevue College, 1999-2023.