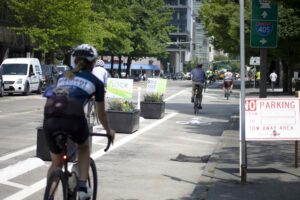 Cycling Support Needed!!!
The City of Bellevue wants to hear how much you need the new 108th Ave NE bike lane. Your sustainability team attended the ribbon cutting event and rode this new separated path that made pedaling through the middle of Bellevue a breeze. 
Officials are going to be looking at the citizen's feedback to determine whether to expand the 108th Ave bike lane or remove it! Bikes can save the environment, our health, and our wallets, they are magical super efficient sustainability machines. Making cycling safer should be a top priority.
Last Updated September 26, 2018