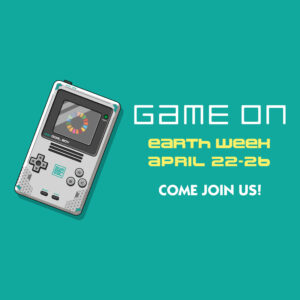 Celebrate Earth Week April 22nd – 26th!
The Office of Sustainability is hosting BC's annual Earth Week on campus from April 22nd to 26th! It will be a week of FREE events that includes speakers, workshops, a farmer's market, an art gallery, and much more! Be sure to join us and participate in all these fun and exciting events! View the poster: Earth Week Poster 2019.
17 Goals to Transform our World
This year's theme is Game On: Bellevue College Addresses the United Nation's Sustainable Development Goals. These 17 goals set forth by the United Nations are a call to action for all countries in order to promote prosperity while protecting the planet. The goals cover a wide breadth of issues our world faces including poverty, education, climate change, social justice, while also recognizing each goals interconnectedness. By using these goals as guidance to promote positive change, it's not game over for our plant, it's GAME ON!
For more information on the United Nation's Sustainable Development Goals check out: https://sustainabledevelopment.un.org/
A special thanks goes out to the Student Environmental Sustainability Fund for funding Earth Week events. Other thanks go to BC staff for helping coordinate and run sessions during the week: Rick Glover, Nicole Arroyo, Nancy Lane, Brandae Grein and the XR Lab, Roshni Tewari, Russ Payne, Christina Sciabarra, Michael Hanson, Sapan Parekh, Wendy Pickering, Peter Prescott, Rachel Lowe, and Grounds Crew. We greatly appreciate each and every one of you!
As well, in the cafeteria they will be offering a special blend organic coffee from a local roaster, local farm grown vegetables, and local organic black angus beef. Check it out when you're getting lunch!
Get Involved…
Make a "Personal Paris Agreement" carbon commitment and take this survey in support of Roshni Tewari's class: Carbon Commitment Survey
Full schedule
We have an awesome lineup of speakers, workshops, and documentaries for you to enjoy. Please take a moment to learn more about our speakers and read their bios HERE!
Please continue to check back here as the schedule is subject to change. 
All Week!
Event
Description
Place/Time
Art Gallery
Come see art created by students and staff! Themes include life below water, life on land, reduced inequality, climate action, peace, justice, and strong institution. See you there!
Library
Monday -Thursday: 7:00 AM to 8:00PM
Friday: 7:00 AM to 5:00 PM
Library Display
Visit the Library and check out their display featuring sustainable projects and events that happened on campus as well as the excellent resources and books related to sustainability they have available to students, faculty, and staff.
Library
Monday -Thursday: 7:00 AM to 8:00PM
Friday: 7:00 AM to 5:00 PM
Recycle Your
Electronics (FREE) with Interconnection!
Donate your personal broken, old, or electronics you just don't want anymore!

Local company Interconnection will recycle your old electronics in a socially and environmentally friendly manner, ensuring any data on the device is securely removed or destroyed.

NOT Accepted: CRT Monitors, kitchen appliances, garden tools, hand tools, or bathroom appliances.

ONLY PERSONAL ITEMS- All BC electronics should be brought to IT to be processed/recycled/surplussed, Room A109 or 425-564-4357.

** We also have a Fix-It Fair on Friday April 26th if you would like to try and get your electronic item fixed! Other items (clothing, small appliances, furniture, etc are also accepted for fixing!**
PALS Center (C105)
Drop Off Bin
April 22-26, all day
Monday April 22, 2019- Earth Day!
Event
What It's All About!
Location/Time
All Day Event: Bike Mobile
Come visit BikeWorks Bike Mobile and get your bike fixed up for free (labor included, parts may be extra).

SDGs
Goal 3: Good Health and Well-Being, Goal 11: Sustainable Cities and Communities

C Courtyard
10:00 AM to 2:00 PM
All Day Event: Bike Demos
Learn about electric bikes and bike share programs, while also getting to test out different electric bikes in a safe and supportive environment!

SDGs
Goal 3: Good Health and Well-Being, Goal 7: Affordable and Clean Energy, Goal 11: Sustainable Cities and Communities

C Courtyard
10:00 AM to 2:00 PM
All Day Event: Bike Powered Smoothies
Pedal your way to getting a delicious organic smoothie. Join Pedal Smoothies, a company that uses 100% green energy to make their drinks. (Hint: it's with a bike powered blender!)

SDGs
Goal 3: Good Health and Well-Being, Goal 11: Sustainable Cities and Communities, Goal 7: Affordable and Clean Energy

C Courtyard
11:00 AM to 2:00 PM
All Day Event: Puget Sound Energy Lighting Fair
Learn ways to be more efficient and save money in your home! Purchase an energy saving lighting or water saving kit!
Check out the flyer HERE

SDGs
Goal 7: Affordable and Clean Energy

C Lobby
10:00 AM to 2:00 PM
Nancy Lane's Earth Day Presentations and Climate Commitment
A class presentation on environmental and social justice issues, and the making of a climate commitment poster with actions to take!

SDGs
Goal 13: Climate Action

Cafeteria Stage
8:30 AM to 9:20 AM
Wilder Than Wild: Fire, Forests, and the Future.
View this one hour documentary about how forest management and climate change is exposing Western wild lands to large, high intensity wildfires, while greenhouse gases released from these fires contribute to global warming.

Run time: 60 minutes

SDGs
Goal 15: Life on Land


D106
9:30 AM to 10:30 AM
Combating Diseases in a Warming World
As climate change shifts the endemic regions for many diseases to which we currently have no vaccines, there is an urgent need to develop new drugs to treat these diseases and to utilize next-generation vaccination methods to prevent the diseases. Join BC's Nicole Arroyo and learn about the future of host-pathogen defense and join the discussion to see what you can do to help these efforts.

SDGs
Goal 3: Good Health and Well Being, Goal 6: Clean Water and Sanitation

C130
10:30 AM to 11:20 AM
Environmental Racism Workshop
Join BC's David Spataro as he introduces participants to the issue of environmental racism and provides some historical background on the social struggles and thinkers that established environmental racism as a significant part of the environmental movement.

SDGs
Goal 10: Reduced Inequalities, Goal 16: Peace, Justice, and Strong Institutions

C120
11:30 AM to 12:20 AM
Exploring Sustainability through Virtual Reality
Join BC's XR lab to discuss how virtual reality can help foster sustainable actions. During the presentation, attendees will get to try sustainability focused VR for themselves! It's an interactive and immersive session where participants will personally experience what our planet and our future looks like through this amazing technology.

SDGs
Goal 9: Industry, Innovation, and Infrastructure, Goal 14: Life Below Water

C130
12:30 PM to 1:20 PM
Crafting for People Experiencing Homeless: Sleeping Mats made of Plastic Bags
Come join Sapan Parekh, of the RISE Learning Institute, in converting plastic bags into a bedroll for people experiencing homelessness. Must be able to use scissors, but no other skills required.

A joint project between the Office of Sustainability and The RISE Learning Institute.

SDGs
Goal 1: No Poverty, Goal 12: Responsible Consumption and Production

D106
1:30 PM to 2:30 PM
From Trash to Treasure: Junk Journaling Workshop
Learn how to keep things out of the landfill, by turning old items into new, creative, and useful objects. Join Seattle Recreative and make your very own journal from a variety of repurposed materials.

Limited space available.

SIGN UP here: https://www.signupgenius.com/go/8050C4EACA92DA6F85-trash

SDGs
Goal 12: Responsible Consumption and Production

C120
2:30 PM to 3:20 PM
Game On Gameshow
BC's Rick Glover is hosting an interactive "pub trivia" style Gameshow about the United Nations Sustainable Development Goals and how BC can lead the way for a prosperous future.

Participate Online! View Live or recorded here: https://www.facebook.com/BcSust/

SDGs
Goals 1-17: SDG Overview!

D106
3:00 PM to 4:00 PM
Tuesday April 23, 2019
Event
What It's All About!
Location/Time
Learning at the Edge of the Apocalypse: Understanding and Addressing Uncomfortable Emotions around Climate Change
Join UW Tacoma's Ellen E Moore to discuss the feelings around living in a time where climate change and other environmental impacts seem inevitable. Talk through your emotions, learn ways to cope, and find solutions.

SDGs
Goal 13: Climate Action
C130
8:30 AM to 9:20 AM
CANCELLED- Restoring Traditional Lands of the Snoqualmie People. Apologies.

Documentary instead, TBD

C130
9:30 AM to 10:20 AM
Backpacking 101
Want to explore all the wilderness that Washington has to offer? Peter Prescott of BC's Wellness Center will give an introductory lesson on backpacking and give you all the tools you need to feel comfortable and confident to hit the trail!

SDGs
Goal 15: Life on Land and Goal 3: Good Health and Well-Being
C130
10:30 AM to 11:20 AM
Climate Change vs Nihilism
BC's Russ Payne will dive into how climate action and living sustainably can help people find deeper meaning in life.

Goal 13: Climate Action
C130
11:30 AM to 12:20 PM
Wasted! A story of Food Waste Documentary
Come watch a film about food waste. For more info: http://www.wastedfilm.com

Run time 1 hour 30 min.

SDGs
Goal 2: Zero Hunger, Goal 12: Responsible Consumption and Production, Goal 13: Climate Action, Goal 15: Life on Land
Cafeteria Stage
12:30 PM - 1:20 PM
Conquering Mt. Trashmore: A Waste Audit
BC's fourth annual waste audit, come learn the proper way to sort recyclables and compostables and learn about waste management!

** Any full classes attending will need to complete a pre-learning session, please contact Sustainability **

SDGs
Goal 2: Zero Hunger, Goal 12: Responsible Consumption and Production, Goal 13: Climate Action, Goal 15: Life on Land
C Courtyard
1:30 PM-3:30 PM
Wednesday April 24, 2019
Event
What It's All About!
Location/Time
All Day Event: Farmer's Market
Annual produce stand, seed swap, plant sale, tabling, and other local vendors. Come meet local growers and makers, educate yourself about organics and locally grown produce, and get your fridge and garden filled! Come learn about great causes and opportunities to volunteer!

CASH ONLY for produce stand and plant sale, other vendors take cards.

Currently we have honey, soaps & scrubs, produce, flowers, baked goods, oils and vinegars, plants, coffee, and many organizations tabling! ** SUBJECT TO CHANGE**

Remember to bring a reusable bag if you can!

SDGs
Goal 1-17, this market will touch on nearly all the SDGs!
C Courtyard
10:00 AM to 2:00 PM
Sustainable Seattle: Exploring the Bullitt Center and Capitol Hill's Eco-District
BC student Rodrigo Cachay will talk about the famous Bullitt Center in Seattle and BC student Mitra Torshizi will talk about sustainable cities and Capitol Hill's Eco-District.

SDGs
Goal 9: Industry, Innovation, and Infrastructure, Goal 11: Sustainable Cities and Communities, Goal 7: Affordable and Clean Energy
C130
8:30 AM to 9:20 AM
King County's Local Food Initiative
Mike Lufkin, a local food economy manager who oversees King County's Local Food Initiative, will discuss how this program aims to build a stronger farm-to-plate pipeline in our region by connecting local farmers to consumers, increasing access to healthy and affordable foods, supporting farmers, protecting farmland, and creating food systems that are resilient to climate change.

SDGs
Goal 2: Zero Hunger, Goal 3: Good Health and Well-Being, Goal 8: Decent Work and Economic Growth, Goal 12: Responsible Consumption and Production
C130
9:30 AM to 10:30 AM
Biomimicry: Innovation Inspired by Nature
Organisms have been solving problems since the beginning of life on earth. Jennifer Barnes AIA, LEED®AP of 55-5 Consulting explores how we can learn from nature and apply that knowledge to finding solutions to real world problems. Learn about biomimicry, which is the design and production of materials, structures, and systems that are modeled on biological entities and processess, and how it is being used to improve urban life in this engaging and informative presentation.

SDGs
Goal 9: Industry, Innovation, and Infrastructure, Goal 11: Sustainable Cities and Communities, Goal 15: Life on Land
C130
10:30 AM to 11:20 AM
PSE Is Going Green
Join Puget Sound Energy's Wendy Weiker as she discusses green energy and how PSE is joining the movement.

SDGs
Goal 7: Affordable and Clean Energy
C130
11:30 AM to 12:20 PM
Plant ID Walking Tour
Come take a tour of campus with BC's Michael Hanson and learn about all the plants that live here!

SDGs
Goal 15: Life on Land
Meet at the Greenhouse
12:30 PM to 1:20 PM
Living on One Dollar Documentary
Watch as a group of friends try to live on $1 a day in Guatemala, a reality for over 1.1 billion people around the world.

Student facilitated discussion on the issue of climate change as a driver of the Central American migration/caravan to the U.S. border and on the conditions and impacts of poverty.

Run time: 56 minutes with discussion to follow.

SDGs
Goal 1: No Poverty, Goal 2: Zero Hunger, Goal 4: Quality Education, Goal 5: Gender Equality, Goal 6: Clean Water and Santiation, Goal 10: Reduced Inequalities
D106
1:30 PM to 3:20 PM
Eating Animals Documentary
https://eatinganimalsmovie.com/

Eating Animals is an urgent, eye-opening look at the environmental, economic, and public health consequences of factory farming. Tracing the history of food production in the United States, the film charts how farming has gone from local and sustainable to a corporate Frankenstein monster that offers cheap eggs, meat, and dairy at a steep cost: the exploitation of animals; the risky use of antibiotics and hormones; and the pollution of our air, soil, and water.

Run time 1 hour 35 min

SDGs
Goal 12: Responsible Consumption and Production, Goal 15: Life on Land, Goal 13: Climate Action
C130
3:00 pm to 4:45 pm
Thursday April 25, 2019
Event
What It's All About!
Location/Time
Field Trip to 21 Acres
Join us for an exciting field trip to 21 Acres, a sustainable farm in Woodinville, Washington. The day will start with a tour of the farm and discussions around sustainable agriculture and climate change. Next up is a tour of their Green Building (LEED Platinum certified), where we will get to see the innovation that makes it have less impact on the earth. Lastly, we will be learning how to make a vegetarian meal using fresh, local, and sustainable ingredients. Get hands on experience prepping and cooking your own healthy meal, followed by the best part...taste testing your hard work!

Limited space available! Signup required. Free transportation to/from campus.

SIGN UP BY APRIL 17 HERE:https://www.signupgenius.com/go/8050c4eaca92da6f85-earth

SDGs
Goal 2: Zero Hunger, Goal 12: Responsible Consumption and Production, Goal 15: Life on Land

Depart from BC to
Woodinville, Wa
11:00 AM to 4:00 PM
Friday 2019
Event
What It's All About!
Location/Time
All Day Event: Fix-It Fair
Avoid the landfill and the cost of buying a new item by bringing in your broken items to get repaired for FREE!

Examples of items to bring in include clothing, lamps, small appliances (fans, electric heaters, vacuums, small kitchen appliances, etc.), electronics, and pieces of furniture!

Please be aware this is volunteer run and not everything can be fixed.

SDGs
Goal 12: Responsible Consumption and Production
1st Floor Hub/Cafe at
Student Housing
10:00 AM to 2:00 PM
All Day Event: Electric Vehicle Car Show
Come check out some electric vehicles including Teslas, Volts, & More! Special thanks to the Seattle Electric Vehicle Association.

SDGs
Goal 7: Affordable and Clean Energy, Goal 11: Sustainable Cities and Communities
C Courtyard
10:00 AM to 2:00 PM
Composting 101
Learn about all the wonderful benefits of composting with Cedar Grove and ask any questions about what can and can't be composted.

SDGs
Goal 12: Responsible Consumption and Production, GOal 15: Life on Land
2nd Floor Hub/Cafe at
Student Housing
8:30 AM to 9:20 AM
Yoga
Come get your yoga on with BC's Rachel Lowe, in this unique opportunity to see the skyline and breathe fresh air on the Student Housing patio!

Bring a mat and a beach towel (extra mats and space are limited).

Will be indoors if inclement weather.

SDGs
Goal 3: Good Health and Well- Being
2nd Floor Patio at
Student Housing
9:30 AM to 10:20 AM
Meditation
Join as a follow up to the yoga class, or as a stand alone class.
Find inner peace and relaxation.

SDGs
Goal 3: Good Health and Well- Being
2nd Floor Patio at
Student Housing
10:30 AM to 11:00 AM
Green Cleaning Workshop
Learn how to make your own natural cleaning products in this hands on class. Each participant will come away with their very own "Green Cleaning Kit".

Limited space available. First come, first served.

SIGN UP REQUIRED HERE: https://www.signupgenius.com/go/8050c4eaca92da6f85-green

SDGs
Goal 3: Good Health and Well- Being, Goal 6: Clean Water and Sanitation, Goal 11; Sustainable Cities and Communities
2nd Floor Hub/Cafe at Student Housing
11:30 AM to 12:20 PM
Rain Garden Work Party
Join the BC Grounds Crew in beautifying the Student Housing Rain Garden. We will learn about how rain gardens work, remove invasive species, and enjoy a day outside!

Please wear clothes for gardening!

Space is unlimited, but please sign up so we know how many tools to provide: https://www.signupgenius.com/go/8050C4EACA92DA6F85-student

SDGs
Goal 15: Life on Land
Meet in the 1st Floor Pizza Café at
Student Housing
12:30 PM to 1:20 PM
Costa Rica Health, Wellness, and Sustainability
Listen to students talk about their travels to Costa Rica and what they observed about sustainability there and how the lessons learned can be applied to Bellevue College.

Students discuss how they explored a highly biodiverse Blue Zone society that focuses on nine attributes for wellness. Health promoting and health inhibiting lifestyle practices are studied and compared to the United States. Factors such as socioeconomic status, nutritional habits and sustainable environmental practices are identified and applied to their project-based outcome.

SDGs
Goal 2: Zero Hunger, Goal 3: Good Health and Well-Being, Goal 6: Clean Water and Sanitation, Goal 10: Reduced Inequalities
C130
1:30 PM to 3:20 PM
Bioswale Work Party
Get your hands dirty and make a difference on campus! Join the Bioswale event to help make this landscape feature continue to be effective at filtering out toxins and sediments before it reaches our storm drains.

Please wear clothes for gardening!
Meet at the Greenhouse
1:30 PM to 3:20 PM
Last Updated April 23, 2019